"World War Z" will feature fast-moving zombies, according to new set video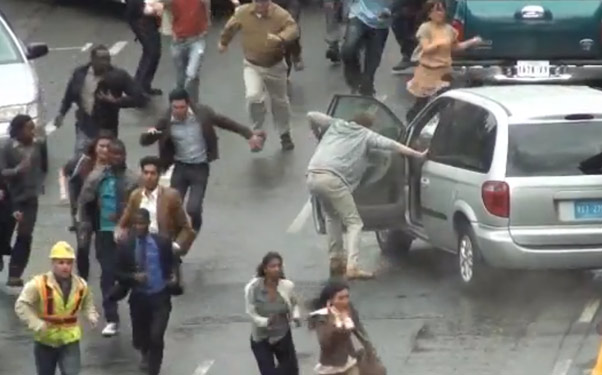 Posted by Aubrey Sitterson on
News about the film adaptation of Max Brooks' "World War Z" has garnered mixed reactions due to some drastic changes from the source material in terms of both style and content. A new video of the film's set has found its way to the Internet, and given its portrayal of the flesh-munching undead, it's likely to upset some fans as well.
For decades, most people's idea of a zombie was a lurching, mindless automaton, terrifying in its otherworldliness and on account of sheer numbers. But starting with Danny Boyle's 2002 film, "28 Days Later," more movies started making use of zombies that weren't afraid to break into a sprint when there was human flesh on the line. Like "Dawn of the Dead," "Left 4 Dead" and other popular zombie media, "World War Z" will be going with the quicker variety of undead, as seen in the video below.
Another departure from the classic George Romero school of Zombieology is seen in the way that the video's victim transforms. Traditionally, this is a slow, painstaking progress, allowing for one of a film's bolder characters to mercifully put a comrade down before they completely change. By contrast, the zombie plague of "World War Z" appears to be remarkably fast acting, as it causes a bitten human to jerk and spasm his way into the ranks of the undead in mere moments.
Check out the video and then make sure to tell us what you think about the zombie portrayals in "World War Z" in the comments below and on Facebook and Twitter.