What would a 1970s-era "Expendables" cast look like? We'll tell you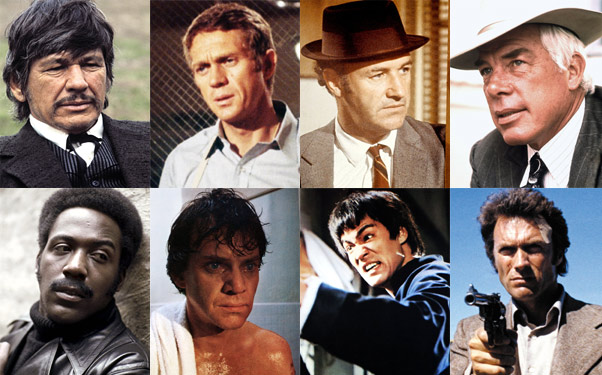 Posted by IFC on
Okay, yes, "The Expendables," ended up being better as an "idea" than a reality. Sylvester Stallone gathered a bunch of over-the-hill action stars (including his "Rocky IV" opponent, Dolph Lundgren, and his "Get Carter" pal, Mickey Rourke) for a bloody shoot-'em-up designed to show all the young whippersnappers out there that the old men still got it. The resulting film had its moments but was ultimately too confusing, too haphazard and too, well, expendable.
But what are sequels for if not a chance to make things all better (don't answer that)? Stallone has gathered an even more impressive cast for "The Expendables 2" — Chuck Norris and Jean-Claude Van Damme will be contributing to the mayhem this time around, and Bruce Willis and Arnold Schwarzenegger, both of whom only had cameo appearances in the original film, will have much larger roles in the new adventure. And, of course, all of the old gang is back, including Lundgren (how…? Never mind), Rourke, Jason Statham, Jet Li, Terry Crews and Randy Couture.
All of this casting news has us wondering what the lineup of action stars would've been if "The Expendables" had been made in the 1970s. Here are the mighty men that might've wreaked havoc back in the day.
---
Charles Bronson
The leader of the pack, natch. Bronson was a tough guy from the day he was born — seriously, this dude probably came out of the womb with those weather-beaten features and that steely gaze. Some of Chuck's most memorable gigs include "The Great Escape" (1963), "The Dirty Dozen" (1967), "Once Upon a Time in the West" (1968), "The Mechanic" (1972) and, of course, "Death Wish" (1974). Paul Kersey of "Death Wish" might be the role that Bronson is most remembered for — he went on to play the poor, angry, violent man in a couple of '80s sequels as well. And, for the record, Nicolas Winding Refn's movie, "Bronson," is not about Charles — but it should be.
---
Malcolm McDowell
The "Clockwork Orange" star is our pick for Jason Statham's stand-in. The young British actor caused quite a stir with his lead performance as Alex in Stanley Kubrick's classic dystopian tale — as a fan of a "bit of the ol' ultraviolence," McDowell is an ideal addition to Charles Bronson's team of rugged rogues. Some of McDowell's other memorable '70s romps include "Aces High" (1976), "Voyage of the Damned" (1976), "The Passage" (1979) and, of course, that gorgeous, mind-boggling, brilliant mess, "Caligula" (1979). Oh, that's a fun one.
---
Steve McQueen
Of course the Tunnel King would bring in the Cooler King! Charles Bronson's "The Great Escape" cohort would have to be in on the "Expendables" action. McQueen would definitely show off the driving skills he exhibited to legendary effect in "Bullitt" (1968), crashing through the proceedings with Bronson looking (just a little) nervous in the passenger seat. McQueen was a huge star in his day, appearing as Thomas Crown in "The Thomas Crown Affair" (1968), Junior Bonner in "Junior Bonner" (1972) and Doc McCoy in "The Getaway" (1972).
---
Bruce Lee
Okay, how amazing would this be? Where as Stallone had Jet Li, Charles Bronson would have Bruce Lee! The "Enter the Dragon" star would leap and kick all over the place, smashing in doors and walls and taking on, like, five hundred bad guys at once. Lee's greatest film is definitely his last, the astonishing "Enter the Dragon" (1973), but we're also quite fond of "Fists of Fury" (1971), "Fist of Fury" (1972) and "The Way of the Dragon" (1972). However, we're imagining a scenario in which Bronson tells Lee that he offered him the part because he "loved him as Kato on 'The Green Hornet.'"
---
Lee Marvin
Charles Bronson would be morally obligated to bring his "Dirty Dozen" pal into the mix. Lee Marvin was so cool, sheep counted him — and then he slaughtered them and ate them raw. Another one of cinema's all-time awesomest tough guys, Marvin started kicking ass and taking names in the '50s, playing hard-ass military characters in "Attack," "Pillars of the Sky" and "The Rack" (all 1956). Some of his best gigs include "The Man Who Shot Liberty Valance" (1962), "The Killers" (1964), "Ship of Fools" (1965), "Point Blank" (1967) and "Sergeant Ryker" (1968). He reprised his role as Major John Reisman in the TV movie, "The Dirty Dozen: Next Mission" (1985), and his last film was "The Delta Force" (1986), which co-starred Chuck Norris, who will be appearing in "The Expendables 2." Coincidence? We think not.
---
Richard Roundtree
Who's the black private dick who's a sex machine with all the chicks? It's the star of "Shaft," of course, and as Isaac Hayes would say, you're "damn right" he would be part of Charles Bronson's team. Roundtree would spend most of the movie punching dudes in the face, running over other dudes with sweet pimped-out cars and bedding bodacious babes — all at the same time. Roundtree was so damn cool as John Shaft, he went on to play the role in "Shaft's Big Score!" (1972), "Shaft in Africa" (1973) and in the "Shaft" TV series (1973-1974). He was also in "Earthquake," so in reference to this, he'd have to greet Bronson and the rest of the gang in every scene with, "What's shakin'?" Damn right.
---
Gene Hackman
So who's the big baddie these dudes would be taking on, anyway? The villain of the '70s "Expendables" would definitely be played by Gene Hackman, one of the hardest of the '70s hardasses. Hackman still holds the title of the best comic book movie villain of all time (sorry, Heath) for his inimitable portrayal of Lex Luthor in "Superman" (1978) and its sequels, and he kicked all sorts of butt as Jimmy 'Popeye' Doyle, the rugged and occasionally racist detective in "The French Connection" (1971) and its 1975 sequel. Hackman was also a part of "The Poseidon Adventure" (1972), went crazy paranoid in "The Conversation" (1974) and took "A Bridge Too Far" (1977). Who would dare take on the greatest criminal mind of our time?
---
Obligatory Cameos: Clint Eastwood & Charlton Heston
The scene in the church between Sylvester Stallone, Bruce Willis and Arnold Scwarzenegger in "The Expendables" was completely bizarre. What the hell were they supposed to be talking about, anyway? And why did Arnold look like he was about to completely break at any second (or something)? It was weird and anti-climactic, but hey, it was a scene featuring Sylvester Stallone, Bruce Willis and Arnold Schwarzenegger. Our choices for the '70s equivalents of Arnold & Bruce are Clint Eastwood and Charlton Heston. The "Dirty Harry" star could just kind of growl and squint and the "Omega Man" himself could just kind of grin and mug whilst Charles Bronson glares and looks tired. There wouldn't even have to be any spoken dialogue — how's that for confusing?
---
Who would you cast in a 1970's era "Expendables" movie? Let us know below or on Facebook or Twitter.