We got a trailer for "We Bought a Zoo"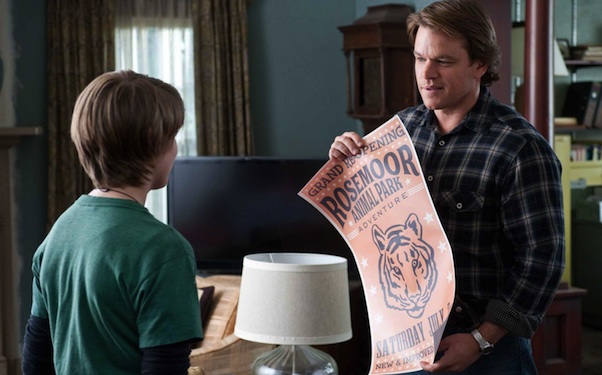 Posted by Matt Singer on
Here's the first trailer for "We Bought a Zoo" from Cameron Crowe. We spoke to the writer and director of "Say Anything…" and "Almost Famous" at length about the film, his first fiction feature in six years, during our Fall Movie Preview; you can read those interviews here, here, and here. And here (as in here here, here below) is the trailer:
All of the earlier plot descriptions had described Matt Damon's character, Benjamin Mee (who's also the author of the memoir upon which the film is based) renovating this zoo while also caring for his sick wife. The wife is obviously nowhere to be found in the trailer (though that doesn't necessarily mean she's nowhere to be found in the movie). Judging from the clip, the most obvious comparison between "We Bought a Zoo" and Crowe's earlier work is "Jerry Maguire" — you've got your redemptive and romantic drama, your adorable child actors and even your oddly exuberant quitting-your-job scene. Judging from the trailer, it's probably not a movie you should go see if you're not a fan of magic hour sunlight, lens flares, and shots of beautiful, smiling people. There's an awful lot of that stuff in those two and a half minutes.
But that's what the trailer's selling, not necessarily what the movie is. We'll know that for sure when "We Bought a Zoo" opens on December 23.
Psyched for "We Bought a Zoo?" Tell us in the comments below or on Facebook and Twitter.