"Wanted" screenwriters back for the comic book-flavored sequel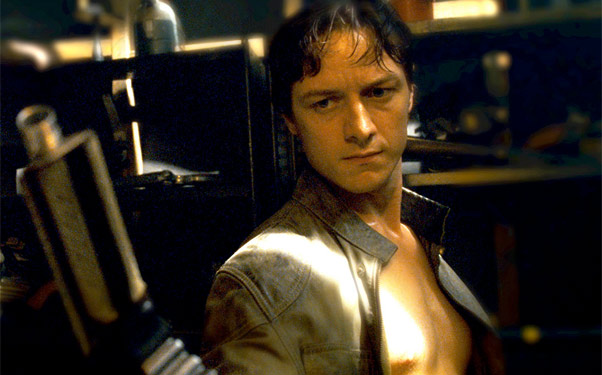 Posted by IFC on
As screenwriter John August joked on Twitter, "So the bullet did circle after all." Universal has officially signed "Wanted" screenwriters Derek Haas and Michael Brandt to write the movie's long-anticipated sequel, The Wrap and Haas confirmed. So get ready for many more "curve the bullet" jokes to head your way in the near future.
"Wanted" hit theaters back in 2008, and rumors of a sequel have been swirling ever since. Directed by Timur Bekmambetov, the flick was based on the comic book series written by Mark Millar. Though the original movie deviated significantly from the source material, there still is plenty of fodder for Haas and Brandt to use for a sequel. Millar has also expressed in the past that he would work with the "Wanted 2" screenwriters to craft a new story for the movie instead of writing a follow-up to his limited run comic book series. Unfortunately, Haas didn't have much new information to share with The Wrap about the sequel.
"Wanted 2" is "going to take off after the events of what just happened," Haas said. "Pick up Wesley a few years later and go back in for another round." He added that he would love to work with Bekmambetov again, but "he's a busy guy." It's important to note, though, that the director's schedule should be opening up soon now that "Abraham Lincoln: Vampire Hunter" is in post-production.
Haas added on Twitter, "Our draft of W2 will be Fox-less [referring to Angelina Jolie's character] and Loom-less."
That leaves James McAvoy as the only actor from the first movie likely to return as spoiler alert! Jolie and Morgan Freeman died at the end of the first flick. Apparently "Parks and Recreation" star Chris Pratt might return, since Haas made a point of saying that Pratt's character Barry survived the first movie, "minus a few teeth."
When IGN caught up with McAvoy earlier this year, he seemed interested in making "Wanted 2," but was concerned about the direction the film would follow.
"I think the studio is keen to make it, and we really want to make it, but we want to make it if it's right and when it's right, and that might not be ever," he said. "My worry was always that if we do a sequel, where is the character going to go? We hung our movie off this guy's life journey, and he's had that life journey now, so what do you hang the movie off?"
Would you head back into theaters for a "Wanted" sequel? Let us know below or on Facebook or Twitter.