The top 10 made-up movie languages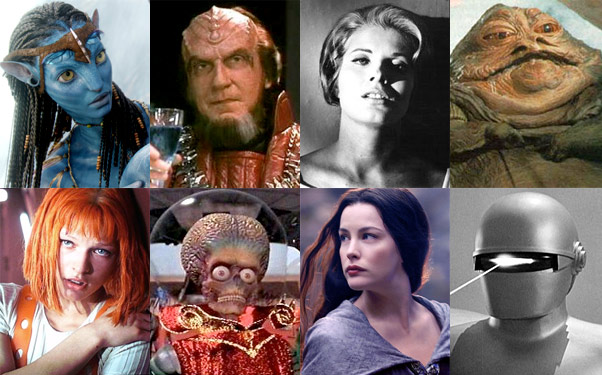 Posted by IFC on
The "The Jazz Singer" launched the age of the "talkie" for film in 1927, and ever since then spoken language has been a part of watching movies, no matter how goofy or totally made up it may be. Today, we salute the filmmakers and actors out there who have gone to the next level and brought entirely new rules for speech and grammar to the big screen.
William Shatner gets an honorable shout-out for his work learning Esperanto for "Incubus" in 1966, but our ten favorite fictional film languages of all time get even crazier. They are funny, occasionally creepy and almost always put more pressure on their subtitles, but all of these foreign tongues defined their movies and breathed life into their elaborately imagined cultures.
---
10. Martian, "Mars Attacks!" (1996)
The aliens in this Tim Burton cameo-orgy spoke with a vocabulary just slightly bigger than that of the teacher in the "Peanuts" cartoons, but their dialect of Martian was about as memorable as big-screen Earth invader speech gets. If crazy and evil have their own language, truly it is the sound of these swollen-brained beings barking at humans.
---
9. Cityspeak, "Blade Runner" (1982)
Edward James Olmos imagined the hyper-multiculturalization of a future Los Angeles in his role as Gaff, and blended Hungarian together with German, French and other languages. The result was a vaguely Esperanto-sounding style of speech that made his words simultaneously sound a little familiar and utterly incomprehensible.
---
8. The language of Timoka, "The Silence" (1963)
Ingmar Bergman used Estonian as the basis for the language spoken in his invented town of Timoka from "The Silence." His premise was ambitious, and he created one of the creepiest scenes of his career when a little boy named Johan gets treated to a meat-puppet show performed by an old Timokan man.
---
7. Butchered Swedish, "De Düva: The Dove" (1968)
Both lovers and haters of foreign films can find something to laugh at in this short parody film directed by George Coe and Anthony Lover. In an effort to skewer the works of Bergman, their project (featuring Madeline Kahn, incidentally) beat the Swedish Chef to theaters by more than a decade with its gibberishy depiction of Swedish.
---
6. Na'vi language, "Avatar" (2009)
Director James Cameron's Oscar-winning "Halo"/amusement-park ride hybrid featured an original language constructed for the film by real-life professor Paul Frommer. Na'vi-ish started out just large enough to encompass all of the aliens' lines for the film, but went on to grow and include songs, syntax and plenty of material for fans to use in their own jungle LARP-ing adventures.
---