The top 10 badass line deliveries by movie ladies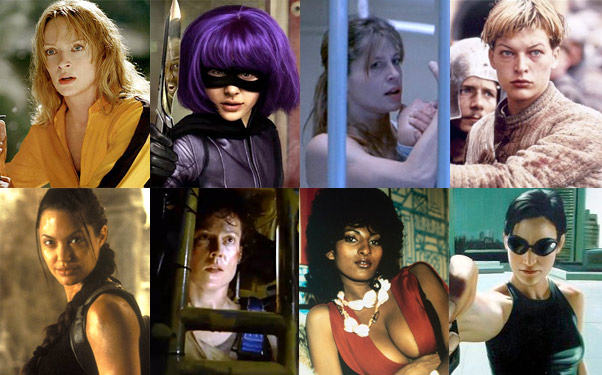 Posted by IFC on
Even the best-choreographed beat-down scene in a film can benefit from a one-two-punch of witty dialogue right before the fists start flying. A few actors try to make these scenes work in theaters every summer, but even the best leading men in Hollywood don't have to wear heels when they rumble.
Today, we salute the women who make armies run away, dish smack-talk right back at barroom bullies and wield heavy, bullet-loaded machinery with finesse. They stand up for their countries, their friends and even the human race. For that, we thank them and rank them as both brawlers and eloquent speakers.
(Note: we tried to find video clips of the quotes in question for as many of these as possible, but a couple weren't available. In those cases, a trailer was substituted.)
---

10. Milla Jovovich in "The Messenger: The Story of Joan of Arc" (1999)
Jovovich can be a one-woman Special Forces unit when she needs to be in a role, but her speech in front of the British army in "The Messenger" is brilliant because you can tell that Joan of Arc is scared out of her gauntlets to be riding up to speak to the enemy…and she does it anyway.
"I've seen enough blood," she says. "But if you want more, I can't stop you. I can only warn you that it will be your blood, not ours." If you know your history or this film, you know what the British decided to do.
---
9. Angelina Jolie in "Lara Croft: Tomb Raider" (2001)
Jolie is an evergreen pick for any list of leading ladies capable of dishing out hard fists and well-placed bullets. "Tomb Raider" gave her some memorable lines, as well as a killer accent, though, particularly when she verbally jousts with her charismatic competitor, Manfred Powell (Iain Glen).
Giving away her entire plan, she asks him, "Why would I try and cheat you out of anything, now? I need you to get the piece so I can steal it from you later."
---
8. Hilary Swank in "Million Dollar Baby" (2004)
Swank deservedly received an Oscar for her performance as Maggie Fitzgerald, floating around the boxing ring and letting her fists fly. She's at her finest talking back to her character's mother (Margo Martindale), though. After winning enough money to buy her old lady a house, the ungrateful woman still resents Maggie.
Maggie lays down the law to her, however, and says, "Momma, you take Mardell and JD and get home 'fore I tell that lawyer there that you were so worried about your welfare you never signed those house papers like you were supposed to. So anytime I feel like it I can sell that house from under your fat, lazy, hillbilly ass."
---
7. Carrie-Ann Moss in "The Matrix" (1999)
Neo never would have been anything if it weren't for Trinity (Moss) showing him the ropes in The Matrix. She pulled of some wicked stunts in her shades and boots, but she really shines when Neo find himself on the wrong side of a gun, opposite an Agent.
Trinity pulls out her own gun with simple "Dodge this!" to warn the guy about the shot she's about to send through his head.
---
6. Natalie Portman in "Leon: The Professional" (1994)
Portman seemed destined for greatness after playing 12-year-old Mathilda alongside Jean Reno. The girl seems understandably vulnerable after her parents are killed, but her rage starts to show when she asks Leon (Reno) to teach her "how to clean." She tells him straight up what she wants when she asks him, "How much would it cost to hire someone to get those dirtbags who killed my brother?
---