Comic artist Tony Moore discusses his "Tucker & Dale vs. Evil" poster and "The Walking Dead"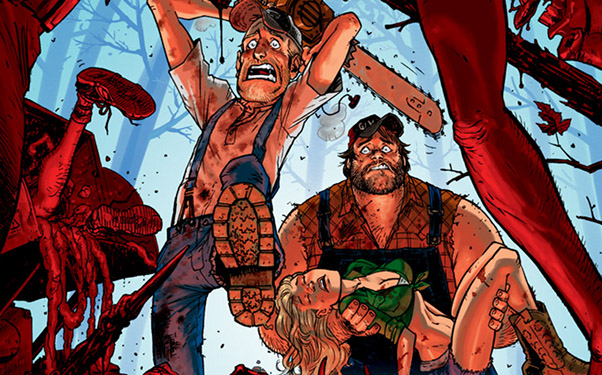 Posted by Rick Marshall on
When the team behind the gory horror-comedy "Tucker & Dale vs. Evil" went searching for a comic book artist to create a limited-edition poster for the film, they definitely went looking in the right direction.
Revealed earlier this month, the "Tucker & Dale" poster created by illustrator Tony Moore not only offers up a great caricature of the film and its stars, but it harkens back to the work he did on another project you might be familiar with: The Walking Dead comic book series.
With "Tucker & Dale vs. Evil" hitting the On Demand library this week (just in time for Halloween), IFC chatted up Moore about his work on the film's bloody poster, and what he thinks about the "The Walking Dead" television series.
---
IFC: When you decide to tackle a project like this, where do you start? How do you kick everything off?
TM: I watched the movie a few times trying to get the general feel for the thing. "Tucker & Dale" seemed a lot more humorous than a standard horror thing, so when I dove into it I kind of leaned a little more on my roots as a cartoonist and dug into more of the fun horror stuff that I grew up reading, like EC Comics and Jack Davis and that kind of stuff.
IFC: How much back and forth was there about the design of the poster? Was the final result close to your initial layout, or something else entirely?
TM: This was basically the same layout that I had started with, and when I sent it in to Magnet Releasing to show them what I was shooting for, it hit near the same basic layout that they had for the official movie poster, so I felt like I was on the right track. At least, I was thinking in the right direction if I was that close to what they had already done on their side. I changed it up a little bit and added some action into it, and tried to play around with some of the horror movie tropes.
IFC: Most of your work involves creating the look of characters from scratch. Does it require a different approach when you're working off a real-life person's likeness?
TM: Yeah, definitely. Likenesses are definitely a challenge. I feel obligated to hit somewhere near the mark as best I can to make it recognizably Alan Tudyk and Tyler Labine. On top of that, I also had to play up the difference in their sizes and shapes, and exaggerate their silhouettes a little bit. So I went more with a "Laurel & Hardy" kind of contrast between the two – just to make them more visually striking. That's sort of the root of cartooning any way.
IFC: It looks like you got to tread some familiar ground with the gory scenes framing the poster image. Did this feel like some of your work on The Walking Dead and projects like that?
TM: Oh yeah. Throughout my career I've been lucky enough that most of my jobs are people who want me to do what I do, what I do best. Yeah, I got to sink my teeth into the framework of gore around the image, which I had a lot of fun doing. That part's actually the calm part, even though it's full of horrible things. It was fun to get to really play with that, and make all sorts of marks and disgusting shapes and all of that.
IFC: So what did you think of the film?
TM: I thought it was hilarious. I really enjoyed it. So many horror movies have become so overly serious and grim, and you don't really get a lot of tongue in cheek horror any more. I've always enjoyed that. Like I said, I grew up reading EC Comics and Tales From the Crypt-type stuff that was as horrific as they could make it, but also never took itself too seriously. I've always been of that mindset, that when you start to take yourself too seriously is when you become a joke. I definitely was pleased to see a movie that finally relaxed a little bit.
IFC: So, as the artist who first brought The Walking Dead to everyone's attention, I have to ask what you thought of the first season of the tv series… Any thoughts?
TM: For the most part, I really dug it. There were some parts that were not as awesome as others, but especially visually, I couldn't get over how amazing it looked. Some of the stuff were scenes straight out of the book, which were really surreal to see brought to life and brought to that level of realism. That was amazing, and the visual effects stuff that Greg Nicotero and his crew are doing is some of the best stuff that's probably been put on film.
IFC: You created the look for Rick Grimes and drew many of the iconic scenes that were brought to life in those first few episodes of the television series. How did it feel when you first saw some of them on the screen?
TM: "Surreal" is really the only word for it. Previous to this, they were words on a page that I tried to do my best to bring to life in some relatable form. Obviously there are some parts of the scenes I'm not able to fully execute in a drawing, so to see it so fully captured and finished, it was like somebody had reached into my brain and pulled it out – like when they grabbed Freddy Krueger from a dream and pulled him into the real world. That's what it felt like to me. I got chills the first time I saw the bicycle-girl zombie, and that scene of Rick riding into Atlanta on horseback, and that highway – those scenes were straight from the panels I had drawn. I still sit back in awe that this was something I had done.
IFC: What are you hoping to see in the second season?
TM: It's pretty wide open. They've covered a lot of ground from the first volume but they've left plenty of threads hanging. I'm just looking forward to seeing how things play out. I think they're going to go to the farm this time, and they've hinted that they will probably bring Michonne into the mix. I think she'll be great to see on screen.
"Tucker & Dale vs. Evil is available via On Demand now, and stars Alan Tudyk, Tyler Labine, and Katrina Bowden. You can find out more about Tony Moore's work online at tonymooreillustration.com.
---
Chime in with your thoughts on the poster and interview below or on Facebook or Twitter.