Spy the "Tinker Tailor" domestic trailer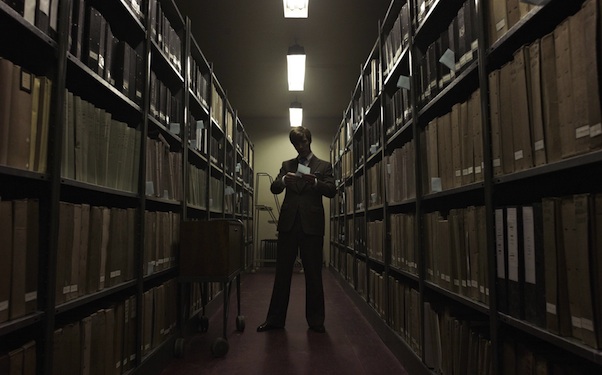 Posted by Matt Singer on
Having never read a novel by John le Carré, I guess I shouldn't be this excited for "Tinker Tailor Soldier Spy." On the other hand, forget the connection to Mr. David John Moore Cornwell: as a movie fan alone, how can not be excited about this movie? It's the first film directed by Tomas Alfredson since his amazing Swedish vampire movie "Let the Right One In" and the cast includes such British acting heavyweights as Gary Oldman, Colin Firth, Tom Hardy, John Hurt, Toby Jones, Ciarán Hinds, and Mark Strong. Plus, I may not have read any of le Carré's novels, but I've seen the previous movie adaptations of his work; "The Spy Who Came In From the Cold" (1965), "The Tailor of Panama" (2001), and "The Constant Gardener" (2005). They all range from good to classic.
"Tinker Tailer" already premiered to rave reviews at the Venice Film Festival, and it's already earning strong notices from British critics (the film premieres in the UK this Friday). It's early, and it's bound to come down, but its rating on Rotten Tomatoes currently sits at a whopping 100%. Again, that won't last, and that's fine. But it definitely gets you more excited to see it.
We previously brought you an international trailer for the film; here's the official one for the U.S. That's Oldman as George Smiley, the retired British agent brought back into the fold to uncover a Soviet mole, and Hardy as Ricki Tarr, who first finds the evidence of a possible traitor. The film opens in December 9, when the weather will surely be as chilly as the atmosphere between all these sneaky British spies.
Psyched for "Tinker Tailor Soldier Spy?" Tell us in the comments below or on Facebook and Twitter.