Three "Avengers" questions answered by "Marvel One-Shot: The Consultant"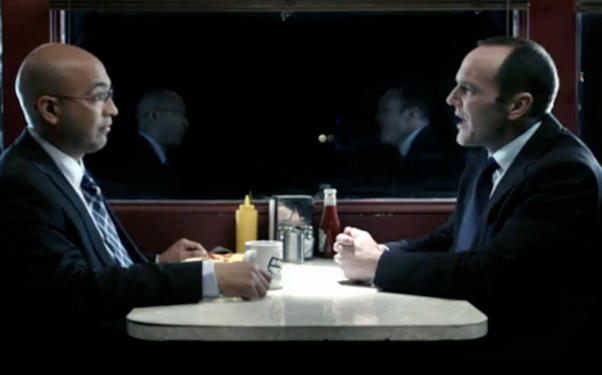 Posted by Rick Marshall on
Last month, Marvel revealed plans to release a pair of short films aimed at tying up some of the loose plot threads left dangling by "Thor," the "Iron Man" films, and the rest of the Marvel movie-verse in the lead-up to "The Avengers."
The first of these short films, "Marvel One-Shot: The Consultant," is included as a bonus feature on the "Thor" Blu-Ray. However, since the Blu-Ray has arrived a little early in some countries, "The Consultant" has already found its way online.
Not only does the four-minute short bridge the gap between "Iron Man 2" and "The Incredible Hulk," it also answers three big questions that fans have been buzzing about as we get closer to "The Avengers." You can watch the video below for yourself, but you'll want to pay extra-close attention to make sure these three elements come through loud and clear:
Q: What happened to Emil "The Abomination" Blonsky after "The Incredible Hulk"?

A: According to "The Consultant," Blonsky (played by Tim Roth in the 2008 film) is "in custody in General Ross' sector." In the aftermath of Blonsky's rampage, the government pinned the blame on Bruce Banner and the military secretly took "war hero" Blonsky into custody. "They want him exonerated, released , and then added to the [Avengers] roster," explains S.H.I.E.L.D. agent Phil Coulson (Clark Gregg) in the short.
Q: Why did Tony Stark approach Gen. Ross in the post-credits scene from "The Incredible Hulk" instead of Nick Fury?

A: As we learn in "The Consultant," Agent Coulson managed to avoid a direct order to add Blonsky to the Avengers roster by sending Tony Stark (Robert Downey Jr.) to make the request of Gen. Thaddeus "Thunderbolt" Ross (William Hurt). Knowing that Stark and Ross would definitely not play nice together, this ensured that negotiations for Blonsky's involvement would fall apart, removing the need to add him to the team.
Q: What is Tony Stark's status with The Avengers Initiative?

A: In "Iron Man 2," we learned that Tony Stark wasn't being brought on as a member of Nick Fury's "Avengers Initiative," but would instead serve as a "consultant" for the team. Given what we see in "The Consultant" of the S.H.I.E.L.D. agents' attitude toward Stark and the scene involving Stark and Ross, we're starting to get a much clearer picture of Iron Man will fit in the upcoming "Avengers" team-up movie. While that doesn't mean he won't be a full-time Avenger by the end of the film, it seems somewhat certain atthis point that he won't begin the film as an Avenger — which could mean Captain America will indeed be the group's leader when the team makes its big-screen debut.
What did you think of "The Consultant" short film from Marvel? Chime in below or on Facebook or Twitter.