The Sweet Ones serve up grim hors d'oeuvres in "Carburetor"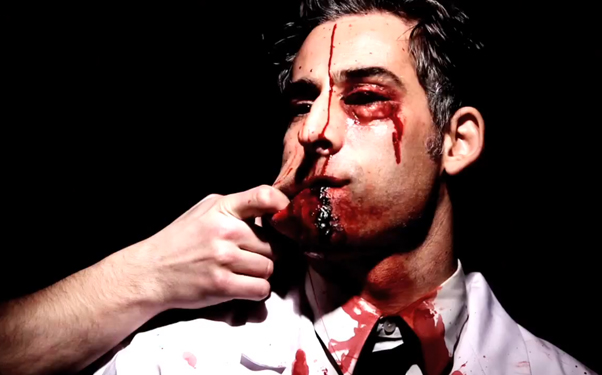 Posted by Brandon Kim on
Brooklyn threesome, The Sweet Ones, have turned me off of shrimp for the foreseeable future with this gruesome soiree. If the sound doesn't get you the blood and spitting probably will. With a sound self-described as Junk Rock, the band is "like that old shelf that never made it to the trash, and you realized you had a use for it in your garage," says singer/guitarist Doug Cote.
"Doug used to work for a caterer in NYC, and I guess he had some unresolved feelings to work out," director Brendan 'Spookie' Daly revealed about the abusive video. "By the time we left the location, it looked like a massacre had taken place. There was blood EVERYWHERE!" Daly purposely did more takes than necessary of drummer Matt Brundrett getting shrimp spit into his face, just for his cast and crew's enjoyment. "It was a howl to watch a sixty-year old woman spitting shrimp into Matt's face. I did as many takes of that as I could."
Cocktail sauce anyone? Let us know in the comments below or on Twitter or Facebook!