What are the most iconic images in film history?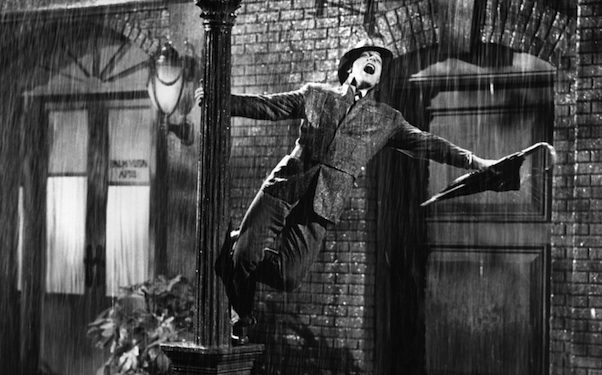 Posted by Matt Singer on
What would you say to a blog post about a big honking topic from the world of cinema that's impossible to wrap your head around in a single blog post? Would that be something you'd be interested in before you head off for the long holiday weekend? Good.
I enjoyed this list from WhatCulture.com that was linked to by IMDb today. It's called "10 Most Iconic Images in Film History" and it's pretty self-explanatory from there. The writer, Stuart Cummins, selected ten shots from ten films he considered to be cinema's most iconic. Gene Kelly, swinging from that streetlight up there, came in at #8, and in my mind that is a very strong choice. You can find all of Stuart's picks (and the images themselves) in his article but here's the raw top 5:
5. Jack Nicholson peering through the broken bathroom door in "The Shining" (1980)
4. Robert De Niro talking to himself in "Taxi Driver" (1976)
3. Marlon Brando as "The Godfather" (1972)
2. Marilyn Monroe's skirt flies into the air in "The Seven Year Itch" (1955)
1. Janet Leigh in the Bates Motel shower in "Psycho" (1960)
These are all unassailably iconic images. These are the images that come to your mind when you close your eyes and think of movies. No question. And the rest of the top ten is similarly solid.
Can you feel the but coming? It's a blog post, people, there's always a but coming.
BUT!!! I've got two main gripes with these iconic images. First, with the exception of #9 (Ursula Andress in her bathing suit from "Dr. No"), these are all American films, so they probably should have changed the title to "10 Most Iconic Images in American Film History." The other problem: the most recent title is "Platoon" from 1986. I know that distance and time are the only things that can make a movie image iconic, but surely there have been memorable visuals in the last 25 years of movies. I think there are.
So here, by way of respectful rebuttal, are five more iconic images. They're so iconic, in fact, I won't even tell you what they are. But you'll know them anyway. That's what makes them iconic.
What do you think is the most iconic image in film history? Tell us in the comments below or on Facebook and Twitter.
[Additional images courtesy the Everett Collection]