Check out the first image from "The Human Centipede 2 (Full Sequence)"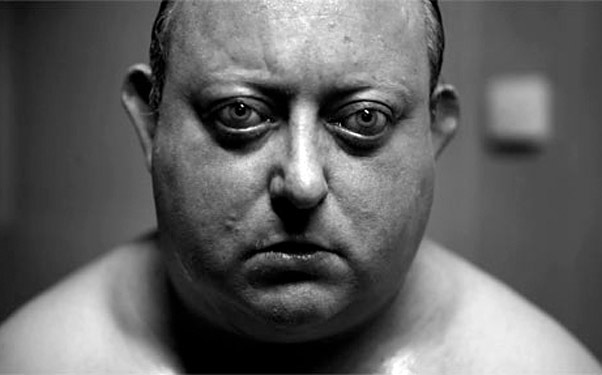 Posted by Aubrey Sitterson on
When watching "The Human Centipede (First Sequence)," did you say to yourself, "Self, I like what I see here, but I wish there was someway to graft sexual perversion onto this grotesquerie, in much the same way one might graft a victim's mouth to the anus of another victim?" If so, then boy howdy are you in luck.
Like the first "Human Centipede" flick, "The Human Centipede II (Full Sequence)" was directed by Tom Six, but is going to be oh-so-much-more-revolting and stomach-churning due to the sexual motivation of the film's Human Centipede enthusiast. In fact, the film is so atrocious that the British Board of Film Classification refused to allow it to be released, judging it "sexually violent and potentially obscene."
Fortunately for you sickos out there, the thought police haven't taken over in this country yet, man, so "The Human Centipede II: Full Sequence" will get a limited theatrical release on October 7, courtesy of the fine, upstanding, not at all morally depraved folks at our sister company, IFC Films. As you struggle to find something worthwhile to do in the month before the film hits screens, why not check out a picture of the movie's villain, Martin, as portrayed by Laurence R. Harvey, courtesy of EW.
Without giving anything away, Martin's a real sick puppy, even by "Human Centipede" standards. While the first movie's villain was simply trying to carryout a completely reasonable experiment, Martin's obsession with the idea is based on how much it turns him on. Things proceed pretty much how you expect, but way grosser and more upsetting. Plus, check out the guy's googly Peter Lorre eyes. Creepy!
Still not convinced that this is the sexual violence, defecation and perverse surgery flick of the year? Then watch the teaser below that shows how normal people react to the film.
What do you think about "Human Centipede II (Full Sequence)"? Will you be hitting the theater on October 7 with a barf bag in tow? Tell us in the comments below or on Facebook and Twitter.