Arnold Schwarzenegger and Bruce Willis return for larger roles in "The Expendables 2"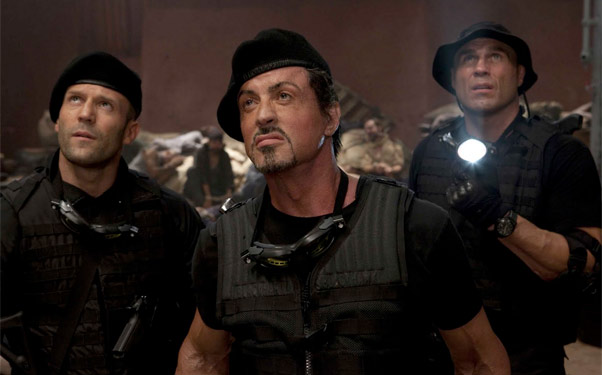 Posted by Aubrey Sitterson on
With both "The Expendables" and "Red" having done remarkably well at the box office, if there's one thing that 2010 taught us it's that America loves watching older men kick asses. Fortunately, "The Expendables 2" seems to be sticking with that winning formula and even amping it up a bit, as both Arnold Schwarzenegger and Bruce Willis will return to the sequel with larger roles.
Directed by and starring Sylvester Stallone, "The Expendales" featured a cast of certified Hollywood badasses including Jason Statham, Jet Li, Dolph Lundgren, Randy Couture, "Stone Cold" Steve Austin, Terry Crews and Mickey Rourke. Also appearing in a brief, testosterone-laden scene in a church were Sly's partners in 1980s flexing-based films, Schwarzenegger and Willis. While it was a thrill seeing three action movie icons on screen together, it was more than a little disappointing when the trio didn't throw down together.
Deadline is now reporting that "The Expendables 2" will be correcting that regrettable mistake, as both actors have reportedly signed on for "substantial" roles. Stallone won't be directing this time out, but he, Statham, Lundgren, Rourke, Crews and Jet Li are all expected to return for the sequel.
Filming begins next month for an August 2012 release, with Schwarzenegger making time for the project in between "Last Stand" and fathering illegitimate children, and Willis completing filming before heading off to the set of "Die Hard 5." Other rumored editions to the cast include Jean-Claude Van Damme, Hulk Hogan, Mr. T, Carl Weathers, The Rock, Chuck Norris, John Travolta and others, which would all be great of course, but what we really want is a Sammo Hung appearance.
Are you excited to see Schwarzenegger and Willis take on larger roles in "The Expendables 2"? Who else would you like to see appear in the sequel? Tell us in the comments below or on Facebook and Twitter.