"The Avengers" behind-the-scenes set photos hit the web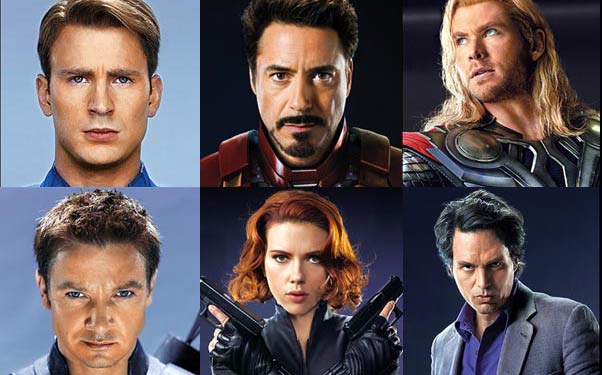 Posted by Terri Schwartz on
Did our earlier story about "The Avengers" Entertainment Weekly cover — which hits newsstands this Friday — get you really psyched about the movie? Then you're in luck, because the magazine has released an early look at some of the behind-the-scenes set photos that will be included in the movie's cover story. And yes, they do look a heck of a lot better than the heavily photoshopped image that's being used for this week's cover.
Since the movie is the culmination of the five previously released Marvel superhero movies, the photos all show the flick's ensemble cast interacting with one another. Up first, we have Chris Evans as Captain America (in his new suit, nonetheless) and Robert Downey Jr. as Tony Stark looking off into the distance with displeased looks on their faces. There's sure to be some tension between these two characters, as Captain America was friends with Stark's father, Howard Stark, during their World War II days.
Up next, there's an action-packed shot of Jeremy Renner as Hawkeye and Scarlett Johansson as Black Widow in the middle of one of the film's fight scenes. Judging by the taxi cab in the picture, I'm guessing that this shot will be a part of the big action sequence that has been filming recently, though the green screen shows that this was shot on a set.
There's also a neat behind-the-scenes photo of director Joss Whedon chatting with stars Downey, Evans and Chris Hemsworth. Judging by the happy looks on their faces, it looks like Whedon wasn't kidding when he said his cast were actually really good friends.
EW also posted the individual headshots of each of "The Avengers" stars that they used to create the ensemble cover image. They're worth checking out, if only because they look so much better on their own than pasted together.
When talking about his cast in the cover story, Whedon said that "The Avengers'" A-list actors get along well on set, unlike their big screen counterparts. "I was like, well, if they hate each other, I guess we can use that," he said. "But they don't."
What do you think of these latest behind-the-scenes photos? Do you like the individual headshots better than EW's cover image? Let us know below or on Facebook or Twitter.