New "The Avengers" stills capture Scarlett Johansson, Chris Evans and Samuel L. Jackson in action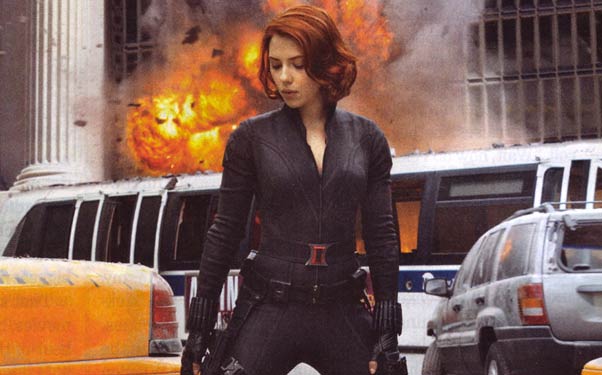 Posted by Terri Schwartz on
In a little over seven months, "The Avengers" are going to be flying, smashing and rampaging their way to the big screen. The ensemble Marvel flick is one of the most hyped movies in 2012, and yesterday we brought you the news that Entertainment Weekly had selected the movie to be the focus of the magazine's cover story this week. Fortunately, the excitement didn't end with that.
Yesterday EW released a series of behind-the-scenes photos from the issue (on newsstands today), and today ComingSoon.net got their hands on scans of even more photos from the magazine. They're fully realized stills from "The Avengers" movie versus being behind-the-scenes photos, and are definitely a bit juicier than what was released yesterday.
There's a great shot of Loki, the villain in "The Avengers," being walked through what looks like a military facility by a group of blue-clad soldiers. This isn't the first time we've seen Tom Hiddleston in costume for this film, but the new scan shows a scene that hasn't been previously revealed.
"I think [Thor's] motivation is much more of a personal one, in the sense that it's his brother that is stirring things up. Whereas everyone else, it's some bad guy who they've gotta take down," said "Thor" star Chris Hemsworth of his onscreen brother in a new excerpt from the EW story. "It's a different approach for me, or for Thor. He's constantly having to battle the greater good and what he should do vs. … it's his little brother there."
Also included in the new images is a shot of Chris Evans looking at a case that holds his Captain America uniform, labeled "Cpt Steve Rogers." Evans shared with EW that his character will have a bit of a tough time adjusting to the present day.
"He was a soldier, obviously, everybody he went to battle with, all of his brothers in arms, they're all dead. He's just lonely," Evans said. "I think in the beginning it's a fish out of water scene, and it's tough. It's a tough pill for him to swallow. Then comes trying to find a balance with the modern world."
Then there's Scarlett Johansson, looking her usual sultry self as the Black Widow. This photo looks to be from the same action sequence as the one revealed yesterday that featured her and her fellow human Avenger, Hawkeye. Apparently Johansson was a bit insecure when shooting her head shot for the EW cover.
"The other day we were doing this big reveal shot of all the Avengers. Thor has got his hammer, Cap's got his shield, Hawkeye has his bow and arrow, and Hulk is huge. Then it pans over to me and I've got guns. Iron Man's like, hovering above all of us, ready to go," she said. "I was like, '[director] Joss [Whedon]… um… do I look okay holding these guns?'" His response helped reassure her: "She's a total badass. She's a killing machine."
Apparently there will be a kinship evident between Johansson's Black Widow and Jeremy Renner's Hawkeye because they are the only two humans in the superhero line-up. But, according to Mark Ruffalo, there also will be an unlikely friendship between his character, the Hulk, and Robert Downey Jr.'s Iron Man.
"No one wants to set him off except for Iron Man, except for Downey, who just wants to see him pop," Ruffalo said. "It's funny, there's a really cool dynamic between Tony Stark and Banner. Banner actually enjoys it, and finds it really refreshing. They're a lot alike in a strange way. They're both these kind of scientists who are mavericks, kind of renegades."
Also included in the new photos was a picture of Samuel L. Jackson as Nick Fury firing gun like a total badass. "The Avengers" hits theaters on May 4, 2012.
What do you think of this deluge of new stills from "The Avengers"? Is this a movie you're looking forward to? Tell us below in the comments or on Facebook or Twitter.