"The Avengers" get covered, as director Joss Whedon reflects on his burgeoning superhero family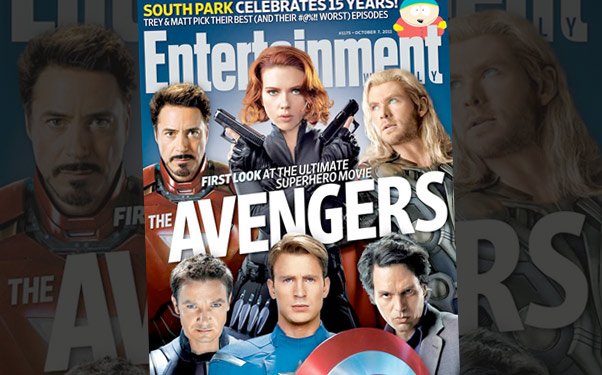 Posted by IFC on
It's not a stretch to say that "The Avengers" is one of the most eagerly anticipated movies of 2012. In a year jam-packed with blockbuster comic book flicks — such as "The Dark Knight Rises" and "The Amazing Spider-Man" — Marvel's attempt to bring together their film franchise in one ensemble collaboration is a gamble that could change the way Hollywood makes movie series.
That last statement might be getting a bit ahead of ourselves, but seriously, people are excited for this movie. That's why Entertainment Weekly dedicated their Sept. 30 issue to "The Avengers," replete with a heavily photoshopped cover featuring the film's six main stars. The magazine released a tease of the cover story and set visit report today featuring interviews with Robert Downey Jr., Jeremy Renner and director Joss Whedon.
Apparently Downey took his notorious habit of "pushing for heat-of-the-moment script punch-ups" with him from the set of "Iron Man" to "The Avengers." That's why, for much of the time EW was on set, Whedon could be seen off in a corner obsessively rewriting and adding new pages of dialogue.
"There is a weird element of: they handed me one of the biggest movies of all time, and I'm making it up as I go," he said.
It turns out that Whedon was a bit caught off by the fact that his ensemble cast filled with big name stars — Downey, Renner, Scarlett Johansson, Mark Ruffalo, Chris Evans and Chris Hemsworth — got along so well. In fact, he was counting on a bit of friction. "I was like, well, if they hate each other, I guess we can use that," he said with a shrug. "But they don't."
But just because they get together on set doesn't mean their characters are going to get along as amicably in the film. "Just because they're super heroes doesn't mean they're super friends," Renner said.
Fans got a tease of that tension in the "Avengers" teaser at the end of "Captain America: The First Avenger." In an interview with Samuel L. Jackson in August, he said he got a kick out of seeing all the Marvel actors together in one room.
"We're all really good friends," he said, "It's kind of funny to stand around in a room and see everybody. Thor is standing there in his costume. Captain America. Sometime's he's dressed and sometimes he's not. Scarlett [Johansson] is there as Black Widow. Robert Downey is there. He very seldom has his Iron Man costume on when he's just hanging around with his buds."
"It's just amazing to look around the room and see all of those guys there and go, 'Okay. This is cool,'" he added.
"The Avengers" hits theaters May 4, 2012.
How psyched are you to finally see "The Avengers"? What are you most looking forward to seeing? Let us know below or on Facebook or Twitter.