"The Autobiography of Nicolae Ceausescu," reviewed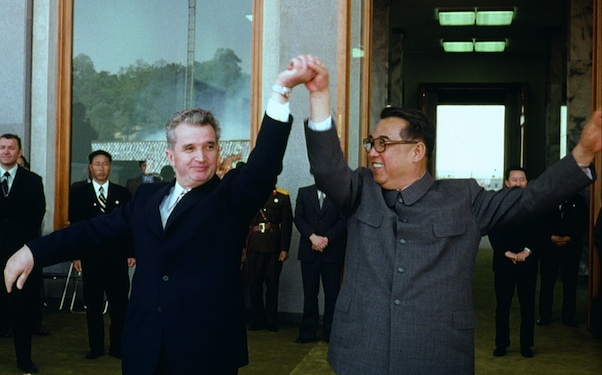 Posted by Matt Singer on
We perceive documentaries as records of truth; these things happened, the camera recorded them. "The Autobiography of Nicolae Ceausescu" is a record of a lie. Yes, these things happened, and yes, the camera recorded them. But why did they happen and how? And what was going on when the camera wasn't around? Because of its unusual structure, the film doesn't say. But attentive viewers will realize this "autobiography" presents an incomplete view of history.
It comes from the perspective of Nicolae Ceausescu, Communist dictator of Romania from 1967 to 1989. A man with a taste for the spotlight, Ceausescu rarely missed an opportunity for a photo opportunity, and he filled his nation's official archive with hundreds upon hundreds of hours of himself at work and play. The footage is extensive but not comprehensive: lots of speeches and meetings with foreign heads-of-state, occasional travels abroad or hunting expeditions, but no mentions of food shortages or public demonstrations against his regime. Director Andrei Ujica screened all of it and assembled this three-hour film. There is no voiceover and no interviews with experts or historians, just 180 minutes of a life lived inside this impenetrable bubble of peace, prosperity, and propaganda. If you had no outside knowledge of Romanian history, you might be taken by surprise when Ceausescu's end comes, seemingly out of nowhere. From his insanely warped perspective, he was a great leader caught in a sort of modern day Greek tragedy. Near the end of "The Autobiography," after Ceausescu's been deposed, he responds to the allegations that he ordered the execution of protestors by insisting "What you're saying is all lies, mystifications, provocations!" One of the most interesting things about "The Autobiography" is the fact that it suggests Ceausescu not only fabricated his own reality, he bought into his own self-inflating mythology as completely as anyone else. This guy didn't just read his own press clippings, he shot footage of himself reading his own press clippings and smirking while a bunch of lackeys stood around applauding.
Of course, beyond the boundaries of Ujica's frame were real tragedies which afflicted the people of Romania for decades. But Ceausescu's Communist media machine didn't record them, so they don't appear in the film. Aside from one very vocal critic who pipes up to protest Ceausescu impending reelection in front of Congress and is quickly and aggressively shouted down, there isn't a single voice of dissent in the entire movie. Instead, we watch the small cracks begin to form in the facade of Ceausescu's carefully constructed fantasy world. The crowds for his public appearances start to thin out. They still applaud for him, but not so intensely. Some of the sequences are just surreal. On a visit to California, fabricated realities collide when Ceausescu tours the backlot at Universal Studios. He appears to be taking very careful mental notes.
Ujica's film is a major accomplishment for historians and documentary scholars and it is a powerful indictment of politically manipulated media. At three hours it's also really, really long. Occasionally, I grew a little weary of the endless parade of contextless footage of dignitaries and state functions. With my limited knowledge of Romanian history, and without a narration or intertitles to guide me, I'm sure a lot of Ujica's subtler points went right over my head. I began to believe the director could have made his point just as powerfully in half the runtime. But upon further consideration, the size of the movie reflect the size of its subject's ego. Both are a little bloated.
"The Autobiography of Nicolae Ceausescu" opens today in New York City. If you see it, tell us what you think in the comments below or on Facebook and Twitter.