Ten celebrity Twitterers who don't quite grasp the medium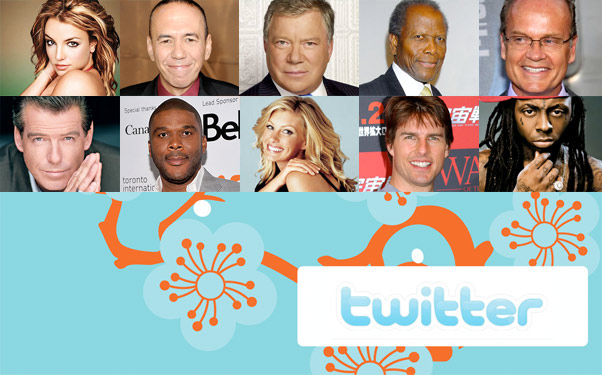 Posted by IFC on
Twitter is a magical land where the touch of an icon on your iPhone can reveal pictures of Tom Hanks checking out a new filming location or what Lindsay Lohan ate for breakfast. Celebrities are just like everyone else in the world, learning how social media works and how to make it work for them.
Over the last few years, however, not everyone has found success. Some famous faces have struggled to figure out what Twitter actually is. A few have abandoned their accounts entirely, and at least one has even lost a job because of it. On a scale of 10 down to an automated telephone answering machine, here is a list of celebrities whose accounts could use a little work.
---
10. Gilbert Gottfried (@RealGilbert)
Gilbert Gottfried is one of the most prolific comedians on Twitter, and if you're one of his followers you probably don't have a problem with his sense of humor — after all, you decided to follow the guy who once killed a room with a 9/11 joke and recovered by transitioning into an Aristocrats joke.
Gottfried ran into a problem, however, when he tweeted in jest about the Japanese tsunami and wound up losing his gig as the voice of the Aflac duck. Your boss cares what you post publicly on your social media accounts, and in this case, so did his.
---
9. Pierce Brosnan (@piercebrosnan)
Granted, this account is not capital-V Verified, so we can't be 100-percent sure that Pierce Brosnan was behind these two lonely posts from 2009 and 2010 that managed to make it out into the Twittersphere.
Twitter isn't for everyone, so we don't hold anything against him if he had more important things to do. Still, he promised to let us known how the Paul McCartney concert went two years ago and has yet to follow up with a review. Alas, we may never know.
---
8. Sidney Poitier (@sidneypoitier)
Sidney Poitier is an Oscar-winning legend, so he can do whatever he wants, whether that involves Twitter or not. Nevertheless, like Brosnan, his account is neither Verified nor well maintained.
Assuming Poitier actually did start the account in 2009, though, the one post he did write is pretty hilarious. In it, he announces that he is on Twitter and tried to put that into perspective. Apparently he's still there!
---
7. Lil Wayne (@liltunechi)
Weezy never worries about wasting his limited Twitter characters on words when they can be better allotted for exclamation points. A seven-exclamation-point party, for instance, is presumably a more positive experience than a mere five-exclamation-point party.
You can't knock the guy for his enthusiasm. We just hope that Stevie Wonder didn't feel slighted for getting fewer punctuation marks than Jamal Crawford.
---
6. Britney Spears (@britneyspears)
For starters, whoever wrote Brtiney Spears' profile on Twitter needs to learn about comma and capitalization standards. Instead of quoting the introduction to her song "Gimme More," where the star announces, "It's Britney, bitch," her profile seems to introduce Spears' alter-ego "Britney Bitch."
Spears doesn't come off as bitchy at all on her account, though. In fact, it's pretty much just a litany of "Thx" messages, sugar-coated love and promotional linking. And you know what? Generic, mass-produced positivity isn't the worst thing in the world. So we'll keep her back here in the bottom five.
---
5. William Shatner (@williamshatner)
Have you ever had to explain to a parent or grandparent that it's not always necessary to include a greeting or closing with the text messages they send from their cellphone. The former captain of the USS Enterprise is the Twitter incarnation of that situation.
While, his customary ending, "My best, Bill," does add a wholesome, grandfatherly naïveté to the end of almost every one of his personal tweets, it also handicaps him with only 126 characters left (instead of the customary 140) for relaying his profound insights.
---
4. Kelsey Grammer (@Kelsey_Grammer)
To his credit, Kelsey Grammer gave Twitter a much more spirited try than Brosnan appeared to. His unique follower engagement strategy, however, involved directing people to his very own Kelsey Grammer-branded network on KelseyLive.com.
The site doesn't seem to be in operation any longer. Before Grammer went Twitter silent at the end of 2010, though, his trademark post was a response to fans asking him to follow them. Apparently, in order to earn Grammer's follow, tweeters needed to follow his "tech guy" and then join a group on Kelsey Live.
Why can't the Internet always be this simple?
---
3. Tyler Perry (@tylerperry)
Sometimes when you follow a Verified celebrity Twitter feed, you get a charming, conversational voice on the other end that shares wacky YouTube links with you and lets little details slip about a project that they're currently working on.
Then, there are accounts like the one belonging to Madea franchise founder Tyler Perry. It's pretty much just an endless string of form posts directing you to go to his website and subscribe to his email newsletter–and we all know that email newsletters are the future of audience engagement.
---
2. Faith Hill (@faithhill)
If you're already following Faith Hill on Facebook, you shouldn't have much need for a Twitter feed full of cut-off auto-reposted headlines and Facebook links. Sometimes following a marketing representative with Verified power to represent someone you like is almost as good as actually receiving communication from them, but you won't find a lot of excitement or passion in these half-sentences and repeated calls to enter contests and buy things on iTunes.
---
1. Tom Cruise (@TomCruise)
Tom Cruise's account is at least up front about the fact that even though it's Verified, you're not actually following Cruise himself–you're following the official "TomCruise.com team." It's basically like following Steve Jobs and instead receiving tweets from Apple Store retail team members.
However, if you need to find a Twitter account that lets you know when anniversary Blu-ray editions of Cruise films become available, this is truly the account that you've been looking for.
---
Which celebrity Twitter accounts have left you unfulfilled? Let us know below or on Twitter or Facebook.