Steven Spielberg regrets digital changes to "E.T.," plans to release original versions of that film and "Raiders of the Lost Ark"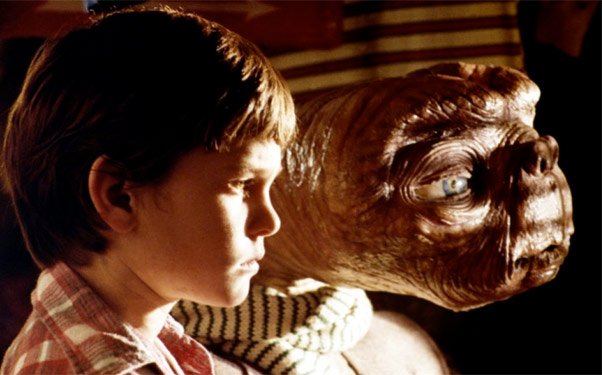 Posted by Aubrey Sitterson on
Though it never reached the level of say, his pal George Lucas adding an extremely tasteful "NOOOOOOOO!" to "Return of the Jedi," Steven Spielberg is no stranger to digitally altering his earlier films after the fact. But comments from the director indicate that two of his most beloved movies, "E.T" and "Raiders of the Lost Ark" could make their way to Blu-ray in their original, unedited versions.
Slashfilm picked up on the news via a set of Spielberg quotes from AllThingsFangirl, given after a screening of "Raiders of the Lost Ark" from a brand spanking new digital print. In speaking about digital alterations, Spielberg referenced changes made to "E.T," including swapping out guns in several scenes for walkie-talkies, and claimed that he "lived to regret it." The director further explained, "I realized what I had done was I had robbed people who loved E.T. of their memories of E.T."
In addition to announcing that the new Blu-ray edition of "E.T." would be from the original 1982 version of the film, Spielberg also spoke out another of his most beloved films, "Raiders of the Lost Ark." While he didn't come right out and say that they were eschewing digitally altered versions of the first "Indiana Jones" flick, he did claim, "We haven't removed anything, we haven't added CGI, there's no digital enhancements! It's purely the movie some of you may remember from 1981."
Are you relieved to have the original versions of "E.T." and "Raiders of the Lost Ark" released on Blu-ray? Tell us in the comments below or on Facebook and Twitter.