"Star Wars" Wampa sneakers by Adidas keep styling Jedis cooler than Hoth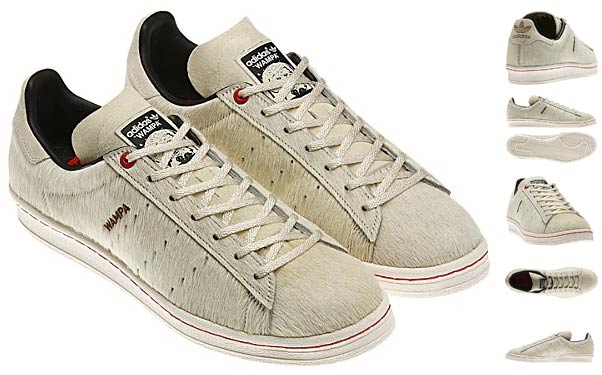 Posted by IFC on
Let the battle between who can make the coolest nerd-themed sneaker ensue. Earlier this month, news broke that Nike is actually going to produce the sneaks that Marty McFly wore in "Back to the Future Part II," minus their self-tying feature and attached hoverboard. Of course, the shoes will run you upwards of $5000, but at least it's for a good cause!
Enter Adidas, who is offering a much more affordable pair of kicks themed off another beloved sci-fi franchise. Meet their latest member of the company's "Star Wars" line: Campus 80s Wampa shoes. Yes, that is shaggy, Wampa-fur exterior you see covering them in the above photo.
The sneakers are running for $150, which is about the same price as the rest of the shoes in the line. If you weren't a fan of the ill-fated Yeti-like native of the ice-planet Hoth, then there are still plenty of other options to sport your love of "Star Wars" on your feet. Sticking with "The Empire Strikes Back" theme, there's always the Forum Low RS AT-AT shoes, or the Hoth Skywalker shoes modeled after the kicks Luke wears while riding the tauntaun at the beginning of the movie. I'm partial to the Darth Vader-themed Stan Smith 80s mid shoes myself.
Unlike the "Back to the Future" sneaks, the Wampa shoes are available right now over at the Adidas online store. Make sure you remember to take them off before crawling into your Tauntaun sleeping bag and brag to all your friends that you made better use of the dead Yeti than Luke ever did.
Will you be lacing up in Hoth monster fur or a pair of standard-issue Rebellion kicks? Tell us in the comments below or on Facebook or Twitter.