Fantastic Fest 2011: "Sleepless Night," reviewed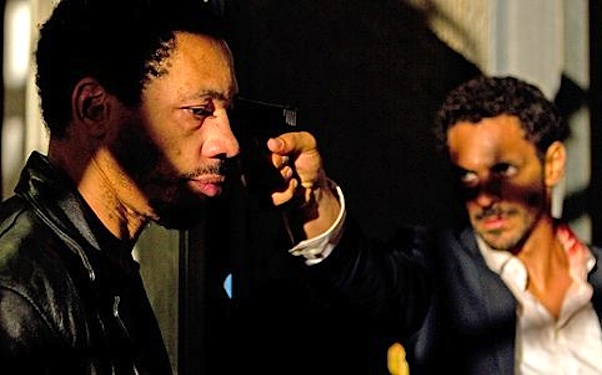 Posted by Matt Singer on
There's been a lot of good criticism about action movies lately. Matthias Stork and Jim Emerson's "Chaos Cinema" and "In the Cut" video essays have got people asking the question: what makes a good action movie? I've just seen the answer; it's a French thriller called "Sleepless Night." Without being didactic in any way, it is action movie as criticism of action movies, leading by example in an era of incoherent films with stale aesthetics. After a long day at Fantastic Fest, a midnight screening of "Sleepless Night" woke me up more effectively than any cup of coffee I've ever had in my life. Hours later, I was still riding the high. So the movie's not only great, the title's accurate too.
Exposition is kept to a minimum; action defines character. Impressions are made, then upended by new revelations, onion-peeling style. We open on a daring daytime heist. Two men, Vincent (Tomer Sisley) and Manu (Laurent Stocker), steal a bag of drugs from two mules who work for a local kingpin named Marciano (Serge Riaboukine). After the heist, we follow Vincent back to work. At a police station. Only then do we realize: these guys are actually dirty cops.
Marciano figures out who took his drugs. To get them back, he kidnaps Vincent's son and holds him hostage at a dance club. Despite Manu's objections, Vincent brings the dope to the club, stashing the bag in the men's room ceiling before meeting Marciano. He never notices a female cop on his tail; she swipes the dope and hides it elsewhere in the club. Now all the pieces are in place: Vincent needs to give Marciano the heroin he doesn't have and can't find or his son is dead. And while he scrambles for a solution, he's also got to contend with cops and gangsters closing in.
The last character in this story is the club itself, the setting for the entire movie after the introductory scenes. That's where Frédéric Jardin really distinguishes himself as an gifted action director. The club is a sprawl of dance floors and bars and stairwells and private offices; Jardin connects them all with crystal clarity. The film exhibits a use-the-whole-buffalo mentality: every dangling plot point, every seemingly minor supporting character, every thrown away line of dialogue has a purpose. Vincent might be running like a madman, but Jardin is in total control. He directs every beat with surgical precision.
So what are the qualities that define a great action movie? If we follow the example set by "Sleepless Night," you need a great protagonist on a quest with some real stakes, fighting a villain you love to hate. From 90-odd minutes Vincent wriggles like a fly in a spider's web. Each move for freedom gets him stuck in ever deeper trouble. Everywhere he turns there are multiple villains we love to hate, including a few surprise ones. Sisley's performance as Vincent is as relentlessly intense as the film around him. His situation is so dire and his love for his son runs so deep, you can't help but root for him despite his flaws. So the action isn't just cool, it means something.
A great action movie also needs to pay close attention to geography, and it definitely wouldn't hurt to take enough care when crafting your screenplay to make sure every little detail of plot and continuity fit together. As Vincent dashes around the club, he keeps bumping into the same characters over and over again, from an illegal alien in the kitchen to a battered woman in the bathroom. Each ally he makes becomes a crucial element of his fight to rescue his son. Vincent's improvisatory escapes are so clever, they make us like him even more.
Lastly, a great action movie definitely need at least one balls-out, tooth-and-nail fight scene like the one that takes place between Vincent and another character in the kitchen of Marciano's club. In every moment of that fight you can tell who is who, where they are, and what they're doing. The choreography is clear and the integration of the environment is inventive; if the Oscars added a category for Best Use of Kitchen Drawers, "Sleepless Night" would be a shoo-in. Come to think of it, if they added a Best Action Movie category it would be a shoo-in for that one too.
"Sleepless Night" does not have US distribution; Warner Brothers recently acquired the film's remake rights. If you see it at Fantastic Fest — AND BY GOD YOU SHOULD — tell us what you think. Leave us a comment below or write to us on Facebook and Twitter.