Sigourney Weaver confirms "Avatar 2" return, offers thoughts on "Ghostbusters 3"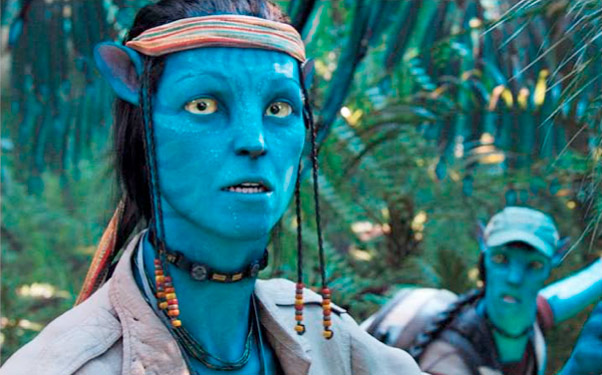 Posted by Aubrey Sitterson on
As a castmember in "Abduction," Sigourney Weaver has recently been doing her duly appointed duty, giving interviews in an attempt to convince people to go see a Taylor Lautner movie where he almost certainly doesn't turn into a werewolf. Thankfully, some folks were bright enough to ask the actress about some highly-anticipated projects that we really care about: New "Ghostbusters" and "Avatar" movies.
In a conversation with ComingSoon, Weaver graciously answered a question she must hear at least once a day and spoke about the likelihood of "Ghostbusters 3" actually happening. Despite not having read the script, the actress seems convinced that her character's son, Oscar, will have grown up to be a Ghostbuster in the new movie. Oscar, who was an infant in 1989's "Ghostbusters 2," would work out to be at least 23 if aging in real time. In related news: You're old.
When he's not trying to keep his telephone conversations with Britney Spears secret from the Men in Black, "Ghostbusters" star Dan Aykroyd has been doing the rounds himself, claiming that the third film will happen with or without Bill Murray. In a separate interview with Cinema Blend, Weaver pointed toward the latter possibility when she mentioned, "Well, I guess [Murray's character] Peter Venkman is dead." However, Cinema Blend was quick to point out that the actress could just be repeating a 2009 story about Murray appearing in the film as a ghost.
Meanwhile, another Weaver-starring film, "Avatar" has a sequel in the works that is a little bit more of a sure thing, largely on account of the fact that James Cameron's 3D take on "Ferngully" is only the biggest, most successful movie of all time. Not to spoil a nearly two-year-old film that everyone reading this is almost statistically guaranteed to have seen at least once, but SPOILER: Sigourney Weaver's character dies at the end of the movie.
Weaver and Cameron aren't going to let a little thing like death get in the way of keeping a lucrative franchise healthy, however, with the actress confirming to ComingSoon, "Don't worry, I'll be back." She further explained that according to the director "no one ever dies in science-fiction," and that the stories for the next two "Avatar" movies are "absolutely wonderful."
What do you think about Dana Barrett's son Oscar growing up to be a Ghostbuster? Also, do you think your motion sickness can handle another two "Avatar" movies? Tell us in the comments below or on Facebook and Twitter.