"Shut Up Little Man!" reviewed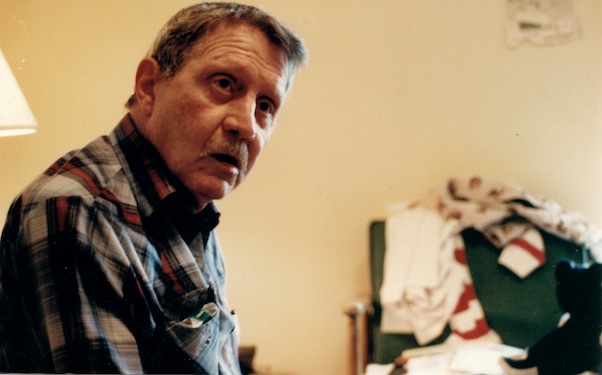 Posted by Matt Singer on
Everyone can relate to horror stories about bad neighbors. But in 1987, two kids from the Midwest with the punk rock nicknames Eddie Lee Sausage and Mitchell D. did something not everyone would do. Their next door neighbors in a San Francisco apartment complex with paper thin walls were two aging alcoholics named Peter J. Haskett and Raymond Huffman. Peter and Ray liked to stay up all night chugging vodka and beating the crap out of one another, both physically and verbally. After enduring weeks of fights, and trying in vain to beg the men to quiet down, Eddie and Mitchell decided to start recording Peter and Ray surreptitiously, with a microphone they hung on a ski pole and held out their window. Why? They were young, they were bored, and they were curious. Plus, they were compiling useful evidence in case one of these drunks tried to murder one of them or each other.
That never happened, thankfully, but Eddie and Mitchell were so enamored with Peter and Ray's uniquely caustic banter that they began compiling it onto cassette tapes and passing them around to friends. The friends passed them to other friends, and soon "Shut Up Little Man!," as Eddie and Mitchell named their series of "audio verite" recordings, were spreading virally through underground culture. The recordings, 10 hours in all, became a cult phenomenon in the days before the Internet for the same reason things become cult phenomenon today: they was authentic, voyeuristic, and accidentally hilarious.
But were they right? That's the really interesting question that gets explored in documentary "Shut Up Little Man!" by director Matthew Bate. He asks it in a sneaky way, too. The opening third of the film introduces us to Eddie and Mitchell as middle aged men, recounting and even recreating the story of their journey to San Francisco and their wars with Peter and Ray. They are charming and witty guys. Then we hear excerpts of the "Shut Up Little Man!" recordings. They're funny too. Then once we're hooked on the story and the tapes just like the famous Peter and Ray fans interviewed in the movie (like musician Bob Mothersbaugh, director Mike Mitchell, and illustrators Daniel Clowes and Ivan Brunetti) Bate muddies the water.
There are a couple of issues here. From a legal standpoint, who owns this material? At first, Eddie and Mitchell passed their tapes freely. But then, sensing an opportunity to make some money, they copyrighted the recordings. Can you copyright something after you've not copyrighted it? Then there's the moral issue: is it right to record someone without their permission and profit from it? What if you're treating a destitute old man's addiction as the source of comedy? These questions get down to the root of every viral video on YouTube. A YouTube clip has no context, has no larger implications. It's deliberately disposable. But what if those clips are about people's real lives? Are the lives disposable as well? Should we be allowed to laugh at the misfortune of others, whether they're the "Star Wars" Kid or the Winnebago Man, if they had no interest in that sort of attention? To us, those clips are trivial because they take a matter of seconds to watch and laugh at. To the subjects who have their lives changed forever, they're anything but.
All of these questions swirl around "Shut Up Little Man!" in a really interesting way. Eddie and Mitchell even return to San Francisco looking for Peter and Ray's sole living acquaintance in the hope that he'll provide further insight into Peter and Ray's life and relationship and, perhaps, absolve them of some of the guilt they feel about what they've done. There are no definitive answers, but there are a lot of debates, and a lot of juicy arguments between the various parties who believe they own a piece of Peter and Ray. In some cases, people disagree completely about whether or not certain conversations even took place. Too bad no one was recording them.
Bate does a nice job of weighing all the various interests equally, and the documentary manages to ask some heavy questions while maintaining a light tone. The movie is food for your ears and food for thought. It's so good it makes you curious about the original recordings. I'm sure a lot of viewers will go online and order copies of the "Shut up Little Man!" CD, which Eddie still sells. Which means Bate is now implicated in the business as well.
"Shut Up Little Man!" opens Friday in New York and Los Angeles. For a full list of playdates go to ShutUpLittleManFilm.com. If you see it, we want to hear what you think. Tell us in the comments below or on Facebook and Twitter.