Winging through "Airplane!" on Blu-ray with Robert Hays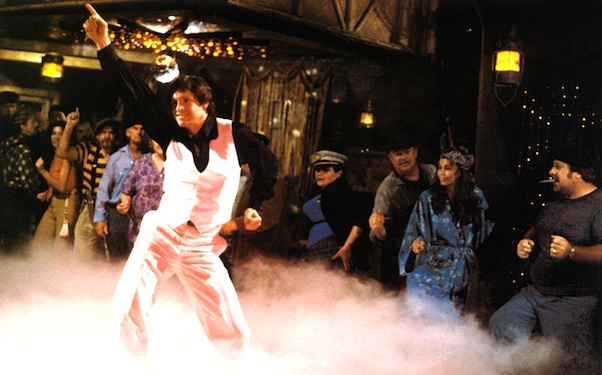 Posted by Matt Singer on
One of the greatest movies of all-time is coming out on Blu-ray. What is it? It's a polycarbonate disc that contains the digital files of a movie, but that's not important right now.
What is important is the classic comedy "Airplane!" available on Blu-ray for the first time. To celebrate the occasion, we spoke with "Airplane!" star Robert Hays — Ted Striker himself — about working with writer/directors David and Jerry Zucker and Jim Abrahams, battling the late Leslie Nielsen's infamous fart machine, and trying not to freak people out when they recognize him on airplanes. Disengage your autopilot, put down your copy of "Famous Jewish Sports Legends," and enjoy.
How did you get the part? Did you audition?
Yeah, I did. My agency had a new agent and she had just come into the office. She called ["Airplane!" producer] Howard Koch, who she used to work with. They'd been all over the country having auditions, looking for Ted Striker, and they couldn't find him. She called them up and said, "Hey, I've got your Ted Striker for you!"
They sent over a script; I actually read it on an airplane. Every single page had something on it that made me laugh. I met with them the next week and really liked them, they liked me. Then I read for them, and they liked my reading, and then I screen tested with Julie [Hagerty]. They really liked us and that was it.
I don't know if people realize "Airplane!" is actually a very faithful — albeit much sillier — remake of a '50s disaster movie called "Zero Hour!" The lead character is even named Ted Stryker. Did you watch that movie or study its Ted, Dana Andrews, before you played the part?
I didn't really see it until after we'd made the film, but [the directors] had it queued up in their little trailer or their little hut if we were shooting on a soundstage. They had a video feed from the cameras, and the monitor was taped off so they could see just what was going to be on the film. So they would set it up so they could get the same angle and the same lighting for certain scenes.
They were that focused on it looking authentic?
Well, just in certain things — the lighting and the camera angles. But they didn't want me to see Dana Andrews, they didn't want me mimicking him. Which is good; I wanted to have my own character. I just did it really seriously and really straight. That was one of the important ingredients of doing the film.
Did each of the three directors have their own responsibilities or did they all do everything?
They would all confer and then Jerry [Zucker] would speak to us. David [Zucker] and Jim [Abrahams] watched the monitor. Sometimes they would all talk, but usually it was just Jerry talking on the set with the crew and the actors.
Were they always in sync or were there occasionally disagreements over things?
If there were, I never saw them. It was like three bodies with one brain. They just were so in tune with what they were doing.
I've read that Leslie Nielsen liked to play pranks on his co-stars.
He wasn't known for it at that point, but he had this little fart machine that he would have in his hand. So when I was in the cockpit with him and Laura Patterson and he said "Mr. Striker, can you land this plane?" when we shot my close-up, it was "Mr. Striker, [fart noise] can you [fart noise] land this [fart noise] plane?" Farting the whole time! That was the hardest day to keep a straight face. He was very funny.
I'm sure when people recognize you, they quote lines from the movie. I imagine you hear "Surely you can't be serious!" a lot, but what's your favorite line from the movie that you don't often hear from fans?
Gosh, I don't know. One time I was racing cars, and I flew to a track north of San Francisco, in Sonoma. I got to the airport, landed, and went to get my car. The girl behind the counter says "Are you Robert Hays? You were in 'Airplane!"" And I said "Yup." And she said "Oh my God, I love that film! My favorite scene was…" And I'm expecting the dance scene or "Surely…" or one of those. And she said "It's when all the people come down the baggage claim chute and the luggage is sitting there waiting for them." I said "Oh good!" but I'm thinking, "Gosh, what a strange choice." So she went to the back to look for my paperwork and I turned around and leaned on the counter. I look over and I realize, that's what she looks at all day long: the conveyor belt with all the luggage! So it all depends on who it is that you're talking to.
Do people see you on airplanes and get nervous?
[laughs] Soon after the film came out I was in New York. And I was at the airport getting ready to get on a plane and they had this little waiting room that you went into, and then after it was filled they'd wheel the room over, and that's how you got in the plane. And when I first got there, there was only one other guy in there, and he was all dressed in black, very dramatic, with a long cape. He had a big sombrero-like black hat. He looked very fashionable, like he was some designer or something. He leaned against the opposite wall and stared at me. He never said anything until the entire room was filled, and then he very dramatically pointed his finger at me and said "I'm not getting onto any plane with that man!"
I used to get invited up into the cockpit in all the foreign carriers. On U.S. carriers it's illegal, but in foreign ones you can go in the cockpit. All over Europe and Australia, everywhere, they'd invite me up and it was a lot of fun. And in American planes, pilots would come back and kneel down and whisper something to me like "If I need some help will you come up and land the plane?"
Of course all the problems in "Airplane!" started when the pilots eat some tainted fish. Would you ever eat fish on an airplane?
My own private, personal little joke is that ever since the movie, I've never had fish on a plane. It's 31 years now. And I love fish.
There's one thing that's always bugged me about the movie. In the flashback scene where Ted meets Elaine, there's a scene that spoofs "Saturday Night Fever" where you dance to "Stayin' Alive" by the Bee Gees. For some reason, the song is played at a faster speed than it should be. This has bothered me for years: why play the song at the wrong speed?
I don't know. It might be just because it's funnier.
"Airplane!" will be available on Blu-ray Sunday, September 25 as a Best Buy Exclusive. What's your favorite line from the movie? Tell us in the comments below or on Facebook and Twitter.