R.E.M.'s top 5 albums will live on long past their break-up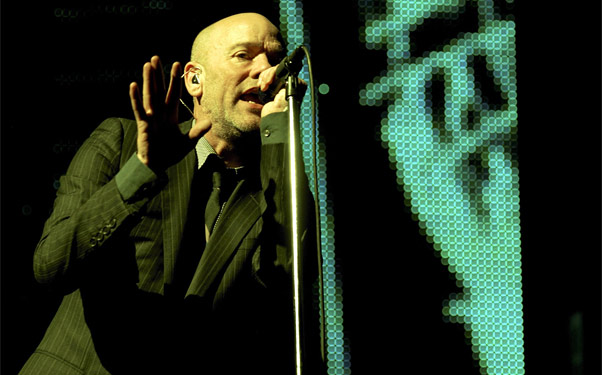 Posted by Brian Warmoth on
R.E.M.'s Wednesday break-up announcement placed a bookend after 2011's "Collapse Into Now," officially making it the group's final studio album (barring any unforeseen reunions). Their sound has floated and meandered since original drummer Bill Berry left the band in 1997. Left to their own devices, Michael Stipe, Peter Buck and Mike Mills stayed productive, but never managed to hoist a true new classic up into their discography.
"Up" and "Around the Sun" delivered a few memorable tracks and collaborations, but none of R.E.M.'s post-1997 albums matched the levels of indie rock invention and lyrical inspiration that they achieved in the following five classics.
In fact, if you ever need to get acquainted with R.E.M. at its best, put these albums on your playlist, and prepare to understand what made them great.
---
"Murmur" (1983)
R.E.M.'s first studio album features a band in the process of honing its sound, and you can almost hear them rising out of the mist as they announce themselves in "Radio Free Europe" and grow out of the second track, "Pilgrimage." The album sets Stipe loose with his young-adult angst and attitude on songs such as "Moral Kiosk" and "Catapult." The band still sounds soft-boiled, but that's part of the charm on "Murmur."
---
"New Adventures in Hi-Fi" (1996)
Often overlooked because of its different sound and place during the twilight of the Berry era, "New Adventures" boasts some of Stipe's most feeling vocals and a rare successful journey into harder rock with "The Wake-Up Bomb." R.E.M. rarely packaged the variety, balance and fully energized, attacking performances that made it onto this album, and it has aged well over 15 years.
---
"Life's Rich Pageant" (1986)
Stipe, Berry, Buck and Stipe kicked their careers into a new gear with "Life's Rich Pageant." The acidic lyrics and spontaneously erupting melodies that highlighted their 1980s work are in full bloom on "Begin the Begin" and "Hyena." The whole album rolls forward with a fierce, fragile momentum and a fresh sense of discovery that couldn't be imitated by any other band.
---
"Automatic for the People" (1992)
Outside of R.E.M.'s core fandom and in the popular consciousness of the '90s, "Automatic for the People" will forever be the album that defines what R.E.M. sounded like. Filled with pop gems such as "Man on the Moon" and "Everybody Hurts," it summons an orchestral backdrop for a litany of powerful folk-infused ballads while letting Stipe crack his voice during determined leaps toward higher notes in "The Sidewinder Sleeps Tonite" and "Ignoreland."
---
"Document" (1987)
R.E.M. made their quintessential '80s album with "Document." By this point, they knew how to command an audience and pass their songs around the stage with sobering effectiveness. Almost every track from "Disturbance at the Heron House" to "Oddfellows Local 151" oozes with ominous elegance, and atop all of them sits "It's The End of the World as We Know It (And I Feel Fine)." Both celebratory and aching with cynicism, this is R.E.M. at its most glorious.
---
Which R.E.M. albums would you add to your own list of favorites? Let us know below or on Facebook or Twitter.