Exclusive premiere: Spindrift "Theme From Drifter's Pass"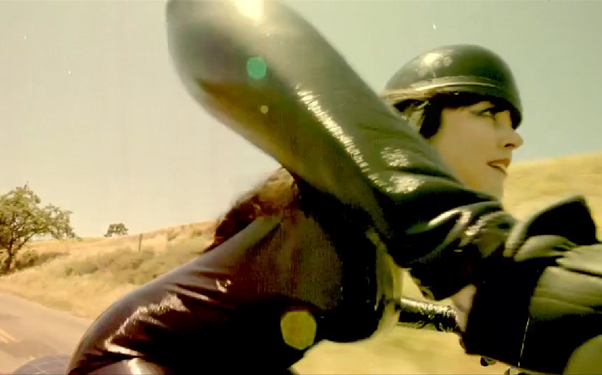 Posted by Brandon Kim on
The last video in Spindrift's "Classic Soundtracks Vol. 1" series features their baddest jam yet. "Theme From Drifter's Pass" is eight minutes of psychedelic cowboys and wizardry directed by Lavender Lee (aka Abigail Bean).
"The song has an incantatory trance like feel to the whole first half until it just explodes into a wildness harnessed only by the drum beat," Lee says. "I really wanted to capture the power of how the group performs this song live as well…you'll have to check them out live for the full dosage."
Lee shot the video with LA film collective Dirty Robber, taking inspiration from the 60's cult film "Girl On A Motorcycle." Here, Spindrift's Sasha Vallely appears in a full body motorcycle jacket/catsuit as she races across a hallucinatory road, destined to cross paths with a hunted man.
"Sasha was game to do all the dangerous filming and riding on her own," Lee says of the fetishistic goodies. "The shots of the motorcycle riding were all done by Sasha, we didn't need any stunt work."
Frontman Kirpatrick Thomas brought the added dimension of the cowboy fleeing from unseen assailants, borrowing from the 60's fantasy/adventure, "Naked Prey" in which a man tries to outrun insane natives. "I took the themes of escape and freedom and combined them with a sense that something fanciful is at play," says Lavender, "almost like a cosmic jive."
video player loading
.
.
.
SPINDRIFT TOUR DATES:
10/06 Harvard & Stone Los Angeles, CA
10/07 Gypsy Den First Fridays Las Vegas, NV
10/08 Solar Culture Tucson, AZ
10/10 Burt's Tiki Albuquerque, NM 10/12 Red 7 Austin, TX w/ Dead Meadow
SPINDRIFT W/ BLACK ANGELS & DEAD MEADOW:
10/13 – Houston, TX @ Fitzgerald's Upstairs #
10/14 – Dallas, TX @ The Prophet Bar #
10/14 – Lawrence, KS The Bottleneck #
10/16 – St. Louis, MO @ Old Rock House #
10/17 – Minneapolis, MN @ Fine Line Music Cafe #
10/19 – Columbus, NH @ Newport Music Hall #
10/20 – Chicago, IL @ Metro #
10/21 – Louisville, KY @ Headliners #
10/22 – Newport, KY @ Southgate House #
10/23 – Detroit, MI TBA
10/24 – Toronto, ON @ Lee's Palace #
10/25 – Montreal, QC @ Cabaret Mile End #
10/26 – Cambridge, MA @ Middle East Downstairs #
10/27 – Philadelphia, PA @ Union Transfer #
10/29 – Brooklyn, NY @ Music Hall of Williamsburg @
10/30 – Brooklyn, NY @ Music Hall of Williamsburg #
10/31- Newark, DE @ Mojo Main
11/01 – Baltimore, MD @ Ottobar #
11/02 – Winston-Salem, SC @ Ziggy's #
11/04 – Atlanta, GA @ The Masquerade (Hell Stage) #
11/05 – Nashville, TN @ Exit/In #
# = w/ Black Angels & Dead Meadow
@ =w/ Black Angels & Special Guest
Make sure you get your full Spindrift dosage. Tell us if you need another hit in comments below or on Twitter or Facebook!