PAX 2011: Haunted Temple's Jake Kazdal talks about "Skulls of the Shogun" and reviving a near-dead genre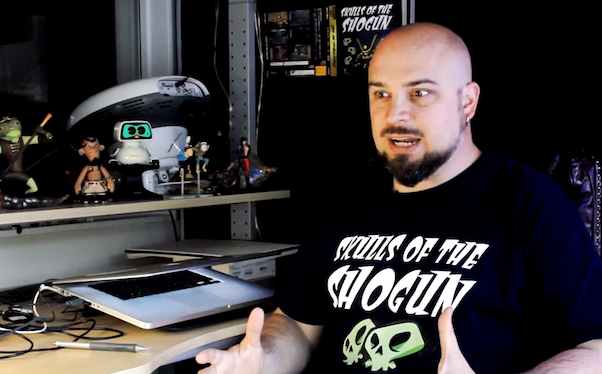 Posted by Evan Narcisse on
One of the most buzzed-about games at this year's PAX Prime was the innovative real-time strategy adventure "Skulls of the Shogun." The debut title from Haunted Temple Studios updates the grid-based formula of RTS games like "Final Fantasy Tactics" and "Advance Wars" by letting players move freely and advance and retreat within a round. "SotS" plays more like an action title than other games in the tactics/RTS design lineage and it seems to be stirring up a legion of fans who've been quietly waiting for this style of game to move into the 21st Century.
I had a chance to speak to Jake Kazdal, the president and founder of Haunted Temple about his inspirations for "Skulls of the Shogun" and plans for future versions of the game.
Jake, you and the crew at Haunted Temple Studios are making "Skulls of the Shogun." It's a strategy game, which is a genre that has seen more popular days. What made you guys decide to go with this kind of game?
I love this genre. I loved "Advance Wars," I love the old 16-bit stuff. Like "Shining Force," "Fire Emblem"all those kind of things.. And that genre has just like withered lately. And I feel like part of the problem is that it became a real niche thing.
The most recent games of this type are only available through obscure Japanese DS titles. It's just sort of disappeared and there's really no good reason for it. One of the problems, though, is that it has not advanced as a genre. Which is funny when you say "Advance Wars"–generally thought of as the best example of the genre–because it's the same formula as it was in the SNES days. So I wanted to take that core concept and mash that into a more modern, more relevant sort of vision that would make it easily accessible yet preserve what makes these games unique.
Explain the concept for people who aren't familiar with the tactics genre.
So, it's turn-based strategy games. The closest thing to compare to it would be literally chess. In this game in particular, the only goal is to take out the enemy general. He's got a bunch of different types of units that have different types of strengths and weaknesses to protect him but he is the most powerful unit on the battlefield, and destroying the other generals is all that really matters.
Most games like this have been very menu-driven. They're very slow, very methodical and very exact. You have a grid, and you can move an exact amount of units. And it's a very slow process. I wanted to throw all of that out and take as much of the old school Japanese arcade, button-mashing, Capcom-style games of the '90s and fuse the two together.
So that meant throwing away all of the grids. No menus. No micromanagement. Make it all as fast-paced as possible. To take as many lessons from the arcade experience as humanly possible and put them into into this strategy genre. It's an unusual mix but it's been a raging success. I think we achieved what we wanted to do.
That was always my issue with strategy as a genre. I've always thought it too slow. I really can't be bothered to sift through menus and learn the quirks of movement. What kind of decisions did you guys make to make it faster and more attractive
Well, dropping the grid was huge. So many more people are like, "Oh, I'm not terrified of this genre," all of a sudden. It's one-to-one movement. You've got a button for every action, meaning you don't need to spend any time in menus or anything. Literally, it's almost an action game but it's turn-based. You can imagine it's like playing Fantasy Football or something like that. It's almost real-time but it's not.
You guys are going with digital distribution; what was the thought process behind that?
Well, we're a three-man studio. We have no money. Basically manufacturing and going through a traditional publisher would be very cost- and time-prohibitive and really wasn't even an option for us. We were willing to self-publish. Then, Microsoft saw it and enjoyed the game and decided to pick it up, and made our publishing across all three platforms. Yeah, we'll be doing a phone version, Games for Windows PC version and the Xbox Live arcade version in January.
I didn't know you guys were doing mobile as well.
Yeah. I think it will be a big hit. Because that mobile experience, where you might do one or two rounds of a battle during your commute… this is the perfect game for that.
Obviously, you guys can't talk about the exclusivity.
No, we can't. There's an exclusive window but, obviously, we think we've crafted a really good game here that will have a wide audience. And we would like to do as many platforms as possible but we're not able to really deal with that right now. Plus, there's three of us. We've got three launches we're looking at and we are completely slammed. We don't have time to think about where else we'd like to wind up right now. We just need to get the versions of the game that we've been working on out the door. We don't even know what we're doing next.
So, I should just not ask that question, huh?
Come back in a few months and we might have an answer for you. [Laughs]