Our five favorite movie wheelmen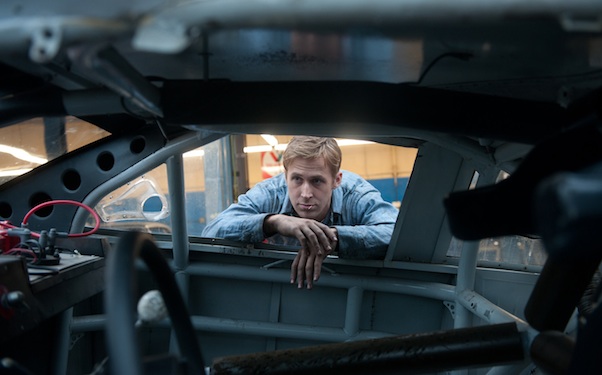 Posted by Matt Singer on
I don't know how much real world demand there is for wheelmen, but it's a burgeoning field in the movies. It seems like there's someone always in the movies who needs a dangerous package transported or a steady-nerved getaway driver for a heist. That's certainly true this week, thanks to a movie featuring a new, and excellent movie wheelman: Ryan Gosling's Driver from Nicolas Winding Refn's "Drive."
In honor of Gosling's hammer-wielding, tire-squealing performance, we decided this was the perfect time to pick our five favorite wheelmen in movie history. Our qualifications for potential candidates were simple. They had to make their living as a driver — so car thieves were out. They had to be willing to take dirty or illegal jobs — so professional truckers were gone too. And they couldn't actually participate in the heists themselves. As Gosling's Driver says, "I don't sit in while you're running it down; I don't carry a gun. I drive."
Damn right. And so do these guys.
---
Lucas Doolin
From "Thunder Road" (1958)

Directed by Arthur Ripley
Preferred Ride: Custom 1950 Ford
"How rough do you want it?" a racketeer asks independent moonshiner Lucas Doolin (Robert Mitchum) as he tries to intimidate him into joining his syndicate. Now, Lucas Doolin is played by Robert Mitchum, so the answer should be obvious: plenty rough. Mitchum's response? A karate chop to the neck. Doolin is a great wheelman, unflappable and resourceful. When a guy tries to run him off the road, he takes the cigarette dangling ever so suavely from his lips and flicks it in the other driver's face, blinding him and sending him careening into a canyon. His car's cool too, a tricked out 1950 Ford with enough gadgets to make James Bond jealous. It's got detachable bumpers, oil slicks, enough horsepower to plow through roadblocks, and lots of room for moonshine. Things don't work out too well for Doolin in the end — things rarely do for movie wheelmen — but caught between the racketeers and the revenuers (i.e. the U.S. Treasury Department looking to put a halt to untaxed backwoods' moonshining) he never yields to the pressure, much less to pedestrians in the crosswalk.
---
Frank Martin
From "The Transporter" (2002)
Directed by Corey Yuen
Preferred Ride: BMW E38 (Audi A8 in the two sequels)
Professional transporter Frank Martin (Jason Statham) has so many rules. Rule number one: never change the deal. Rule number two: no names. Rule number three: never open the package. Really, the only rules Frank doesn't acknowledge are the rules of physics; when this guy gets behind the wheel, cars do magical things. Movie wheelmen always seem to have codes to protect them from their own dark impulses. They establish guidelines to live by so they can sleep at night telling themselves they're not doing anything wrong. The great part about Frank is he has rules, but he always breaks them. For three consecutive movies, Frank opened the package, or learned the names of his employers, and it always ended up getting him into trouble. Awesome, gravity-defying trouble.
---
The Driver
From "The Driver" (1978)

Directed by Walter Hill
Preferred Ride: Late model Ford LTD
Walter Hill's "The Driver" is one of the most efficient action movies ever made. Everything about it is stripped down to the bare essentials; Hill is like a chef who's been dared to make a delicious meal with the fewest ingredients possible. The title seems plain, but it's the only title that would fit a film in which nothing and no one is named; not the city where it's set, nor the hero who prowls its streets as the ultimate getaway man. He's simply called The Driver, and he's played by Ryan O'Neal. Time and again he slips through the fingers of The Detective (Bruce Dern), who decides to blackmail a couple of crooks into hiring The Driver for a job that's really a set-up. The Driver is awesome because from almost frame one of the film, he is trapped: by late partners, by crooked cops, and by bad luck. But no matter how bad things get, he never flinches, and he always finds an escape; no wonder he's the best wheelman in the business. Because there's so little dialogue, especially from The Driver himself, we're constantly stuck behind the action, always guessing his next move. But the man never fails to surprise us. Like Gosling's Driver, he has a reputation for not carrying guns, and in the movie's best scene we find out why.
---
Kowalski
From "Vanishing Point" (1971)
Directed by Richard C. Sarafian
Preferred Ride: Dodge Challenger
"Vanishing Point" begins at its story's chronological end, with a bleary-eyed wheelman named Kowalski (Barrry Newman) driving full-speed toward a police roadblock. The rest of the film takes place in flashback, which is appropriate for the story of a man who can't stop living in the past. Kowalski delivers cars, and though his latest package, a 1970 Dodge Challenger R/T, isn't due in San Francisco until Monday, he vows to get it there by Saturday afternoon. Exactly what made Kowalski such a determined, zonked out speed-freak is left ambiguous, but the snippets we see of jobs and loves lost point to an accumulation of assorted tragedies that ultimately became too tough to bear. Likewise the accumulation of time since "Vanishing Point"'s 1971 premiere has only enhanced the impact of Kowalski's existential plight. Today the image of a world-weary driver running out of road suggests so many things: the end of the myth of the American West, the failure of the political idealism of the 1960s, and the last gasps of the cinema's New Hollywood years. Plus there's Kowalski himself, this tragic figure who's addicted to speed and doesn't know why. Maybe he's just trying to stay ahead of the ghosts.
---
The Bandit
From "Smokey and the Bandit" (1977)
Directed by Hal Needham
Preferred Ride: Pontiac Trans Am
A lot of these wheelmen are strong, silent types. They're all business because that's what driving is for them: a business. The Bandit (Burt Reynolds), on the other hand, drives for the thrill, gleefully accepting an impossible bet to haul bootleg beer from Texas to Georgia specifically because it's impossible. Nothing fazes him, not a hitchhiking runaway bride (Sally Field) who tries to steal his beloved Trans Am, not even a chance lunch counter meeting with the man hot on his tail, Sheriff Buford T. Justice (Jackie Gleason). As Field puts it, Bandit just has a "lyrical way of cutting through the bullshit." And not to get too lyrical or bullshitty on you myself, but I do think there's something almost primordial about the Bandit's appeal. Cars represents a lot more than a means of transportation in this country: they're a symbol of freedom. The Bandit, a perfect figure of pure escapist fantasy, is the only guy on this list who really seems to get that. And that's what the Bandit's ride and his carefree attitude represent. When he's behind the wheel of that Trans Am, he's free.
---
Who's your favorite movie wheelman? Tell us in the comments below or on Facebook and Twitter.