Ogle Anne Hathaway as Selina Kyle in new "The Dark Knight Rises" photos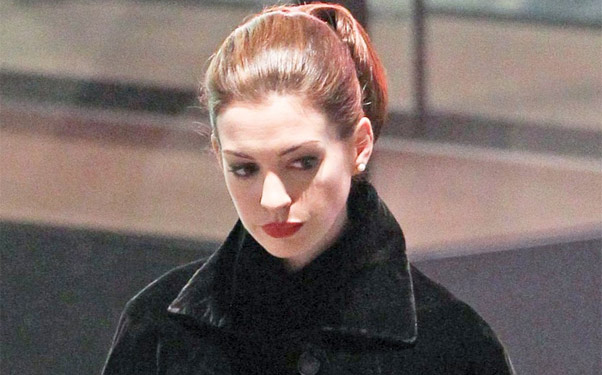 Posted by Aubrey Sitterson on
We've been told that "The Dark Knight Rises" is currently filming in Los Angeles, and have even but like any good skeptic, we need constant, excessive photographic evidence to verify everything. Sure, we've seen photos of the LA set, but what about the actors? The thing could be starring Bigfoot and the Loch Ness Monster for all we know. Fortunately, new images confirm that yes, Christian Bale and Anne Hathaway are both on set in LA and unless Christopher Nolan is totally swerving us, should both be in the movie.
The photos in question come via JustJared and show Christian Bale, outfitted in a sharp-looking suit, stepping into a Lamborghini, which is both totally Batman and totally any other super-rich Hollywood actor.
The Anne Hathaway shots, however, were a little more pedestrian, as the Catwoman actress is seen hailing a yellow cab. Unlike previous images of the actress, here she's outfitted as Catwoman's alter ego Selina Kyle, which basically just means she's dressed like a normal lady.
Check out some of the best photos below, then make sure to tell us if we missed anything in the comments or on Facebook and Twitter.