Nicolas Winding Refn on "Drive," Ryan Gosling's jacket, and his "Logan's Run" remake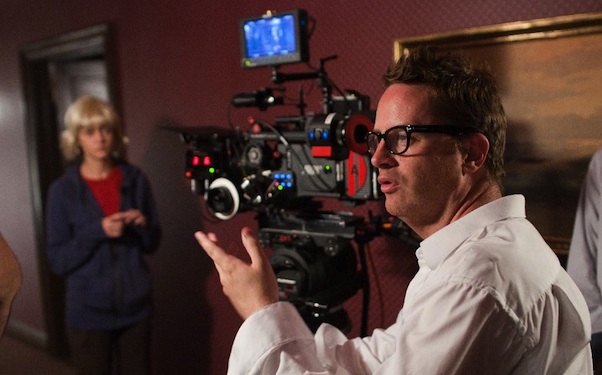 Posted by Matt Singer on
I've interviewed a lot of directors. Nicolas Winding Refn is the first I've ever spoken to who actively solicited negative feedback about his movie. As we were wrapping up our conversation about his new film "Drive," he pressed me to tell him something I didn't like about it. You'll see what I said, along with his great response, at the end of our interview. I just appreciated talking to a director who takes criticism, even negative criticism, seriously.
Or maybe Refn knew he's got a really good movie on his hands and there wasn't much to complain about. He would be right, too. "Drive" is a superb film, a successful blend of action and romance, violence and beauty, high and low art. Ryan Gosling stars as Driver, a part-time mechanic and stuntman who moonlights as a wheelman. He takes a shine to his neighbor Irene (Carey Mulligan), but she has a secret she's not telling him, and he's getting in over his head with his boss Shannon (Bryan Cranston) and some of his unsavory underworld associates (Ron Perlman and Albert Brooks, wonderfully surprising as a pragmatic mobster).
The film draws on all sorts of older inspirations — John Hughes movies, Japanese samurai films, 70s crime fiction — and combines them in a refreshingly new way. As Refn famously described in front of a packed house at this year's San Diego Comic-Con, the whole project began with an awkward meeting between the director and his star. Refn was sick and high on flu medication. He doesn't have a driver's license — more on that in a bit — so Gosling drove him back to his hotel. When REO Speedwagon's "Can't Fight This Feeling" came on the car stereo, Refn burst into tears and song simultaneously. Somehow, Gosling understood: this was what their movie was about. A partnership was born.
So I started with the somehow: how did the Danish-born director of foreign indies like the "Pusher" trilogy, "Bronson," and "Valhalla Rising" know this was the right project to make as his first Hollywood movie? After that, we tackled all sorts of topics about "Drive," including Refn's chronological shooting method, his vision for Gosling's costume, even his unusual choice of opening credits fonts, before we wrapped things up by briefly discussing his upcoming project with Gosling, a remake of "Logan's Run."
Remaking beloved science-fiction classics? Good thing the guy's cool with negative criticism.
So I've read the story of your first meeting with Ryan Gosling when you were high on flu meds, crying, and singing REO Speedwagon. But what was it about this project that made it the one for you guys to collaborate on?
It wasn't this project. It was basically that during the course of that drive home, when I was singing REO Speedwagon and crying [laughs], I saw an emotion that I could make a movie out about.
What emotion was that?
I told Ryan, "We're going to do a movie about a man who drives around in a car at night listening to pop music because that's his emotional relief." He was like "Cool, let's do it." And that's how the film got started. After that, I looked at the material, and I wanted to change a whole lot. Then I read the book, and I wanted to infuse much more from the book.
Can you give me some specific examples of things you changed?
Everything about it. Eliminating Driver's past, casting Carey Mulligan instead of a Latino actress because that's what the character is in the book, condensing the script by 25 pages, the elevator scene, the ending. So many things. It's hard; every detail added up to a complete transformation.
I also read that you've failed your driving test eight times.
[laughs] Yeah.
First of all, how is it possible to fail eight times? Did you screw up a specific thing, like parallel parking?
I don't even know what that is.
You don't even know what that is? Maybe that's part of the problem.
I just failed, failed, failed.
When you can't drive, does that have any impact on the way you make a movie called "Drive" about a guy who drives a lot?
No, because I wasn't making a movie about cars. I was making a movie about a man who owns a car.
There are some really cool driving sequences in the movie, though. How much control do you have over those? Do you design them or do you leave that to the stunt people?
Well, a good director is not an expert in anything in particular. A good director just knows a little bit about everything. And then he utilizes the various experts around him to help him realize what he wants to do.
So in the case of the driving, you have your experts, but how much direction do you give them? Does the script just say "Chase Sequence" or is it detailed?
It said "Chase Sequence" when I was done with it, because I would constantly
change things. I was shooting in chronological order, and that changed things constantly.
Why chronological order?
It makes it more interesting, seeing what will happen. It makes it more dangerous to perform, and it makes [shooting] more of a discovery process.
The silver jacket with the scorpion on the back that Ryan Gosling wears gets a lot of screen time. How did that become his signature look?
I wanted [Gosling] to wear a white satin jacket that would illuminate him at night. Good actors find their own costumes, so Ryan found a type of jacket that he really liked. And then we had that type of jacket made in satin. And then on top of that we incorporated the scorpion logo on the back.
Who has the jacket now?
I have a jacket, Ryan has a few, and my wife has more. Only the three of us.
Have you ever worn it?
My wife wears it sometimes.
Ryan is playing this figure we've seen before, the tough, brooding wheelman. But he does something that very few of these characters do, which is smile. He has this very warm smile that he shows Carey Mulligan's character.
Absolutely. He is a combination of violence and romance. That was based on Grimms' fairy tale structure. By day, he was a human being, by night he was a hero. And the movie is about his transformation into this superhero, by bringing his human morals into the hero role, so that he does what he does for the right reasons.
So the scorpion jacket is almost super-heroic.
It's part of his costume.
Right. For months, I've been really intrigued by the posters for this movie with the title written in hot pink script letters. Then I saw the film and realized that's the font of the opening titles. It's such an unusual, striking choice. How did you come up with that?
I wanted that kind of font because it's timeless, in a way. It's like a hand drawn logo, which is also like old fairy tales. If you look at old fairy tales, they're always beautifully choreographed and designed.
The violence in the movie reminded me a little of the violence in "Bronson," where it appears in the sudden explosions after moments of stillness. Both seem to be about the anticipation of violence as much as the violence itself. Is that fair to say?
It sounds fair. I'm a fetish filmmaker; I just make films based on what I want to see.
So you don't intellectualize it at all?
On the contrary. I fear it.
So are the feelings primarily on the set or in the editing room?
It depends on what you do. Car chases are all about editing. And more physical violence, emotional violence, is more about the performances.
Ryan's character has these rules that he follows as a wheelman. Do you have have any rules that you follow as a filmmaker? It sounds like following your instincts would be one.
Also: making sure you're always a little bit out of your depth. That forces you to be more creative. Art thrives on obstacles. The bigger the obstacle, the better the drama.
All right so you have two more movies you're working on now with Ryan Gosling including a remake of "Logan's Run." Why did you want to remake that film?
I've always been obsessed with the original. I remember seeing it when I was really little on television. There was something about it that was so hypnotic. This whole disco world that they walk around in was like "Wow!"
Do you plan on making a faithful remake?
No.
A total reimagining?
Well, it would only do it justice. What I have to do is reinvent it. Otherwise, why make it?
Looks like our time's up. Thanks very much.
Thanks. Did you like the movie?
I did.

What was your favorite part?
Well, I see a lot of action movies. Most are pretty derivative. I appreciated the fact that this looked nothing like the other action movies out there.
What was your least favorite part?
If I'm being totally honest, I was disappointed that there wasn't more with Carey Mulligan's character. Maybe that was by design, but after you build up her relationship with Ryan, she doesn't have much to do in the last third of the film. I really liked her performance and I wanted to see more.
That's good. Wanting to see more is good. You don't want someone to say they've seen enough.
"Drive" opens this Friday. If you see it, tell us what you think in the comments below, or on Facebook and Twitter.