Five important moments in mixed martial arts movie history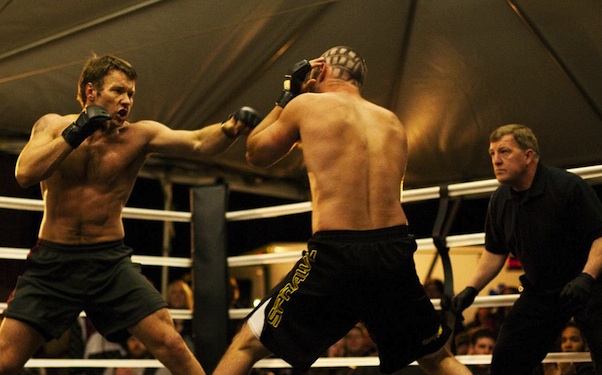 Posted by Matt Singer on
Baseball has "Field of Dreams." Basketball has "Hoosiers." Hockey has "Slap Shot." In other words: you can't be a major American sport without a major American sports movie.
It looks like mixed martial arts might have found its major sports movie with this week's "Warrior," the story of two brothers (Tom Hardy and Joel Edgerton) who both enter a massive MMA tournament. The film's already garnering rave reviews and strong social media word of mouth, and even generating some Oscar buzz. It looks on track to be one of the surprise hit of the fall.
While "Warrior" is certainly mixed martial arts' biggest and potentially most acclaimed appearance on the silver screen to date, it's far from the first movie set the world of MMA. We'll have our review of "Warrior" later in the week; in the meantime, here is a look at five important milestones on MMA's journey to cinematic legitimacy.
MMA invades the classic martial arts film
"Flash Point" (2007)
Directed by Wilson Yip
Fighters of different (or, y'know, mixed) martial arts disciplines have been testing their unique styles against one another for decades in Asian cinema. But modern MMA never really made its way onscreen in Asia in a significant way until mixed martial arts fan and Hong Kong megastar Donnie Yen incorporated it into his fight choreography for the 2007 film "Flash Point." Yen became a serious fan of UFC during the several years he spent in Hollywood in the early 2000s and first experimented with MMA choreography in a fight with Sammo Hung in 2005's "SPL." He applied everything he learned from all those experiences to the awesome "Flash Point," which became a massive blockbuster all over Asia. "In actual combat," Yen said in an interview about the appeal of MMA, "anything goes. It won't be turn-based, both [fighters] could be throwing out a punch at the same time. There might be some blows that miss. This is the true world of combat."
---
MMA Gets Its "Karate Kid"

"Never Back Down" (2008)
Directed by Jeff Wadlow
Everyone loves a feel-good underdog story. Mixed martial arts got one of its own with 2008's "Never Back Down," a modern riff on "The Karate Kid" formula. Maybe riff is too generous; Mad Libs-esque plot substitution might be closer. Here, I'll show you what I mean:
In "The Karate Kid," "Never Back Down," a new kid in high school named Daniel (Ralph Macchio) Jake (Sean Faris) gets picked on by a handsome and intensely Aryan bully (William Zabka) (Cam Gigandet) in a spat over the affections of a beautiful girl (Elisabeth Shue) (Amber Heard). Our fatherless hero finds unlikely support in the form of a pacifistic martial arts mixed martial arts instructor from a foreign land (Pat Morita) (Djimon Hounsou). Despite Daniel's Jake's reluctance to fight the bully, he eventually decides to enter a score-settling final tournament, where a crippling leg rib injury makes things even tougher. But it all works out in the end, thanks to Daniel's Jake's signature crane kick spinning roundhouse kick.
"Never Back Down" may be formulaic a photocopy of a classic, but it's a fairly effective one, even if all the "teens" in the movie suffer from Stockard Channing's Disease, an affliction that causes high school kids to look like they're in their late twenties.
---
A bonafide auteur taps into the sport
"Redbelt" (2008)
Directed by David Mamet
By 2008, mixed martial arts had already grown into a massively popular sport, but in certain circles it was still considered less a sport than a modern version of gruesome gladiatorial combat. Movies like "Redbelt," from a bonafide auteur like writer/director David Mamet went a long way toward combating that stigma. Organized MMA competitions were portrayed as a corrupt con game — like most organizations in David Mamet movies — but the idea of mixed martial arts, and particularly Brazilian Jiu-Jitsu was treated as a grand intellectual pursuit. As practiced by BJJ trainer Mike Terry (Chiwetel Ejiofor), MMA is less a physical struggle than a beautiful chess match, a point reinforced by the fact that Ejiofor, rugged leading man though he might be is not exactly a hulking gym rat. For Mamet, mixed martial arts' popularity doesn't represent a debasement of cultural values. It's a source of purity in an impure world.
---
Rocky goes to the ground game
"The Expendables" (2010)
Directed by Sylvester Stallone
No actor has done more for the sport of boxing in the last fifty years than Sylvester Stallone. While boxing itself has been beset by scandals, Stallone has propped up the myth and mystique of boxing with his six-film series of "Rocky" pictures about that lovable and indomitable fighter from the hard streets of Philadelphia. Earlier this year, Stallone was even inducted into the Boxing Hall of Fame. So it was definitely a sign of the times when, in the interest of relevancy, Stallone integrated mixed martial arts into the fight scenes in last year's "The Expendables." Suddenly Rocky Balboa traded in his left uppercut for an flying armbar. Ironically — SPOILER ALERT! — none of the Expendables actually die in the movie. The only real casualty was Stallone's longstanding loyalty to the sweet science.
---
MMA becomes the undisputed champion of direct-to-video
"Undisputed III: Redemption" (2010)
Directed by Isaac Florentine
A few months before "The Expendables" hit theaters in the fall of 2010 it was quietly upstaged and outdone by a direct-to-video film made for a lot less money with a lot fewer stars. "Undisputed III: Redemption," was the second sequel to Walter Hill's 2002 movie about a match in prison between two former champion boxers (boxing was supplanted by mixed martial arts in 2006's "Undisputed II: Last Man Standing"). Without Stallone's budget or topline cast, "Undisputed III" relies on technique and pure, frenetic action. Scott Adkins — martial artist and stuntman — stars as Yuri Boyka, a Russian prisoner and fighter in an international cage match tournament. If you've seen "Bloodsport," or really any movie Jean-Claude Van Damme made between the years 1986 and 1990, you know the plot. But you haven't seen stunt choreography or action of this caliber recently, and it cleverly takes full advantage of MMA-style throws and takedowns. It's truly one of the best pure action movies of the last couple years. And the only real star in it is mixed martial arts.