Michael Fassbender reportedly has no shame in "Shame"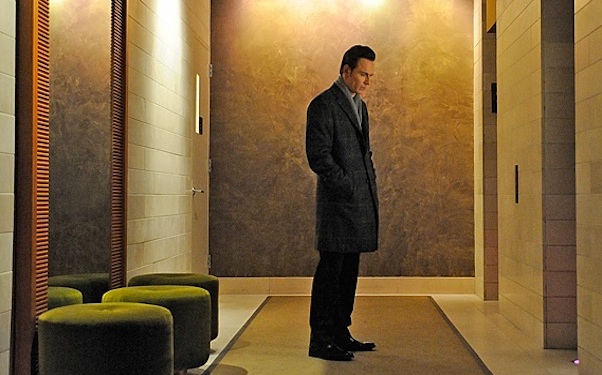 Posted by Matt Singer on
It's a slow news day here in the States, but across the pond in Italy it's the end of a big weekend at the Venice Film Festival. And perhaps the, erm, biggest story we've been following is the reaction Michael Fassbender's new movie "Shame." Directed by Steve McQueen, who also made Fassbender's breakthrough movie "Hunger," the film is reportedly chock full of full-frontal nudity by its hearthrob lead actor. That strange sound you're hearing is thousands upon thousands of Fassbender fangirls all drooling on their keyboards simultaneously.
While you all go get a bib, allow me to share some choice quotes from Time's Richard Corliss, who's on the ground in Venice and witnessed the spectacle first-hand. He says the film is "not pornographic, but explicit enough that it would surely land the film an NC-17 rating." Fassbender plays Brendan, a New York office worker and compulsive sex addict. He goes on:
"Courtship…is not crucial to Brendan's sex life. He studies violent porn on his computers at home and (big mistake) at work; he masturbates in the shower and in the office men's room; he enlists the services of call girls, pounding his manhood into them with expertise and, in the ferocity of his features, a hint of desperation."
Mark your calendars, folks: September 5, 2011. The day the phrase "pounding his manhood into them" crossed over from romance novels to Time.
Before you get too excited, you should know that Corliss wasn't as impressed with the rest of "Shame" as he was with Fassbender's, um, performance. He describes the movie as "off-putting" and gently criticizes both director and star for keeping its subject's inner life at a remove from the audience. The film's going to need strong reviews, since it's yet to be picked up for American release, and it remains to be seen whether Fassbender's goodies will remain to be seen when someone does; some potential distributors may demand cuts in order to guarantee an R rating. I'm not necessarily dying to see Fassbender's Fassbinny myself, but as a huge fan of his work, I do want to see his performance in full. It would be a real shame if we never got to here in the U.S.
Do you want to see "Shame?" Share you Fassbender crush (or man-crush, it's cool) with us in the comments below or on Facebook and Twitter.