Fantastic Fest 2011: "Manborg," reviewed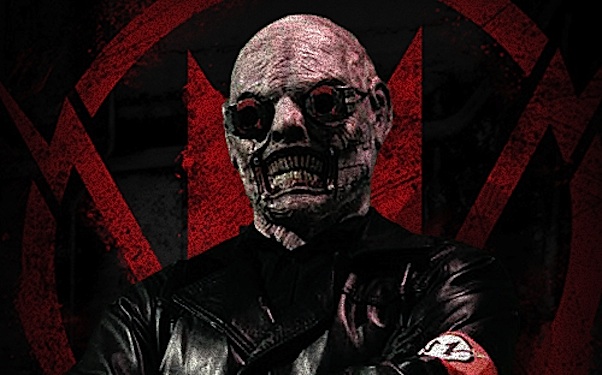 Posted by Matt Singer on
The plot keywords for "Manborg" on the Fantastic Fest website are: action, comedy, sci-fi, and bizarre. To which I would add the following: goofy, violent, funny, cheap, and charming. The mythos of this film is huge. There's a cataclysmic war between the armies of man and hell, a dystopian future ruled by drippy-skinned demons, chase scenes on hoverbikes, and massive sci-fi battles. If Hollywood tried to remake "Manborg," the movie would cost at least $150,000,000. I suspect director Steven Kostanski's budget had at least five less zeros.
Stylistically, the movie looks and sounds like a really impressive cinematic from a Sega CD launch title circa 1992. The backgrounds are flat, the effects are crude, the voice dubbing is laughable, and the entire film looks like it was shot in front of a green screen with an old camcorder. All of that is by design. "Manborg" follows in the footsteps of recent movies like "The Lost Skeleton of Cadavra" and "The FP" in celebrating a time in genre filmmaking when imagination and creativity were more important than photorealism. No one will mistake anything in "Manborg" for reality, and that's the point. The movie is a crazed fantasy, freed of the limitations of budget, taste, realism, or good common sense.
It is about the aftermath of a war between man and the armies of hell, in a broken world controlled by an evil dictator named Count Draculon (Adam Brooks). A soldier who died in the war (Matthew Kennedy) awakens into this dark future with most of his body replaced, "Robocop"-style, by cybernetic enhancements. When someone asks him his name, he looks at his hands, one still marginally human, one covered with robotics. "Man…borg…" he replies. All righty, then.
Captured by Draculon's forces, Manborg is forced into gladiatorial combat alongside a few other feisty human survivors, including a karate fighter (Ludwig Lee), a marksman (Conor Sweeney), and a knife wielding hot chick (Meredith Sweeney). Together they rebel against their overlords and plot to destroy Draculon. Along the way there are some surprisingly effective, anime-influenced fight scenes and some really good comic relief from a character called The Baron (Jeremy Gillespie), a future demonspawn warlord who has a crush on the knife wielding hot chick but doesn't know how to talk to her. "You may be Prisoner #7, but you're Prisoner #1 in my heart," he stammers through a lipless, desiccated mouth held permanently in place by metal clamps.
Manborg himself is a fun character, but he's also a living, breathing declaration of principles for high-flying, low-fi-ing Canadian filmmaking collective Astron-6, whose five members — Kostanski, Kennedy, Brooks, Sweeney, and Gillespie — did basically everything on the film from the acting to the special effects to the screenplay, and who assert on their website that their films, inspired by the "obscure VHS movies of the '80s," are financed "by pure, naive passion and ignorance alone." Manborg, this hideous beast of a hero cobbled together from spare parts, symbolizes the power of discarded junk.
I don't know how many people are going to find "Manborg." But I suspect a lot of the people that do won't be so quick to throw it away.
"Manborg" does not currently have U.S. distribution. If you see it, we want to know what you think. Tell us in the comments below or on Facebook and Twitter. We've embedded the film's trailer below.