Behind-the-scenes video of Terrence Malick shooting secret project with Christian Bale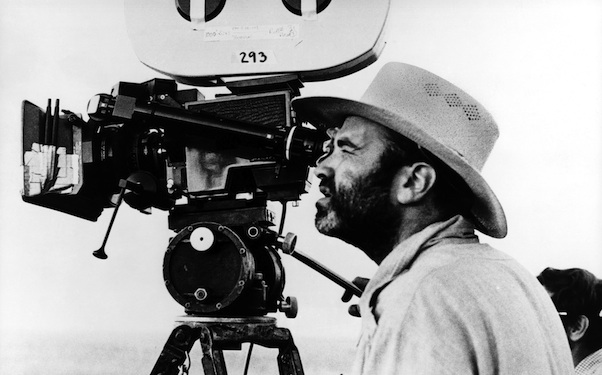 Posted by Matt Singer on
If I want to write an article about Terrence Malick, I basically have two options for pictures I can use. The one above, that's him on the set of "Days of Heaven" back in 1978. The other choice is this popular shot of him circa "The Thin Red Line" in 1998, where he looks like he was just surprised while cosplaying Alan Grant from "Jurassic Park." That's it. No new publicity shots in thirteen years. In other words: the guy doesn't wind up in front of the camera often. There's a reason he has a reputation as a recluse.
A reclusive guy wound up in front of a whole bunch of cameras last week, when Malick shot a mysterious new project with Christian Bale at the Austin City Limits Festival. While Bale and a small crew wandered around shooting material, people snapped pictures and videos of the team in action, like this one by Johnny Garcia which was found by Movie City News' Ray Pride:
Malick seems pretty cool about the whole thing for a guy who I always assumed had a near-Amish phobia of having his picture taken. Whoever shot this was pretty invasive too, and got right up next to him a few times. I'm kind of surprised he didn't run screaming.
As for this Bale-Malick project, it still has no title and no synopsis. If this video had surfaced a few years ago, I would have made a joke that the movie would be ready for release sometime around the year 2018. But Malick's already nearly completed two films since putting the finishing touches on this year's "The Tree of Life:" an untitled project with Ben Affleck and a documentary that expands "Tree of Life"'s beginning-of-the-universe footage. Suddenly, after four movies in thirty years, the guy's a human dynamo! Maybe's he had some sort of life-changing spiritual epiphany. That could explain why he's suddenly so chill about people filming him while he works.
What's your favorite Terrence Malick movie? Tell us in the comments below or on Facebook or Twitter.