Juliette Lewis preps rock documentary about herself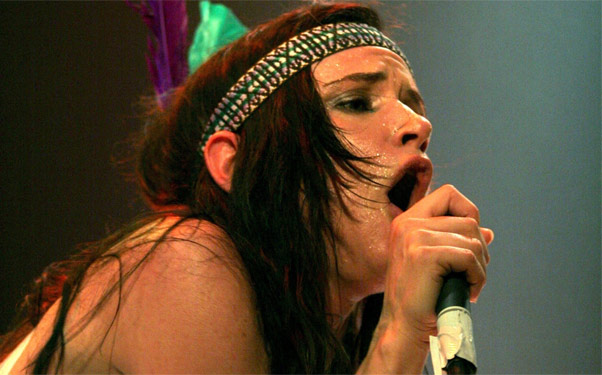 Posted by Brian Jacks on
Oscar-nominated actress Juliette Lewis quickly became one of the most recognizable names of the '90s, breaking out with "Cape Fear" and subsequently headlining films like Oliver Stone's "Natural Born Killers," Kathryn Bigelow's "Strange Days" and Robert Rodriguez's "From Dusk Till Dawn." But in the new millennium, Hollywood often played second fiddle to a new side project, a rock band titled Juliette and the Licks. Now, according to Variety, Lewis is looking to complete a documentary about her life on the road, with an eye towards debuting at the Sundance Film Festival this coming January.
While not particularly well-known by the masses, the Licks had a small but dedicated international fanbase over their six years, producing a number of albums and playing hundreds of shows. The band was created by Lewis and Hole drummer Patty Schemel (herself the subject of a recent documentary), and along the way picked up a guest appearance from Foo Fighters frontman Dave Grohl, who replaced Schemel on the second LP.
When the band dissolved in 2009, Lewis launched a new venture call The New Romantiques, who have released one album since their inception. It's currently unknown if the doc will focus on both bands, or just the more well-traveled Licks.
Below, check out one of the Licks biggest singles, "Hot Kiss."
Would you be interested in checking out Lewis' rock doc? Let us know below or on Facebook or Twitter.