José Padilha shares his vision for "RoboCop," clears up Michael Fassbender casting rumors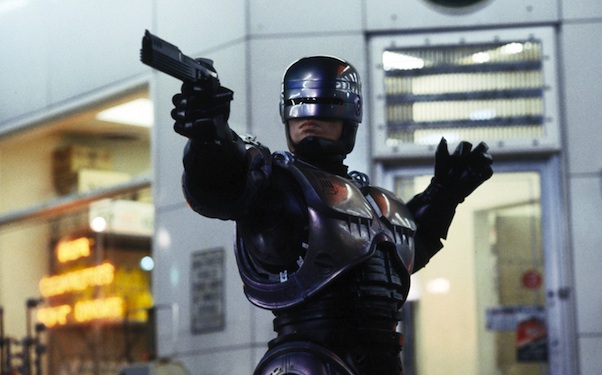 Posted by Matt Singer on
Brazilian director José Padilha came to Fantastic Fest 2011 with his new movie "Elite Squad 2: The Enemy Within," the sequel to the controversial 2007 Brazilian blockbuster about dirty cops on the dirtier streets of Rio de Janeiro. It picks up "Elite Squad"'s story fifteen years later, with another morally twisted tale of corruption and crime peppered with intense action scenes. It's one of the coolest movies here at the festival, but Padilha's next project might be even cooler: a remake of the seminal '80s sci-fi film "RoboCop."
There's a lot of interest around this project; just yesterday, rumors started swirling about an interview Padilha gave where he supposedly said he wanted Michael Fassbender to play the title role. With the last few minutes of my own interview with Padilha, I picked his brain about the remake, and he confirmed that that story was getting blown way out of proportion.
"I was doing an interview with a Dutch guy because 'Elite Squad' was opening in Holland," Padilha said. "They wanted to talk about 'RoboCop' because of [Paul] Verhoeven, the Dutch director [of the original film]. So he asked me 'Who is going to be RoboCop?' I said, 'I don't know, I'm not there yet.' 'Who is going to be RoboCop?' 'I don't know!' So he says, "How about Fassbender?" I said, 'I think he's great.' That was it!"
Padilha did admit that he thought Fassbender would be a good RoboCop, but he was quick to add that he's not the only guy he can envision in the part. "He's a great actor but there are other great actors that I really love, that could also do it," he told me. "I can give you other names if you like, like Chris Pine; there's several of them. But I haven't discussed this film with any actors."
The Internet rumor mill, it seems, is getting ahead of itself. Padilha said that the film is still at the treatment stage, and there won't be any casting until they've got a final script. That treatment, by the way, is a totally new one based on Padilha's own interpretation of the material; he decided not to read any of the scripts from Darren Aronofsky's aborted "RoboCop" remake that fell apart a few years ago. Why? "I wanted to focus on my own thing and do my take, even though Aronofsky is a genius."
Details on his take were in short supply, but Padilha did explain what drew him to remake such iconic material: "'RoboCop' is a brilliant premise because the character is not a super-hero," he said. "He's a man who's been transformed by technology for certain purposes. And so that premise alone touches so many interesting subjects. What does it mean to be immersed in automated systems and deprived of free will? What does it mean to be used by corporations for certain purposes? How does the media spin things around to make certain interests accepted by the public? Those are all things you can see in the first 'RoboCop,' and those are all things that are coming closer and closer to being real. Science is taking us there. And so that premise alone is really interesting to me."
One detail he did confirm: his "RoboCop" will be set, like the original, in Detroit. It sounds like it will be shot there too. "If you go to shoot a movie in Detroit, you better put Detroit in it. I've been researching a lot about Detroit — and they're making the statue!" Padilha added excitedly, referring to the news earlier this year that fans were raising money to build a statue of everyone's favorite cyborg police officer in his home town. "It got a little polemic," he noted, "but I think finally they made the right choice."
It's hard to talk to Padilha or watch his movies and not think he's the right choice for the project as well. I'm very interested to see his version of the material. And after you see "Elite Squad 2" — and you really should, it's great — I have a feeling you'll agree with me.
Who do you think should play "RoboCop?" Tell us in the comments below or on Facebook and Twitter. And be sure to follow all of our coverage of Fantastic Fest 2011.