Fantastic Fest 2011: José Padilha on "Elite Squad 2"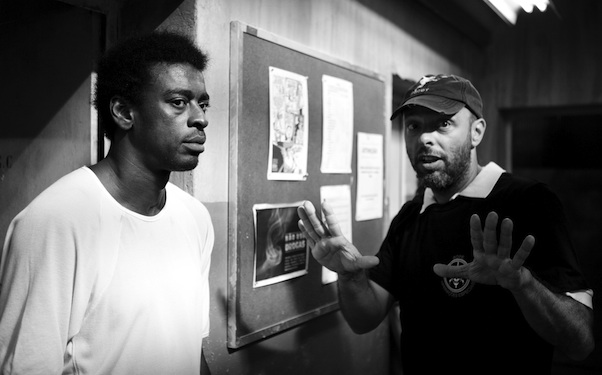 Posted by Matt Singer on
We already brought you our conversation with director José Padilha about his plans for the upcoming remake of "RoboCop." But Padilha didn't fly fourteen hours from his native Brazil just to chat about Peter Weller movies. He came to Fantastic Fest for the Texas premiere of "Elite Squad: The Enemy Within," his sequel to the wildly popular and wildly controversial "Elite Squad," the Golden Bear Award winner at the 2008 Berlin Film Festival. The film reunites Padilha with "Elite Squad" star Wagner Moura, who returns as the charismatic, "Dirty Harry"-ish Captain Nascimento of Brazil's anti-drug unit, BOPE. Kicked upstairs into the police bureaucracy of Rio de Janeiro, Nascimento discovers that the real problem in Brazil isn't the drug dealers he's so fiercely and brutally fought: it's the political system that enables the drug dealers to peddle their wares.
During my interview with Padilha, he compared the first "Elite Squad" to Martin Scorsese's "Goodfellas." I suppose that makes "Elite Squad 2" his homage to "The Departed." This time the system itself is rotten, the cops are just as bad as the criminals, and one is often impossible to tell apart from the other. "Elite Squad 2" takes the social and political critique of the first film, complicates it with an even bleaker portrait of modern Brazil, and levens it all with some truly outstanding action sequences. It's a fun movie full of important ideas.
I talked with Padilha about those ideas, and why he wanted to make a sequel to such a popular movie. We also discussed how he reacted to the divergent reactions to "Elite Squad" — which was often described by its detractors as glorifying a fascistic view of law enforcement — and Padilha's personal philosophy of action. It's a philosophy that I think will serve him well when he gets around to "RoboCop."
Why did you want to make a sequel?
I've made three movies about urban violence in big Brazilian cities. The first one was a documentary called "Bus 174," and it told the story of violence from the perspective of a street kid. And what you learn in "Bus 174" is the state treats street kids very badly. Instead of rehabilitating them and giving them an education, they put them in crowded jails and so on. And because the state does that with street kids and juvenile delinquents, it creates violent criminals. That's what "Bus 174" is all about.

The first "Elite Squad" is about how the state mismanages the police by paying very low wages, by being tolerant of corruption inside the police department, and by feeding policemen with crazy ideologies. By doing that, the state creates corrupt and violent policemen. No wonder we have a lot of violence in Rio: the corrupt and violent policemen meet the violent criminals in the streets. What else is going to happen?
That's what the first two films were saying if you look at them both. So I thought: now I've got to say why. Why is the state behaving this way? And that's the idea for "Elite Squad 2," in which we have a cop who has been in that war all his life randomly promoted by chance because of political reasons. Now he's working together with the politicians and now he can see what's going on and why all the violence is connected to the political process in Brazil, with politicians trying to get votes from the slums and money for their campaigns and so on. Even though the three films are stand alone films, if you look at the three of them together, then you get the whole picture.
The first "Elite Squad" was even more fun to read about and talk about than it was to watch. What did you make of all the reactions to the movie? It became very controversial wherever it played.
Here's the thing. You have to understand a little bit about Brazil to understand the controversy that came with "Elite Squad." Brazil is a country that was a dictatorship up until the 1980s. We were governed by generals. We had no elections. This was a right-wing dictatorship. So all the culture was left-wing, Marxist. And if you look at life through a Marxist perspective, that tells you who your hero has to be. The Marxist hero has to be someone who's been excluded from society. It's the guy who's striking at a factory, the street kid from "Bus 174," the drug dealer from "City of God." Up until "Elite Squad," there had never been a Brazilian movie — never ever! — with a cop in the lead role. Which is crazy! If you look at American movies, that's every single movie. There was never a Brazilian cop in a film because a cop cannot be a hero in a Marxist film.
I purposely decided after making "Bus 174," which was praised in Brazil by the local culture and the filmmaking establishment, to make a movie that was going to shake things up. I was going to go in and do a movie like "Goodfellas," where you see what it's like to be a gangster through the eyes of a gangster. Scorsese has the brilliant idea of making you love the gangsters. You love Henry even though he's killing people. So I decided to do that; I'm going make this cop that's violent, and I'm going to make everybody love this guy. But you see from the perspective of this guy, which exists in real life, all the social issues behind violence. I'm going to make this film, which is against the Marxist perspective, and I'm going to get pounded for it. But who gives a shit? That's what I did and, lo and behold, that's what happened.
You didn't get pounded at the box office.
It was funny because "Elite Squad" was at the time the most popular Brazilian film ever. And so there was a huge controversy amongst intellectuals, but the audience didn't care. So it became a debate: a lot of people came out aggressively against the film, and others came out aggressively for the film. It was never concluded. We got the Golden Bear in Berlin, which was given to me by Costa-Gavras, one of the most famous left-wing filmmakers in the world, who loved the film. So of course it wasn't a fascist film.
So how did that conversation dictate how you approached "Elite Squad 2?"
In one very specific way. I decided to make fun of this in a certain sense. I'd create a plot in which I put Nascimento, the right-wing cop, against a left-wing guy, a congressman. I'd make them hate each other like crazy. Like they love the same woman, like they both want to raise the same child. I'll make the left-wing and ring-wing opposition as strong as I can and then push them to work together so that people understand that, as Deng Xiaoping once said, "It doesn't matter the color of the cat as long as it catches the mouse." You don't need a Communist red cat to make society work. So that's what I did.
The funny thing is it's still a movie told from the perspective of a cop, so it's still contrary to a Marxist film perspective. But there's no controversy with this one.
Why do you think that is?
Because I think "Elite Squad" turned a page for Brazilian filmmaking culture. Now you can make a film about a cop. In fact, they even make soap operas about cops now. The most popular thing to do in Brazil now is to make something about a cop. Which was forbidden until we did it!

It's crazy, man. I usually say this. If you are in Brazil and you grew up in a right-wing dictatorship, you think Marxism is liberating. But if you grew up in Czechoslovakia, and the Soviet Union is controlling everything and killing people, then you think capitalism is liberating. Neither of those two things are true and it doesn't take a lot brains to understand this.
Besides all the interesting political content, the "Elite Squad"s are just great action movies. What's your philosophy about shooting action?
I've developed a way of shooting action scenes that comes out of my documentary background. I like connecting shots. If I'm going to shoot a guy in a helicopter flying over a slum being invaded by the Elite Squad I want the camera to get the guy in the helicopter and then without cutting go down and see what's going on below in the slum, and the other way around too.
I also like layers. I have a shot in "Elite Squad" where drug dealers are playing foosball, cops are running behind them and there's a ball behind them on another level. I like to give dimension to shots inside action scenes. It's demanding because you have to rehearse a lot of things happening at the same time and frame all those things in a shot. But I feel like when you accomplish that then you've got a cool action scene. It's much better to do this than to shoot separately, where you've got a guy with a gun and then you cut to a guy running away. That's easier and faster to do but I feel like it loses the punch of the scene.
I don't actually like blocking actors. I prefer giving actors freedom. They don't have to step on a precise mark with me. Instead of giving marks to the actors I like to give marks to the camera. So I'll say "When he's going to say this line, you've got to be on his gun." But the cameraman doesn't know exactly where the gun's going to be because I haven't marked the actor. What that gives you is the camera is always moving towards the narrative, trying to find the narrative. I feel like this takes the audience along with the story.
Those are the basic things that I do that I think create my style of shooting. I think I developed it out of not knowing how to shoot. [laughs]
"Elite Squad 2" opens November 11 in New York City from Variance Films. If you see it, we want to know what you think. Tell us in the comments below or on Facebook and Twitter.