Get your first look at Johnny Depp in Tim Burton's "Dark Shadows"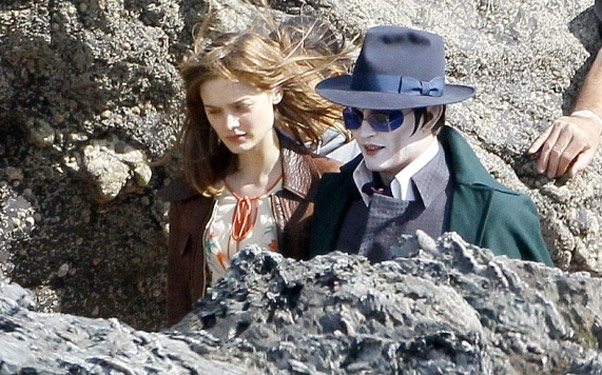 Posted by Aubrey Sitterson on
Tim Burton is finally making good on his threats to film an adaptation of the late 1960s soap opera "Dark Shadows." With gothic source material, Johnny Depp as a vampire playboy, witches and god knows what else, the project promises to be a perfect storm of Hot Topic-ready quirk, and now you can get your first glimpse of Depp in his role as Barnabas Collins.
Of course, for those of us who didn't grow up watching creepy old soap operas, the photos of Depp over at Celebuzz look less like a vampire playboy and more like a caricature of Michael Jackson. With his ghastly white complexion, dark shades, hairless cheeks and somewhat feminine mouth, Depp could easily pass for a reanimated King of Pop, which if we're being honest, is kind of way scarier than a vampire anyway. So, good on Depp, we guess.
In addition to Depp's MJ/Green Hornet mash-up, "Dark Shadows" is also set to star Chloe Moretz, Michelle Pfeiffer, Christopher Lee, and because it's a Burton flick, Helena Bonham Carter. The movie will reach theaters on May 11, 2012, but you can expect to start seeing oversized black t-shirts with Depp's visage emblazoned on them by, say, sometime mid-March.
Check out the rest of the photos at Celebuzz, and then make sure to tell us if we missed anything in the comments or on Facebook and Twitter.