John Landis bashes modern Hollywood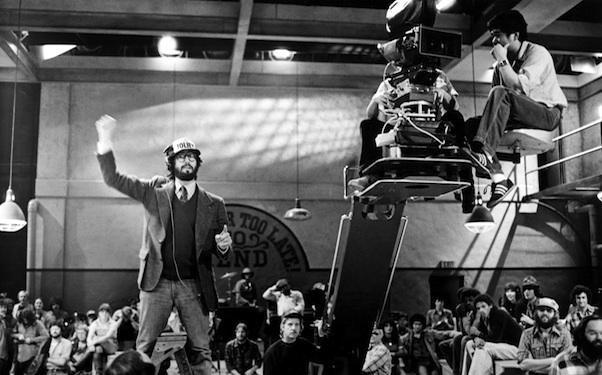 Posted by Matt Singer on
John Landis gives the best interviews. I guess when you've had a thirty-plus year career in the movies, and you've made some of the biggest comedies of all time including "Animal House" and "The Blues Brothers," you can get away with saying pretty much whatever you want. Which is what Landis does, which is why his interviews are always a lot of fun to read.
Landis has a new film called "Burke and Hare" opening this Friday from the lovely people at IFC Films so, much to my delight, he's doing some interviews, including one I loved from The A.V. Club. The whole thing's great, but I particularly enjoyed the part where he talked about why he hasn't made a major studio film in quite a few years. Here's what he said:
"I was very pissed off by what Universal did to me on 'Blues Brothers 2000' and that was my first experience with the new corporate Hollywood. It's very different. Everything is by committee now, and they destroyed that movie, though the music is still good. This happens to filmmakers all the time, where producers and studios fuck with their picture, and when you're promoting the movie you can't say that. [Laughs.] The directors get blamed for things that are clearly not their fault. But the bottom line is, I enjoy filmmaking, I really like it and it's a pleasure and I certainly don't want to take some principled stand against the majors. I would be delighted to make a studio picture, but the truth is, if you look at the films they're making, they are not the movies I want to make. I don't want to make 'Thor.' [Laughs.] …It's a combination of economics and we live in a very conservative and reactionary and frightened time. People are scared shitless in terms of taking risks on movies. Would the studios ever make a movie like 'Into The Night' now? Or even 'Animal House?'
I'm not sure I've ever heard Landis talk about "Blues Brothers 2000" and the fact that the studio apparently imposed certain creative decisions on him that he didn't agree with. He's right too: directors do get the blame when things go wrong no matter who's really at fault. Until I read that quote I'd been laying the blame for "Blues Brothers 2000," an awful sequel to one of my favorite movies of all time, at Landis' feet (and Dan Aykroyd's feet too — the movie's so bad there's enough blame for several pairs of feet). Now I'm not so sure. I am sure I want to hear more about the behind-the-scenes drama there.
Landis also doesn't have great things to say about "The Hangover," saying that he's "insulted" when people compare it to "Animal House" ("'The Hangover' had a nice tidy ending. The studios are not taking risks," he says). He's also got strong words for the politics of "Knocked Up" and "Juno," and says "It's a strange time" in Hollywood right now. He's right about that. But I hope eventually things change enough that we see Landis back in the fold making big budget comedies. Few people make 'em better, at least when the studio keeps its hands off.
Do you think Landis is right? Tell us in the comments below or on Facebook and Twitter.