"Take Shelter" director Jeff Nichols clears the air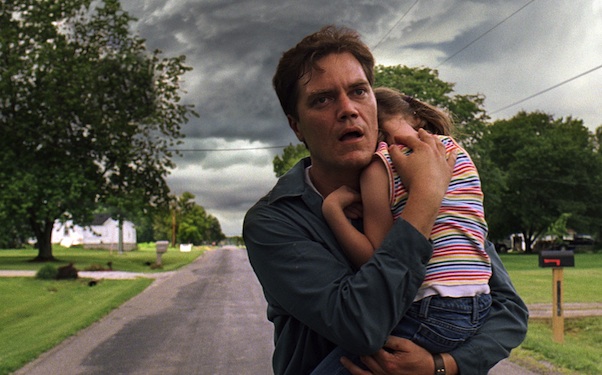 Posted by Matt Singer on
"I never considered myself going into 'Shotgun Stories' as a filmmaker with worldly aspirations in terms of the stories I'm trying to tell. In fact, it was quite the opposite; they were very specific and very regional. But I realized that there's power in coming up with some kind of universal feeling and I was very much aware when selecting this topic for this film."
The topic, in this case, is anxiety; the film is "Take Shelter." And the man who made it, the man talking about his lack of worldly aspirations, is Jeff Nichols. He might want to find some and fast; "Take Shelter" is a very powerful film, even more powerful than his impressive debut, "Shotgun Stories," from 2007. In my opinion, it's one of the best movies of the year.
Michael Shannon stars as Curtis, a young husband and father paralyzed by nightly visions of the apocalypse. He sees enormous storms on the horizon, pouring weird, brown, oily rain. He sees his family dog trying to kill him. He sees people trying to kidnap and murder his family. These are more than just dreams; they feel like visions of the future. And in all of them, Curtis is powerless to stop what's coming. Searching for some kind of relief and unable to discuss his condition with his wife ("Tree of Life"'s Jessica Chastain), he starts building out the old storm shelter in his backyard.
"Take Shelter" is a rare kind of movie, technically impressive and emotionally devastating. And Nichols is a rare kind of director: intelligent, open, but not too full of himself and his work that he can't make a joke or two at his own expense. Over the course of our half hour phone conversation, I asked him why he decided to make this film, how he directs an actor as good as Michael Shannon, and whether making this movie about anxiety alleviated any of the anxiety he was feeling in his own life. In some small way, it definitely helped me with some of mine.
What was the origin of the project?
The combination of a few things, the first of which was visual. I was standing in my backyard and I was struck by the image of a man standing over an open storm shelter. I wasn't really sure what he was doing; I didn't know if he was going in or coming out, or whether there was someone else in there. That stuck with me.
Whenever I write, I try and approach my stories from some kind of universal theme or idea or emotion. In my first film, it was revenge. I've been thinking a lot about anxiety, so I decided that might be an interesting idea or feeling to make a film about. In my life at the time, I was oddly struck with a lot of anxiety, because my life was actually going really well. I was in my first year of marriage, my first film had come out and people didn't hate it. I was moving from my late twenties to my early thirties and I finally felt like I was starting to get my shit together. I didn't want any of that to unravel. When I was writing this in the summer of 2008, it felt like everything was going wrong: our government was going to collapse, the dollar was going to go in the toilet, Iceland was bankrupt, not to mention constant reminders of polar bears leaping off icebergs that are melting. It just felt like there was this dull, gnawing dread, that I thought was palpable. I felt like it was something the rest of the world could identify with.

That, combined with this image combined with a little more pragmatic idea of wanting to make another film. It's really hard out there to get an independent film made. I liked the idea of blending a genre film, in this case a psychological thriller, with the kind of pace and tone of "Shotgun Stories." Whether you want to call that an art film or an independent film or just a boring film — I would say thoughtful film — if you combine those two, you could make something that was palatable, not just to an audience but also to the people who were going to put money into the movie.
You mentioned the movie was written during your first year of marriage, and the marriage between Michael Shannon and Jessica Chastain's characters is a big part of the film. Did you solicit any feedback from your wife about the marriage aspect of the script?
I didn't until I showed her an early cut and we were sitting on our couch watching it on the DVD player. There's a scene where Curtis, Michael Shannon's character, urinates in his bed. And the wife comes in and he's kind of abrupt and short with her. And during that fight onscreen, my wife looked over at me on the couch. And the reason was because it was verbatim the kind of fight we would have. [laughs] Not that I urinate the bed a lot. Basically, my wife has an intolerance for being sick. She gives you one day, and then if you're not out of bed after that, she's pissed. We've had that exact fight. I'm in bed going "Just leave. Go away," and she says "What is that? What is that face? What is that you're doing?" That's the closest I got to home.
To be very serious about it, I set out this tone or emotion of anxiety, but while I was writing I quickly realized that's not enough. Anxiety is an effect, it's not a cause. I needed the cause of all this stuff. As I built the character, I needed to give him a life that he loved and valued and arguably was respected by other people. Curtis begins this film in a good place. He's kind of a guy that has his shit together. And as you start to dismantle that, that's where the fear and anxiety comes from. I didn't even know it but as I started writing, I was setting myself on a course to write a film about marriage, because separately from the film I'd been thinking about my marriage. How marriages work, why most marriages fail and what I have to do to be one of the ones that make it work. What do I have to do? The conclusion I came to was, I think it's a lot about communication. We all carry these fears and doubts. They will always be there, whether it's fear of the government collapsing, or the environment, or you can't pay your bills, whatever. We'll always have something to worry about. And I think where marriages maybe get damaged is in people not sharing those fears with their significant others. That seemed like an answer to me, and an interesting ending for this problem that I'd built up in this film. If that is indeed the ending or resolution then that kind of decides what your film is about; it's going to be about these two people trying to put themselves back on the same page. They were on the same page at the beginning of this film. They were a happy, normal married couple. And then these things start to go off the rails.
There's a few very memorable images in the film, but the one that I keep returning to is that motif of the brown, oily rain that falls in Curtis' dreams. Where did that image come from? Was it developed over a long period of time?
It really just kind of came to me. I don't see Curtis as a particularly religious man. However I do see him as a spiritual guy. And Curtis is very close to me as a character, the closest I've ever written in terms of my own belief system. I kind of want to think of myself as a guy who's responsible and would support and care for my family, and if things go wrong that I would try and deal with them.
I also grafted on top of him a lot of my own personal belief system which is — and I promise this will make a point about oily rain — I'm not too big on organized religion. It just doesn't do it for me. But something I very much believe is that if there is a God he's somewhere in nature. Nature is the purest thing we can touch and observe. It can be the most beautiful and also the most devastating. I believe that there's a natural balance to things; rain seems to be a very pure expression of that balance. And for that to fall out of the sky and be dark and viscous, that just seems to be a terrifying symptom of something out of whack. It's the canary in the coal mine.
The first week we were filming, Deepwater Horizon happened. I got to a motel room one night and I turned on the TV after a long day of shooting, and Larry King was interviewing T. Boone Pickens, the Texas oil man. And I swear to God: I turn the TV on and the first thing Larry King said was, "T. Boone, can it rain oil?" I was like, "Shit! I've got to get this film finished. It's already happening!" Of course T. Boone was like "No, no, oil is far too heavy to get caught up in the rain," which I think might be true. But there were a lot of things that over the course of filming were just strange and ironic like that.
I loved the sound design in the movie as well. The way the sound of wind and rain were used reminded me of the way bird chirps were used in Hitchcock's "The Birds," that idea of innocuous natural sounds being rendered in this ominous and almost musical fashion. Was that an inspiration at all?
I didn't take any direct inspiration from "The Birds;" I wish I could say I was that smart because I love that film. And I have to give most if not all the credit to Will Files, my sound designer and mixer. He is a genius. I went to school with him; now he's one of the lead mixers at Skywalker Sound. He's a phenomenal artist. A lot of that bird stuff, I just showed and it was already intact.
My approach to sound design, and this is something I had to develop on the fly during "Shotgun Stories," is that everything has to come from a place of reality; with this film, you find ways to heighten that reality. I think this stuff is far creepier when it comes from an organic, naturally-sounding place. In Austin, where I live, you go to the grocery store and they have these huge swarms of grackles. And they make this insane sound. I remember using that as a reference. You don't have to go far to find creepy stuff like that. The same with the wind.
We have to talk about Michael because he's so incredible in the movie. Is he an actor that needs or wants a lot of direction?
We don't talk much. I learned this on "Shotgun Stories." He just shows up with things intact. We had a few very brief conversations over the phone about the kinds of clothes he wears, and we mainly had those conversations to delineate his character from the character he plays in "Shotgun Stories." He just gets it, and I trust that he gets it. You don't worry about Mike Shannon very much. I don't worry about him at all.
When he shows up, we don't rehearse. I'll block the camera and we just go. As Mike puts it, he leaves the juice in the lemon. The trick with Mike is after you're done, after he's given away ownership of the performance, that's when he starts asking questions. "How was it? How did it feel? How are you going to cut it?" Especially on this one; it wasn't him being an annoying actor, it was because we shot this thing in four weeks, completely out of order, all in different pieces, and it's an extremely difficult thing to track this character. Think about it: one day I say to him, "Today you're going to wake from a dream you've been bit by the dog. We haven't shot that yet, so you have no concept of what it looks like or how it feels or anything. We're gonna shoot that part today."
I know people watch the film and they're like, "Wow he's such a good actor. He's there in all those moments." From my perspective, he's the most incredible actor in the world because he did all of that piecemeal, out of order. I just sit back and I'm in awe of him.
I read that when you cast Jessica Chastain you actually got to meet Terrence Malick and talk with him about her. What's it like meeting Terrence Malick to talk about an actress?
Brief.
[laughs]
He's a busy guy. My executive producer, Sarah Green, produced "Tree of Life." She's the one who recommended Jessica, but it was a very difficult thing for me to judge because I hadn't seen her in anything. She said "Well maybe you can sit down with Terry." So she arranged it.
He was extremely generous and polite. From the 10 minute meeting I had with him, he struck me as a very sensitive, very sweet man. He spoke about Jessica very highly, and from my perspective that was all I really needed. But just for the sake of things, I flew out to L.A. and met her. She was lovely, but I still hadn't seen her act. And it wasn't until we were on set and started rolling the camera that I did.
When you started the project, you were writing about all this anxiety you had. Did making the film lessen that anxiety? How did you feel after it was over?
For me personally, I'm always going to be stressed out. If it wasn't me being stressed out about being married and being a good provider for my wife, now we have a son. What elementary school is he going to go to? What kind of man is he going to grow up to be? What kind of father am I going to be? There's always stuff to worry about. There's always going to be pressure. What I've taken away from the process of making this film is it's all about how you process that anxiety and that fear and somehow stay productive.

Without spoiling it for readers, the ending of the film is somewhat ambiguous. Do you have a preferred way that you want viewers to read it?
It's specifically designed to be ambiguous. That really riles some people and some people really love it. What's funny and interesting to me — and not to sound too cocky about it, but I really do think it worked — is everybody talks about the specifics of what's happening in that scene. And to me, the specifics don't matter that much. And I'll explain.
What is happening, what is going to happen, all that is just fun to talk about. But what's important to me is that these two people are on the same page and are seeing the same thing. There's several interpretations of where they're at. And that's great. But as long as they're seeing the same thing I think there is a resolution and the possibility of hope in the film.
Some people get it, some people don't. But by God, we're the ones making independent films here. We're the only ones that get to do this.
"Take Shelter" opens in limited release tomorrow. If you see it, we want to hear what you think. Tell us in the comments below or on Facebook and Twitter.