Seth Rogen & Jay Baruchel's "Jay and Seth vs. the Apocalypse" adds James Franco, Jonah Hill & more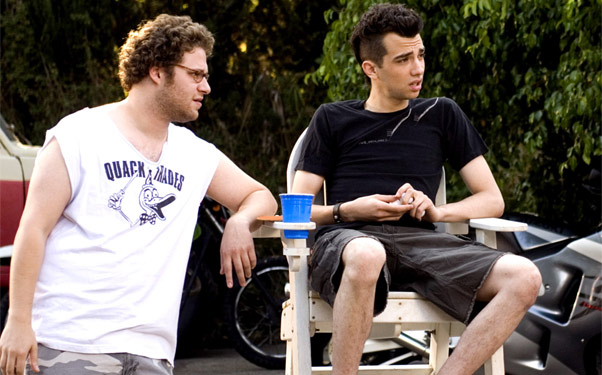 Posted by Aubrey Sitterson on
Originally, "Jay and Seth vs. the Apocalypse" was meant only as an eight-minute short film starring Jay Baruchel and Seth Rogen as two slackers trying to navigate a post-apocalyptic world. Now, "Jay and Seth vs. the Apocalypse" is being developed into a full-fledged feature film, and the two actors are bringing their friends along for the ride.
Though the short film version of "Jay and Seth vs. the Apocalypse" was originally meant to be screened at festivals, the YouTube trailer for the film (embedded below) was so wildly popular that Mandate Films picked up the project. And with the longer running time comes a bunch more apocalypse survivors, many of them frequent collaborators of Baruchel and Rogen, and de facto members of the unstoppable gang Judd Apatow has been assembling over the past decade or so.
Those names include Danny McBride, James Franco, Jonah Hill and Craig Robinson, with Seth Rogen telling MTV, "We've decided to add more people, so ideally 'Jay and Seth' looks like it has become Jay, Seth, Jonah, Danny, Craig and James." He also mentions that "Harry Potter" star Daniel Radcliffe was at one time expected to join the production, but dispels the rumor, saying, "it doesn't look like he's willing to push things as far as we [are]."
Rogen went on to describe the film, explaining, "We all play ourselves," and adding that the movie is meant to be offensive. "I want a lot of dead celebrity cameos," the actor said. "Because L.A. is full of famous people, I'd like all of the cameos to be them as corpses."
Slashfilm is reporting that the production is set to begin in February 2012, from a script by Rogen and Evan Goldberg, the pair behind "Superbad" and the extremely underrated "Green Hornet."
What do you think about "Jay and Seth vs. the Apocalypse"? After four years of teasing, are you about ready to see a full-length version of the flick? Tell us in the comments below or on Facebook and Twitter.