Jason Statham's YouTube Greatest Hits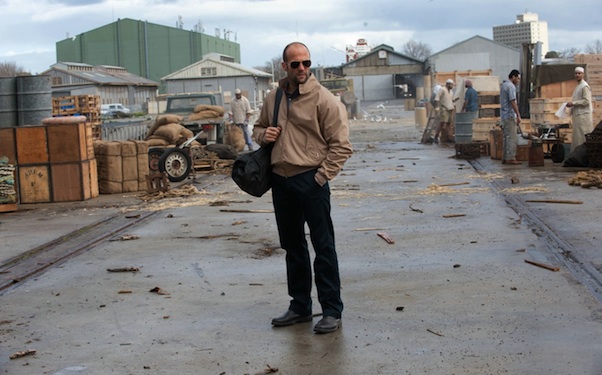 Posted by Matt Singer on
This is what I love about "Killer Elite." If you'd never seen a poster or a trailer for this movie, and I came up to you and asked you to guess the movie's star based on title alone, you would say Jason Statham. Who else could it be? A few years ago, maybe The Rock, but that was before he started working almost exclusively in kiddie pics. These days, Statham is literally Hollywood's killer elite.
His movies may not be particularly surprising, but they are reliable. We count on him to deliver the action goods, and if you read my "Killer Elite" review earlier today, you know he's done it again. To honor your favorite balding badass and mine, we've compiled a few of his finest moments that have turned up on YouTube. True, we weren't able an embeddable version of his "Crank 2" Godzilla fight. But he's Statham; there's plenty more where that came from.
The Transp-oil-rter
From "The Transporter" (2002)
Directed by Corey Yuen
Almost a decade later, this may still be Jason Statham's best movie fight. It's certainly the most clever and the most hilariously homoerotic (although this rumble-slash-striptease from "Transporter 3" comes close on both counts). It's the Tao of Statham: when life gives you motor oil, make yourself a pair of skates using bike pedals and kick people with them. I'm not entirely sure how the bike pedals actually keep professional transporter Frank Martin from slipping. I just chalk it up to Statham's near-supernatural powers in action movies. Some dudes can walk on water; Statham can skate on oil.
---
The Statham Kill Count
From "In the Name of the King: A Dungeon Siege Tale" (2006)
Directed by Uwe Boll
Remember that scene in "Hot Shots! Part Deux" where the movie starts counting Topper Harley's dozens of kills? That's basically the idea behind this YouTube clip, only it's not a joke — well, I guess the clip is still a joke, but the movie isn't. All right so the movie — yet another of Uwe Boll's disastrous video game adaptations — is sort of a joke too, but at least Jason Statham's performance isn't. Indeed in the midst of a cinematic disaster that would claim most of his co-stars (poor Ray Liotta!), Statham rose above. 60 murders in 127 minutes! That's impressive.
---
"This, lads, is a hurley."
From "Blitz" (2011)
Directed by Elliott Lester
Statham's Detective Sergeant Tom Brant is introduced in "Blitz" spotting a carjacking in process from his flat window. He grabs a wooden stick and heads downstairs to break it up. Now I would have assumed the stick he uses to beat up the thieves was a field hockey stick, but Statham clears that misconception up for us. "This, lads," he says by way of an introduction, "is a hurley, used in the Irish game of hurling. Cross between hockey and murder." According to the rules, players use their hurleys to hit a ball called a silotar into an opponent's goal; or, according to Jason Statham, players use their hurley and disable as many carjackers as they can before the opening credits. Either way, I never would have known about hurley without learning it in "Blitz. See that? Jason Statham movies: educational.
---
Jason Statham Hates Basketball (In German)
From "The Expendables" (2010)
Directed by Sylvester Stallone
More Statham with sports equipment! A meme is forming before our very eyes. In general, Sylvester Stallone's "The Expendables" did not live up to the hype as the ultimate action movie (it also didn't live up to its name as a movie about expendable people, but that's a conversation for another time). The clear highlight amongst the crew was, of course, Statham, who had a memorable moment sniping guys from the nose of a low-flying airplane and this great fight scene on a basketball court, where our man enunciates an emasculating beatdown by metaphorically deflating a woman beater's balls. I can't wait to see "The Expendables 2" where Statham completes his sports equipment brawl trilogy by tossing a man through the air with a jai alai xistera. Why include the clip in German? Why not. Does the dialogue even matter?
---
Topless Pull-ups
From "Death Race" (2008)
Directed by Paul W.S. Anderson
Jason Statham's back muscles scare me. I'm pretty sure he had a few of them implanted, because I don't think my body has half those things. They look like a bunch of prehensile tumors, like something out of a David Cronenberg movie. That back could beat any man's front.
---
What's your favorite Jason Statham movie? Tell us in the comments below or on Facebook and Twitter.