The "J. Edgar" trailer features Leonardo DiCaprio and lots of old man makeup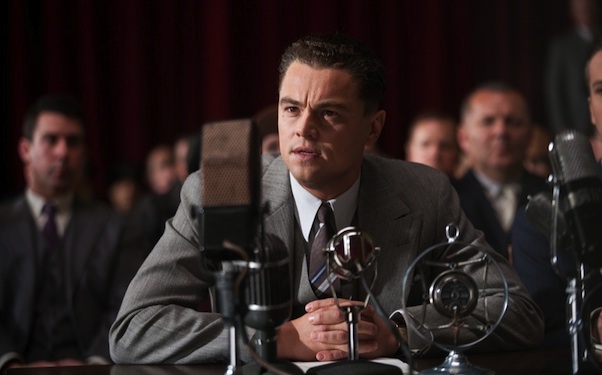 Posted by Matt Singer on
This trailer surprised me. I knew Clint Eastwood's new movie starring Leonardo DiCaprio was about the life of J. Edgar Hoover, the first director of the FBI. But I sort of expected a Martin Scorsese's "The Aviator" approach — the great old man as an inexperienced young man, viewing his later achievements and follies through the prism of his early rise to power, that sort of thing. But from the looks of this first coming attraction, that's not the case. Whether it's a more conventional biopic or not, Eastwood's "J. Edgar" looks to feature a much greater swath of Hoover's life, as there's plenty of shots of DiCaprio in a thick, Orson-Welles-in-"Citizen Kane"-esque old man makeup. I think it looks reasonably convincing. See what you think.
"Kane" may be an interesting point of comparison, actually, given the film's subject and arc, and especially because of DiCaprio's last line in the trailer about how "even great men can be corrupted." I tell you what: if the movie's no good, every critic in the world's going to be using that line as the lead of their review and turning it back around on Eastwood.
"J. Edgar" premieres on November 3 at AFI Fest and opens on November 9. The screenplay was written by Academy Award winning screenwriter Dustin Lance Black, and the cast also includes Naomi Watts, Judi Dench, and "The Social Network"'s Winklevoss twins Armie Hammer. I hope the movie's as surprising as the trailer.
Ready to put on your old man makeup and go see "J. Edgar?" Tell us what you think of the trailer in the comments below or on Facebook and Twitter.