"Human Centipede 2" sets world premiere at Fantastic Fest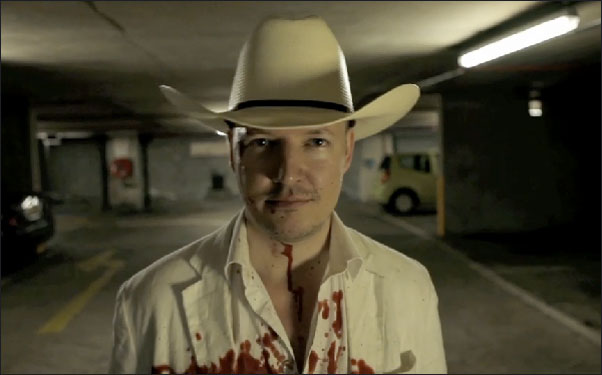 Posted by Matt Singer on
Guess it's just a centipede-y kind of day. Aubrey already showed you a new preview image from "The Human Centipede 2: Full Sequence." Now I've got the info on where you'll be able to see the film for the very first time: Austin's Fantastic Fest, on September 22. The deranged depravity debuts as this year's Opening Night Film.
Along with the announcement that director Tom Six's sequel to everyone's favorite ass-to-mouth horror movie will make its world premiere at the festival, Fantastic Fest also solidified the remainder of its lineup today. You can see it all below, but here are a few noteworthy highlights: the US premiere of Morgan Spurlock's San Diego Comic-Con documentary, "Episode IV: A Fan's Hope," a Cuban zombie movie called — you're gonna love this — "Juan of the Dead," and a 30th anniversary screening of "An American Werewolf in London" with makeup artist Rick Baker in attendance. Even cooler: the "American Werewolf" screening's been done in conjunction with Mondo, who'll be making a special Olly Moss poster for the occassion. Moss will be there in person as well.
Fantastic Fest kicks off on September 22.
AN AMERICAN WEREWOLF IN LONDON (1981)
Mondo Presents Special Screening
Director of special makeup effects Rick Baker and poster artist Olly Moss live in person!
Director: John Landis, USA, 97 minutes
"Keep to the roads." A simple warning, but one that is not heeded by two Americans backpacking across the Yorkshire Moors. Now, they must learn to follow a new warning, "Beware the moon." World famous artist Olly Moss will unveil his Mondo poster for this very special event.
A BOY AND HIS SAMURAI (2011)
US Premiere
Director: Yoshihiro Nakamura, Korea, 109 minutes
From the director of festival faves Fish Story and Golden Slumber, the ultimate time travelling, father-son, samurai pastry chef, food movie ever made.
BUNOHAN (2011)
US Premiere
Director: Dain Said, Malaysia, 100 minutes
BUNOHAN is the tragic story of love lost between three estranged brothers and their ailing father.
CARRE BLANC (2011)
US Premiere
Director: Jean-Baptiste Léonetti live in person!
Director: Jean-Baptiste Léonetti, France, 77 minutes
It's eat or be eaten (literally) in an absurdist future where a woman
struggles to reclaim her husband from the bleak corporate machine.
CLOWN (2011)
Texas Premiere
Director Mikkel Nørgaard and producer Louise Vesth live in person!
Director: Mikkel Nørgaard, Denmark, 90 minutes
Casper and Frank are on a canoe trip to glory, a Tour De Pussy with an exclusive brothel waiting at the end. Probably shouldn't have brought the kid.
COMIC-CON EPISODE IV: A FAN'S HOPE (2011)
US Premiere
Director: Morgan Spurlock, USA, 88 minutes
The documentary film follows five people as they descend upon the Mecca of geek culture, San Diego's Comic-Con Convention.
THE DAY (2011)
US Premiere
Producer Guy Danella and actor Dominic Monaghan live in person!
Director: Douglas Aarniokoski, USA, 90 minutes
A group of weary post-apocalyptic survivors find refuge in an abandoned farmhouse. The house, however, may not be as safe or abandoned as they first assumed.
THE DEVIL'S BUSINESS (2011)
International Premiere
Director Sean Hogan and producer Jen Handorf live in person!
Director: Sean Hogan, UK, 75 minutes
Two hitmen are ordered to assassinate an old associate. While waiting for their target to come home, one shares a story of love lost which brings out the demons – first figuratively, then literally.
ELITE SQUAD: THE ENEMY WITHIN (2011)
Regional Premiere
Director: Jose Padillha, Brazil, 116 minutes
In the slums of Rio de Janeiro, dirty cops and corrupt politicians gain notoriety by capitalizing on the vulnerable weak and poor. Two men with polar opposite ends of the political spectrum dedicate their lives to exposing the corruption.
THE HOLDING (2011)
North American Premiere
Director: Susan Jacobson, UK, 93 minutes
After the sudden departure of her husband, Cassie is struggling to keep the family farm alive. After reluctantly accepting the assistance of a drifter, she realizes he may have more sinister plans in mind.
HOW TO STEAL 2 MILLION (2011)
International Premiere
Director and writer Charlie Vundla and producer Mfundi Vundla live in person!
Director: Charlie Vundla, South Africa, 109 minutes
Freshly released from prison, Jack needs to pull one last score to finance his move to a legit life in this classically styled noir.
THE HUMAN CENTIPEDE 2: FULL SEQUENCE (2011)
World Premiere
Director Tom Six and producer Ilona Six live in person!
Director: Tom Six, Netherlands, 90 minutes
Tom Six's follow-up to THE HUMAN CENTIPEDE: FULL SEQUENCE ups that ante with a brute force unparalleled in motion pictures today. It is sure to be one of the most controversial films of our time.
JUAN OF THE DEAD (2011)
US Premiere
Director Alejandro Brugues and producer Gervasio Iglesias Macias live in person!
Director: Alejandro Brugues, Cuba, 100 minutes
50 years after the Cuban Revolution, a new one is about to begin. That revolution is zombies; filthy, flesh-eating zombies.
JULIA X (2011)
North American Premiere
Director and producer PJ Pettiette, producer Claudie Viguerie and associate producer Courtney Rawls live in person!
Director: P.J. Pettiette, USA, 92 minutes
Super sexy serial killer Kevin Sorbo (in 3D!) gets a nasty surprise when his latest potential victim puts up an unexpected fight.
KARATE-ROBO ZABORGAR (2011)
Austin Premiere
Director Noboru Iguchi live in person!
Director: Noboru Iguchi, Japan, 101 minutes
Happy 70's crimefighters: a boy and his motorcycle-transforming, karate-fighting robot…only the kid's grown up now and is pushing 50.
LAST SCREENING (2011)
US Premiere
Director: Laurent Achard, France, 81 minutes
In this stylish, giallo-inflected thriller a strange young man, the single employee of a doomed French repertory cinema, lives a secret life, making regular trips into the night to victimize women and collect a certain body part. As the bloody story progresses we find out why.
LIVID (2011)
US Premiere
Director: Julien Maury and Alexandre Bustillo, France, 88 minutes
A group of amateur thieves stumble across something very strange and unexpected in this horrific fairy tale from the directors of INSIDE.
THE LOVED ONES (2009)
Special Screening
Director: Sean Byrne, Australia, 84 minutes
Girl likes boy. Girl asks boy to the prom but boy says no. Girl kidnaps boy and holds him hostage. THE LOVED ONES is PRETTY IN PINK meets MISERY, but worse; much, much worse.
MANBORG (2011)
World Premiere
Director and writer Steven John Kostanski, co-writer and actor Jeremy Gillespie and actor Andrea Karr live in person!
Director: Steven John Kostanski, Canada, 60 minutes
Part man, part robot, all killing machine! Only the awesome power of the MANBORG can drive the demon hordes back to hell!
POLVORA NEGRA (2011)
North American Premiere
Director: Kapel Furman, Brazil, 89 minutes
A man is hunted down and left for dead. Years later he returns, hired as a hitman by the same criminals who gunned him down. They are in for a surprise.
RABIES (2011)
Regional Premiere
Director: Aharon Keshales and Novat Papushado, Isreal, 90 minutes
For two cops, a ranger, four teens, and a pair of sibling runaways, it was supposed to be just a walk in the park. They chose the wrong park.
RETREAT (2011)
US Premiere
Director: Carl Tibbetts, UK, 90 minutes
Martin and Kate's much needed getaway would be perfect except for power issues… and the guy covered in blood that unexpectedly stumbles onto their lawn.
SENNENTUNTSCHI: CURSE OF THE ALPS (2011)
North American Premiere
Director: Michael Steiner, Switzerland, 110 minutes
The residents of a small village in the Swiss Alps start to distrust their local police officer after he decides to shelter a mysterious young woman who arrived directly after the death of a priest.
SLEEPLESS NIGHT (2011)
US Premiere
Director: Frédéric Jardin, France, 98 minutes
Dirty cops use police intelligence to rob drug dealers as a moonlighting venture, but when they are identified by one of their marks, the drug kingpin mobilizes a serious payback.
SMUGGLER (2011)
US Premiere
Director: Katsuhito ISHII, Japan, 115 minutes
Ultra-stylish gangster comedy from the director of FUNKY FOREST and THE TASTE OF TEA pits a failed actor against a lethal assassin.
TAKE SHELTER (2011)
Texas Premiere
Director: Jeff Nichols, USA, 120 minutes
Curtis LaForche is having apocalyptic nightmares which progressively get worse, blending reality with the dream world. As paranoia starts to take a toll, he decides to build a living quarters underground, risking his job security, marriage, and friends.
TWO EYES STARING (2010)
US Premiere
Director: Elbert Van Strien, Belgium, 112 minutes
9-year-old Lisa loves her father but has always felt disconnected from her mother. When the family moves from Holland to Belgium, Lisa makes a new friend who will dig up long buried secrets.
URBAN EXPLORER (2011)
US Premiere
Director: Andy Fetscher, Germany, 100 minutes
Four 20-somethings hire a guide to escort them through a network of tunnels underneath Berlin. Things start to spiral out of control when a member of the group falls, breaking a leg.
THE YELLOW SEA (2011)
Regional Premiere
Director Hong-jin Na, Korea, 157 minutes
The director and stars of THE CHASER team up for an action packed crime epic featuring the most knife and hatchet combat you are likely to see this year.
YOU SAID WHAT? (2011)
US Premiere
Director Syversen Patrik, producer Kjetil Omberg, producer Terje Stromstad and
actor Stig Frode Henriksen live in person!
Director: Patrik Syversen and Nini Bull Robsahm , Norway, 107 minutes
The producers of DEAD SNOW re-imagine Takashi Miike's AUDITION as a rom-com and make Peter Stormare ride a paper mâché dragon shrieking that he is the King of Darkness.
ZOMBIE ASS (2011)
World Premiere
Director Noboru Iguchi live in person!
Director: Noboru Iguchi, Japan, 85 minutes
A mad scientist conducts experiments on alien parasites and zombies in turn. Will karate save the day, or…fart power? Ass-obsessed madman Noboru Iguchi creates the most crap-tastic zombie movie ever to emerge from Japan's cinema sewer.
Are you ready to be grossed out by "Human Centipede 2?" Tell us in the comments below or on Facebook and Twitter.