How crazy's "The Human Centipede II?" Pretty freaking crazy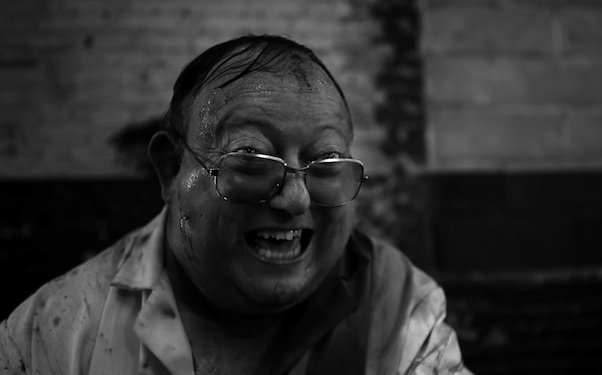 Posted by Matt Singer on
What's scarier than someone sewing people ass-to-mouth in an enormous human centipede? Someone with no medical background sewing people ass-to-mouth in an enormous human centipede with unsanitary tools and no anesthesia. That's precisely what's on the menu for writer/director Tom Six's "The Human Centipede II (Full Sequence)." Instead of mad Dr. Heiter from "The Human Centipede," the sinister surgeon this time around is a deranged fan of the first film named Martin (Lawrence R. Harvey), who watches the movie over and over at his job as a night watchman at a parking garage. Martin decides to copy the centipede, but as a short, chubby, asthmatic man with no knowledge of human anatomy, he's not very qualified to perform complex medical procedures. The already messy, already disgusting idea of sewing people together ass-to-mouth gets a lot messier and a lot more disgusting.
How crazy is this movie? Pretty freaking crazy. Like the first film, the carnage takes a while to get going, but once the humans start centipeding, watch out. Buyer beware: we're talking graphic depictions of teeth being knocked out, tongues being sliced, faces being stapled to butts, and more. At times, the violence is so extreme it borders on absurd comedy. At other times, the sadistic acts depicted onscreen are so transgressive they border on unwatchable. You can say a lot of things about "The Human Centipede II," but one thing is inarguable: Six did not hold back. And if he did, I don't think I could stand to watch what it looks like when he doesn't. I guess shooting the movie in black and white instead of color could be considered a concession to good taste. I would prefer to think of it as an act of mercy.
"The Human Centipede II" is an anatomic freak show for sure, but there are other things at work as well. Martin's slovenly, sweaty appearance suggests the worst stereotypes of fanboys, as does his obsessive need to reenact (and, in his mind, improve) the film that he loves. If "Centipede II" wasn't so revolting, you could almost call it a very dark comedy. One scene involving explosions of fecal matter is so over the top it reminded me more of Mel Brooks than Dario Argento. I don't think it's totally ludicrous to call the human centipede in its full sequence, twelve-person glory the sickest and most insanely committed poop joke ever captured on film. On the other hand, this movie is probably a lot closer to torture porn than the first "Centipede" ever got. "Centipede I" was told at least partly from the perspective of the victims; "Centipede II" is seen entirely through the eyes of the perpetrator. The surgery in "(First Sequence)" was cold and clinical and brief; the gruesome surgery in "(Full Sequence)" is a full third of the film. And it is intense.
We'll have plenty more "Human Centipede II" coverage leading up to the film's release on October 7 from the folks over at IFC Films. Later today at Fantastic Fest, I'll be interviewing Six himself. My first question: what is wrong with you, man?
Are you ready to see "The Human Centipede II?" Tell us your thoughts in the comments below or write to us on Facebook and Twitter.