Five horror movies by comedy directors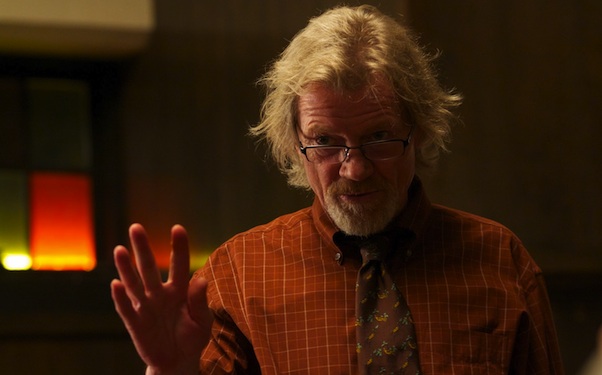 Posted by Matt Singer on
Before this weekend, Kevin Smith was always known as a comedy guy. "Clerks," "Chasing Amy," "Zack and Miri Make a Porno," plus his Smodcast podcast and Q&A-slash-stand-up films like "An Evening With Kevin Smith." He stretched himself a little into drama, animation, and acting, but until his new film "Red State" — available now on VOD — the scariest thing Kevin Smith had ever directed was "Jersey Girl" (I kid).
The transition from comedy to horror is rarely an easy one for directors. Few guys as entrenched in the comedy genre as Smith have ever tried to break out of it, and even fewer have made their break successfully. Here are five interesting — and very different — examples of horror movies made by guys we'd typically classify as comedy directors. We'll get to see soon enough how Smith's big move compares with theirs.
"Misery" (1990)
Directed by Rob Reiner
Comedy Resume: "This is Spinal Tap" (1984), "The Princess Bride" (1987), "When Harry Met Sally…" (1989)
Outcome: Very solid. The film earned $60 million, respectable dollars for 1990, and today is widely regarded as one of the best cinematic adaptations of author Stephen King's work. "Misery" holds up well, too: if you haven't watched it in a while (or ever) revisit it and check out Kathy Bates' crazy performance as obsessed fan Anne Wilkes. In 2011, she looks like a prescient figure, the prototype for the ultimate Internet fanboy. George Lucas better hope his car never breaks down on a snowy mountain road…
---
"An American Werewolf in London" (1981)
Directed by John Landis
Comedy Resume: "Kentucky Fried Movie" (1977), "Animal House" (1978), "The Blues Brothers" (1980)
Outcome: Exceptional. From a practical perspective, the film made $30 million at the U.S. box office in 1981 and went on to earn untold millions more on home video. Its cult grew large enough to justify a sequel, 1997's "An American Werewolf in Paris." But even if "American Werewolf" hadn't made back its money, this one would still rate as the all-time great comedy-to-horror directorial switch. Landis managed to bring his comedic skills to a truly scary movie and made what I think is still the best horror comedy of all time, a film that's equally good at wringing laughs and screams from audiences. Landis has remained a predominantly comedy-oriented director in the thirty years since, though he's returned to the horror genre a few times, notably in the big-screen adaptation of "The Twilight Zone" and 1992's "Innocent Blood," his version of vampires.
---
"The Day the Clown Cried" (1972)
Directed by Jerry Lewis
Comedy Resume: "The Ladies Man" (1961), "The Nutty Professor" (1963), "The Family Jewels" (1965)
Outcome: Legendarily bad. Strictly speaking, "The Day the Clown Cried" might not be considered a horror movie. But its horrifying subject matter — a clown (named Helmut Doork, played by Lewis) who leads Jewish children into the Nazi gas chambers during the Holocaust — and the supposed quality of the final product qualify it in my eyes. I say "supposed" and "legendarily" because only a handful of people have ever seen this movie, which has never been released to this day. "The Simpsons"' Harry Shearer, one of the few men who've watched the finished film, told Spy Magazine in 1992, that seeing "The Day the Clown Cried" was "really awe-inspiring, in that you are rarely in the presence of a perfect object. This was a perfect object. This movie is so drastically wrong, its pathos and its comedy are so wildly misplaced, that you could not, in your fantasy of what it might be like, improve on what it really is. 'Oh My God!' Thats all you can say." Lewis reportedly refuses to speak about the movie in interviews, or even acknowledge its existence. He only directed two more movies in his career after "The Clown Cried." Both, not surprisingly, were comedies.
Shearer talking about "The Day the Clown Cried" on "The Howard Stern Show:"
---
---
"Dragonfly" (2002)
Directed by Tom Shadyac
Comedy Resume: "Ace Ventura: Pet Detective" (1994), "Liar Liar" (1997), "Patch Adams" (1999)
Outcome: A quiet flop. "Dragonfly" was Shadyac's follow-up to his surprise 1998 hit "Patch Adams," and it's another movie about an altruistic doctor. This guy, played by Kevin Costner, has lost his wife and is starting to think she may still be hovering around him like a ghost (or a dragonfly, her favorite animal before she died). The problem, as identified by critic Stephanie Zacharek in her review of the film, is that Shadyac never quite figured out just how frightening his movie should be. "[Shadyac] layers the movie with lots of mystical-spooky touches that don't really need to be there," Zacharek writes. "In fact, they raise more questions than they answer: If [Costner's wife] is a benevolent spirit who's simply trying to get her husband's attention, why does she seemingly cause her cranky, beloved pet parrot to suffer a seizure?" The film made $30 million at the box office, the same as "An American Werewolf in London," but these were thirty million 2002 dollars, not 1981 dollars, which are quite a bit different.
---
"Cirque du Freak: The Vampire's Assistant" (2009)
Directed by Paul Weitz
Comedy Resume: "American Pie" (1999), "About a Boy" (2002), "In Good Company" (2004)
Outcome: An even quieter flop. In fact, I had to double-check this movie ever came out at all in the U.S.; I remembered covering it at Fantastic Fest 2009, and never heard about it again. The film did open in theaters, earning just $13 million domestically and a 38% rating from critics on Rotten Tomatoes. The film was more of a horror-fantasy hybrid than a straight-ahead scary movie, one clearly designed in an attempt to capitalize on "Twilight," another teen-oriented vampire movie franchise. In a strange twist, Weitz's brother Chris — who he collaborated with on his early hits like "American Pie" and "About a Boy" — wound up directing the second "Twilight" film, "New Moon," which opened a few months after "Cirque du Freak" in 2009. That one, as you may recall, was a massive hit.
---
Do you have a favorite horror movie by a comedy director? Tell us in the comments below or on Facebook and Twitter.