Five signature Steven Soderbergh scenes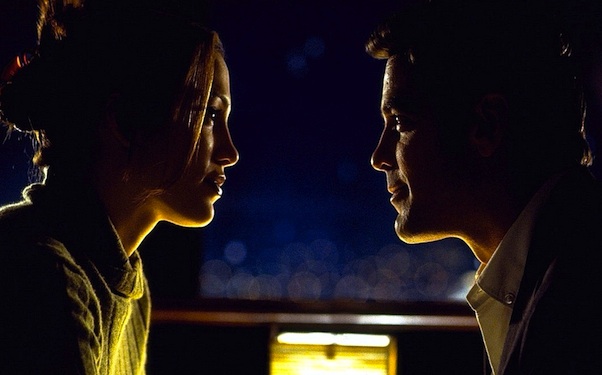 Posted by Matt Singer on
Tomorrow, if your germaphobia can handle it, you can go check out the latest movie from director Steven Soderbergh, the disease/disaster thriller "Contagion." It's definitely his latest; it may also be one of his last, since rumors about his potential retirement have been swirling since last December (this week, he started calling it "a sabbatical").
In celebration of "Contagion," and with the possibility of impending retirement on our minds, it seemed like a good time to look at some of the highlights from Steven Soderbergh's career. There were a lot to choose from. We decided to pick five signature moments; may not the "best" moments, but the ones that immediately jumped to our minds when we thought of his work. If Soderbergh does retire next year, moments like these are what we'll miss the most.
The Love Scene(s)
From "Out of Sight" (1998)
Though clearly inspired by the iconic sex scene in Nicolas Roeg's "Don't Look Now," the chronologically fragmented encounter between George Clooney and Jennifer Lopez in "Out of Sight" stands on its own as an incredible sequence. In Roeg's version, a couple's lovemaking is intercut with their getting dressed for a dinner party later the same evening. For his version, Soderbergh reversed things; mixing a sex scene with an exchange between the characters from earlier the same evening. Jack (Clooney) and Karen (Lopez) flirt over a glass of bourbon in a bar overlooking snowy Detroit. When Jack touches Karen's hand, Soderbergh jumps to the future, and a hotel room where Jack's hand is now on Karen's leg. The conversation in the bar continues on the soundtrack, while things heat up back in Karen's bedroom. Roeg's scene was the trailblazer, but Soderbergh's scene is arguably sexier, despite the fact that it contains a lot less actual (simulated) sex. It's all about glances and pauses and that sultry David Holmes score, and sparks of physical chemistry so powerful they're capable of breaking the space-time continuum.
---
"You tell him I'm coming!"
From "The Limey" (1999)
When I think of Steven Soderbergh, I think of a director who tells conventional stories in unconventional ways. Though he's made some truly eccentric films over his career, he's also perfectly happy working in mainstream genres like biopics or crime stories. But whatever he makes, his unorthodox execution sets him apart. Take this classic example from early in the neo-noir "The Limey." The movie is a revenge thriller, one of the most popular subgenres of action movies. So what does Soderbergh do in this scene? He leaves out the action. When Wilson (Terrence Stamp) goes into that building to repay the men who just roughed him up, the camera stays outside and the violence stays off-screen. We only hear what's going on, and it doesn't sound good. Not seeing Wilson destroy these three guys robs us of some of the satisfaction we expect to get in a revenge thriller. But it also creates a larger-than-life aura around Wilson as an unstoppable killer. And it does it in a highly unconventional way.
To watch this scene, go to YouTube. Below is the trailer for "The Limey."
---
Julia Roberts Knows Every Phone Number Ever
From "Erin Brockovich" (2000)
I don't know Steven Soderbergh as a person; I've never even met him. But based on his work in "Erin Brockovich," I have to assume that he understands what it feels like to be underestimated. That's what comes across so well in this scene, and in so many scenes from "Brockovich:" the character's conviction that she belongs in this world despite the insistence of everyone around her that she does not. In scene after scene, her co-workers and colleagues diminish her work, but Brockovich (Julia Roberts) always gets the last laugh. When she puts this stuck-up snob down for her bad shoes, man does it feel good. Nowadays, Soderbergh's widely regarded as a great director, and the mere mention of his possible retirement sends the media into a frenzy. But at some point in the past, someone must have spoken to Soderbergh the way that snob talks to Erin Brockovich. I wonder how he responded.
---
Movie Star Banter At Its Best
From "Ocean's Eleven" (2001)
While Soderbergh rarely writes his own movies — his last credited screenplay is 2002's "Solaris" — he is nonetheless a great director of dialogue. His remake of the Rat Pack classic "Ocean's Eleven" is loaded with bombastic heist sequences, but the most memorable moment in the film is one of its simplest: a feisty encounter between Danny Ocean (Clooney) and his ex-wife Tess (Roberts). The scene is like an inversion of "Out of Sight"'s seduction. The lighting is immaculate, the surroundings are glossy, and the stars are the most gorgeous human specimens on planet Earth. It's the most romantic ambiance anyone could ever want. But all that's left between the couple is bitterness. This one back-and-forth has more high quality zingers than some entire movies. "They tell me I paid my debt to society," Danny says. "Funny, I don't remember getting a check," Tess snaps back. For scenes like this one, we're the ones in debt, to the director.
---
The Corporate Culture's Gonna Change A Little
from "The Informant!" (2009)
A lot of Soderbergh's work reminds me of Karl Marx's famous quote about history repeating itself, first as tragedy, then as farce. Soderbergh likes to repeat himself, first sincerely, then satirically. He makes "Erin Brockovich," this serious story about an idealistic whistleblower whose exposes a major case of corporate malfeasance, then a decade later he makes "The Informant!" which basically makes fun of every movie ever made about idealistic whistleblowers who expose major cases of corporate malfeasance. Instead of Julia Roberts as Erin Brockovich, dogged crusader for the little guy, you have Matt Damon in paunch, bad hair, and worse mustache as Mark Whitacre, a man so hopelessly corrupt and mentally deranged that he's planning to take over his company even as he's helping the FBI spy on his fellow employees. In maybe the best scene in the film, Mark's so focused on upward mobility he's oblivious to the hard truths in front of him. He never realizes that, like his director, he may be headed for early retirement.
---
What's your favorite scene from a Steven Soderbergh movie? Tell us in the comments section below or on Facebook and Twitter.