The short filmmaker's guide to short filmmaking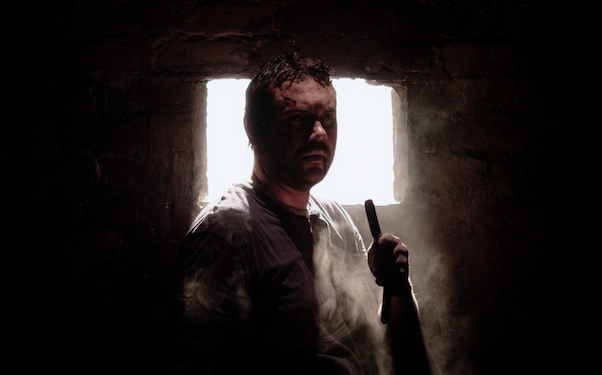 Posted by Matt Singer on
They may not get a lot of press, but short films and short filmmakers are the lifeblood of film festivals. They are the place to discover great new filmmakers. Before Steven Spielberg blew up with "Jaws," he was a 22-year-old kid with a short called "Amblin." Before Martin Scorsese reinvented the gangster genre with "Mean Streets," he was a film student with a six minute movie called "The Big Shave." Before they were famous filmmakers, they were short filmmakers.
Short films are a great way to get your foot in the door of Hollywood, but if you've never made a short before, it may be tough to know how to even open that door in the first place. With that in mind, we recruited the team behind the Fantastic Fest short "No Way Out" — actor A.J. Bowen (a.k.a. one of the stars of the multiple Fantastic Fest award winning feature "You're Next"), writer/producer Eric Vespe (a.k.a. Quint from Aint it Cool News), and director Kristoffer Aaron Morgan (a.k.a. the director of the upcoming feature "The Home") — to give us five tips for aspiring short filmmakers. Here's some great practical advice from a couple guys who know what they're talking about.
TIP #1: Be prepared.
Kristoffer Aaron Morgan, Co-writer/Director: "Storyboard. Have backup plans to your backup plans. Having a solid prep and battle plan will let you sleep well the night before your first day shooting, and give you the confidence you need to do your job. Direct the storyboards while you're fully rested, so the sleep deprived bastard on set at 3:00 AM can ask your former self for help when he needs it."
Eric Vespe, Co-Writer/Executive Producer: "There's a term in poker: set yourself up in the best position possible. There's always going to be problems when you're shooting. It took two hours on the first day for A.J. to get into his appliance. If you're prepared and you know what you need, you'll be able to handle it."
A.J. Bowen, Star: "I live in a movie world largely of improv. That can't exist if you're not prepared and don't already know exactly what you're trying to say. These guys showed me artwork, they showed me video. We spoke beforehand about everything we were going to do. That let me go in and be free to find happy accidents that occur on the set."
TIP #2: Focus on performance.
KAM: "At the end of the day, the greatest resource you'll have to make your short successful is a motivated and talented cast. While important, don't let technical craft and aesthetics distract you from the most important thing you should be worried about: is your actor telling the story the best way he can? Are you giving him the resources he needs to do so? That's your job. Let your crew worry about the other things, that's why you recruited people smarter than you in those positions to begin with."
AJB: "We shot on a soundstage, which is atypical for shorts. It was a rich environment. I didn't have to work hard to imagine anyting because they created this amazing playground for me. My job was just to hit that light and then that light."
TIP #3: Make sure you have a dedicated support system of producers to help you with logistics.
KAM: "This way you can focus fully on the creative. My suggestion is to have, at the very least, one producer that helps you manage the technical/creative aspects of filmmaking, and one to oversee general resource and logistical management. Make sure you get along with them very well, they're going to be your emotional and logistical foundation during the entire process. You have to trust your producers, otherwise you'll be up all night with a worry-ape slugging away at your chest."
EV: "You know that saying that no one will care more about your movie than you will? We didn't find that. These people were sweating their butts off for three days like it was their own project. It was as if it was their project.
AJB: "That's the thing; it was their project. Everyone just wants to get behind something that they believe in."
TIP #4: Be an actual short.
KAM: "Know what you're trying to say, and say it in as concise of a manner as you can. My rule, keep it under fifteen minutes. Ten is better."
AJB: "A short should be, in my mind, under ten minutes and you've got to tell a beginning, middle, and end of a story. I don't see the point in making a short film that's supposed to tell part of a different story unless it's episodic. Shorts fail when they treat the medium as a lesser version of a feature. I don't want to see the first act of a feature film as a 30 minute short. Just get your shit together and make the feature."
TIP #5: Don't be intimidated and too shy to ask for help from professionals.
KAM: "Even the biggest names want to practice their craft in their off hours, that's what makes them the best. Also, be humble when asking for favors, but bold when pushing for people's best work."
AJB: "I was getting ready to go shoot a movie and Eric called me and was being way too kind, acting like I had the ability to turn anything down. He asked if I'd read the script and I said of course I would. Any chance to work with people whose opinions you respect who you think are talented, it should go without saying: that's why you do this."
KAM: "People think we legitimately spent $30,000 on this thing and we didn't. What we spent was a lot of hard work and passion and favors from some very, very talented people here in Austin."
What's the best short film you've ever seen? Tell us in the comments below or on Facebook and Twitter.