Fantastic Fest 2011 Preview: Five movies that look fantastic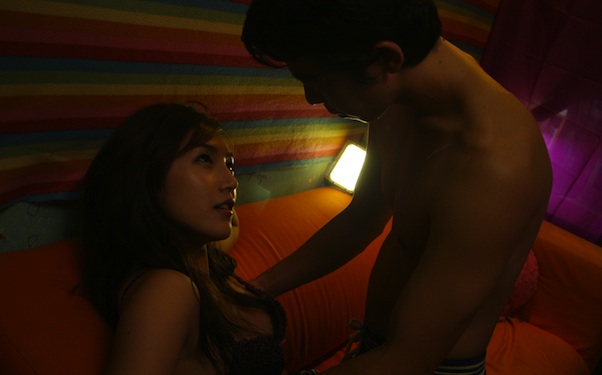 Posted by Matt Singer on
We're at T-minus two days to the magic, mystery, and movies of Fantastic Fest, the film's world's premiere celebration of weird, wild, and wonderful cinema. It's also a really good place for alliteration, apparently.
With the opening night world premiere of "The Human Centipede 2: Full Sequence" bearing down on us, it's time to game plan. It's not an easy task. There are so many good movies at Fantastic Fest and they're all playing opposite one another. What to pick?
To make things a little easier on you (or maybe harder on you if you'd already penciled in something else), here are my selections for the five most intriguing looking movies on this year's schedule. I didn't pick anything I've already seen (like Jeff Nichols' "Take Shelter" — which is absolutely outstanding, by the way), and I didn't pick anything with big-name directors or talent. I did that for two reasons. One, you don't need me to tell you to see "Melancholia." Two, Fantastic Fest is the place to discover amazing stuff you'd never have a chance to see anywhere else. Here's what I'm personally looking forward to discovering this week.
Title: "Aardvark"
Director: Kitao Sakurai
Country of Origin: USA
Showtimes: 9/24 at 1:25pm, 9/26 at 9:30pm
Official Festival Synopsis: "Director Kitao Sakurai live in person! Larry ('Aardvark"s blind-since-birth protagonist) has an innate curiosity that lands him smack in the middle of a bizarre criminal underworld replete with mixed martial arts, intrigue, murder, and pillow humping."
Why It Looks Fantastic: This one sounds like a classic Fantastic Fest film: a movie about a blind martial artist that stars a man who is, in real life, a blind martial artist. How autobiographical is it? The writer of the detailed plot synopsis on FantasticFest.com doesn't even seem to know ("It's hard to tell what aspects of the film are fact and/or fiction," Rodney Perkins writes). Director Kitao Sakurai was previously the cinematographer of Ry Russo-Young's 2009 film "You Won't Miss Me." I have no idea what to make of this thing. That's why I'm dying to check it out.
---
Title: "Invasion of the Alien Bikini"
Director: Oh Young-doo
Country of Origin: South Korea
Showtimes: 9/23 at 3:15pm, 9/28 at 6:15pm
Official Festival Synopsis: "An ultra-stylized, super-cheap action/comedy/sci-fi/bikini flick that will be the best under $5000 film you'll see all year."
Why It Looks Fantastic: Fantastic Fest definitely looks favorably on movies made with no money and a lot of creativity. Based on that description, it sounds like "Invasion of the Alien Bikini" is such a movie. A sci-fi-/comedy/action flick for under five grand? I'm down. The mustaches look sweet too.
---
Title: "The Squad"
Director: Jaime Osorio
Country of Origin: Colombia
Showtimes: 9/22 at 8:00pm, 9/26 at 2:00pm
Official Festival Synopsis: "A feuding special ops unit is tasked to uncover the mystery of what happened at a desolate military base in this tense and claustrophobic South American thriller."
Why It Looks Fantastic: When Fantastic Fest head honcho Tim League was asked by Entertainment Weekly what movies were going to have people talking at this year's festival, the first movie he picked was "The Squad." He called it "pretty creepy." Good enough for me; the man knows what he's talking about.
---
Title: "You're Next"
Director: Adam Wingard
Country of Origin: USA
Showtimes: 9/24 at 11:40pm and 9/26 at 11:30pm
Official Festival Synopsis: "From the team behind the Fantastic Fest-award winning film 'A Horrible Way to Die,' 'You're Next' traps a family inside a secluded mansion in the middle of nowhere. Outside the home is a group of animal-masked killers who take a stab at making sure none of them leave alive."
Why It Looks Fantastic: I never saw "A Horrible Way to Die," but this film got some very strong reviews out of the just-concluded Toronto Film Festival. indieWIRE called it "gory fun" and The Hollywood Reporter described the frenzied scene after its Toronto screening where indie film buyers scrambled to acquire the film (according to Deadline, Lionsgate is close to signing a deal to release the film). Sounds like I'll have the chance to see this one in theaters at some point in the future, but I don't want to wait that long.
---
Title: "You Said What?"
Director: Nini Bull Robsahm
Country of Origin: Norway
Showtimes: 9/24 at 6:50pm, 9/29 at 4:30pm
Official Festival Synopsis: "The producers of 'Dead Snow' reimagine Takashi Miike's 'Audition' as a rom-com and make Peter Stormare ride a paper mache dragon shrieking that he is the King of Darkness."
Why It Looks Fantastic: Because it sounds like a terrible idea until you take a look closer and realize it makes perfect, perverse sense. The plot of "Audition" — man organizes an audition for a film that doesn't exist as a way of helping a friend meet women — could totally be the plot of a romantic comedy (I see the American version starring Tom Hanks and Jennifer Aniston). Throw in this business of Peter Stormare ("Fargo," "Armageddon") and the paper dragon, and there's no way this isn't, at the very least, a wild, fascinating mess.
---
What movies are you looking forward to checking out at Fantastic Fest? Tell us in the comments below or on Facebook and Twitter.