Fantastic Fest 2011: "Let the Bullets Fly," reviewed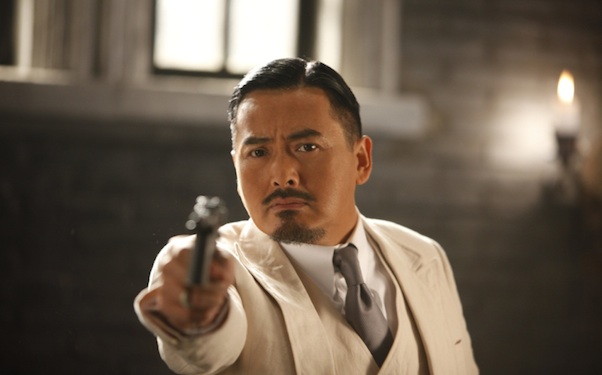 Posted by Matt Singer on
"Let the Bullets Fly" is funny, exciting, and at 132 minutes, a half an hour too long. It's like that guy you knew in college who told told really great stories but got so wrapped up in his own awesomeness as a storyteller that he never knew when to shut up. "Let the Bullets Fly" is a great little movie inside a weaker bigger movie.
It's still a lot of fun. Almost every character in the film has more than one identity and there are multiple layers of deception going in every scene. Writer/director Jiang Wen stars as "Pocky" Zhang a legendary bandit in 1920s China pretending to be the Governor in order to rob from the rich and give to the guy pretending to be the Governor. He's assisted by Tang (Ge You), the actual Governor whose train is hijacked and wrecked by Pocky in the film's pre-credits sequence. When he's found in the wreckage, Tang pretends to be the Governor's assistant so Pocky won't kill him. They both arrive in Goose Town, where they get into a turf war with local crime boss Master Huang (Chow Yun Fat), who uses body doubles to to confuse his enemies (Chow is clearly having the time of his life playing the two Huangs, one deadly serious the other a goofy bastard). Pocky and Huang both want control of Goose Town. That sparks an epic battle of wills and artillery. Lots and lots of artillery.
Wen does a nice job of balancing comedy, drama, and action, but the comic scenes are the best. Tang's wife survives the train crash as well, but she doesn't hide her identity like her husband. That means she has to keep playing the Governor's wife for Pocky, even sleeping with him in order to keep up appearances. Tang, as you might imagine, is not pleased. Later, after Pocky and Tang have started to bond, the two share a heart-to-heart on a hillside. Pocky opens up and tells Tang about his past, and how he came to be such a notorious thief. Moved by his honesty, Tang begins to share his own history. "Stop talking," Pocky interrupts. "I don't care." The film has some big emotional beats, but it never takes its tongue out of its proverbial cheek.
True to its title, "Let the Bullets Fly" is all about speed. Pocky and Tang banter back and forth like Russell and Grant in "His Girl Friday." In the shootouts, the gangsters fire their guns so fast you'd swear they were shooting machine guns. Maybe that's why "Bullets"' length feels so overbearing. Individual scenes chug along at a rat-a-tat pace but the movie as a whole runs out of steam around the 90 minute mark. There's only so many gotcha plot twists a movie needs or an audience can take. Let the bullets fly, then at some point, let the bullets land.
"Let the Bullets Fly" is tentatively scheduled for an early 2012 release from Well Go USA. If you see it at Fantastic Fest, let us know what you think. Leave us a message in the comments below or on Facebook or Twitter.